Trying something a little different this year with Me Made May, by sharing weekly recaps for you. I think this is going to be a better way to share my weekly insights and pattern thoughts without trying to remember it all month long. Week 1 has been pretty much a breeze, thanks to a wardrobe of handmade, but I know as the month progresses it is going to get more difficult. But I love the challenge and the knowledge that comes from this month of pushing myself.
You can find my thoughts on the challenge in these posts from 2015 and 2016
Day 1: It made the most sense to start this challenge off in my most favourite and most worn handmade garment of all time. I am not being dramatic about that either, I wear this Cheyenne popover tunic by Hey June at least once a week and would wear it more if that wasn't strange. I usually pair it with jeans and sandals when it's warmer and skinnies and booties in the winter. I love it with my black jeans and a denim jacket. For more pics and thoughts on this pattern, head to this post.
Regardless of the fact that this is the most perfect colour of olive green, this rayon tencel twill was not only a dream to work with but just as lovely to wear. I got this fabric from Indiesew awhile ago and sadly she is all sold out, but I believe Allie mentioned she is getting some more tencel twill in later this week. So definitely check out her shop.
Otherwise, if you don't have a problem paying for shipping from Canada I HIGHLY recommend checking out the tencel twill at Blackbird Fabrics. I have a bunch from there as well and it is glorious.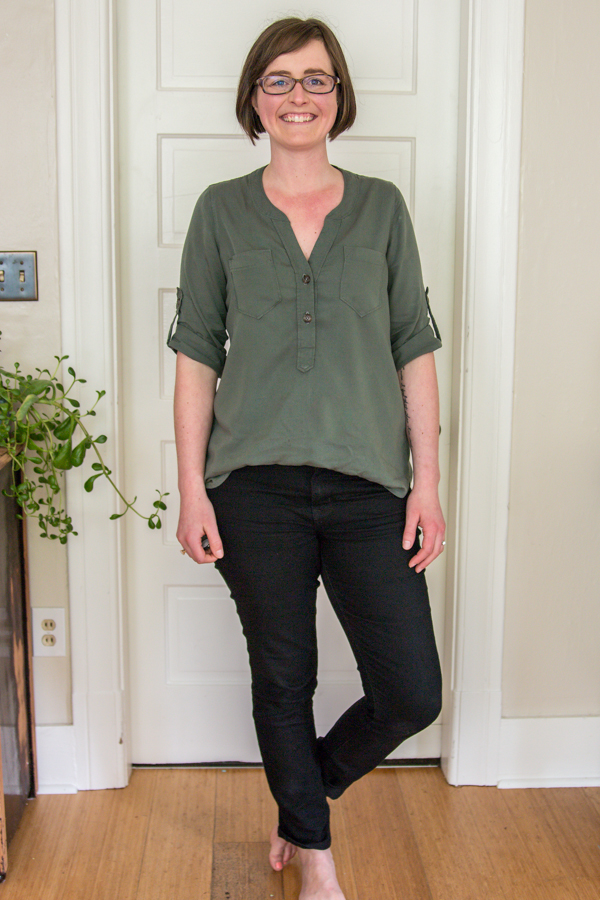 Day 2: One of the great things about this challenge is wearing clothes that you don't normally grab for, and deciding if there is a reason you don't wear them. The Evergreen Jacket by Hey June does not have a reason other than being lost in my closet and forgotten about. I still love the fact that I used turquoise brass zippers, it's a fun pop of colour on an otherwise grey jacket. Read all about my thoughts on the pattern from two years ago.
I wish I would have discovered this again back in November since it is getting too warm to wear now. But no fear I will rock this jacket all the time in the fall.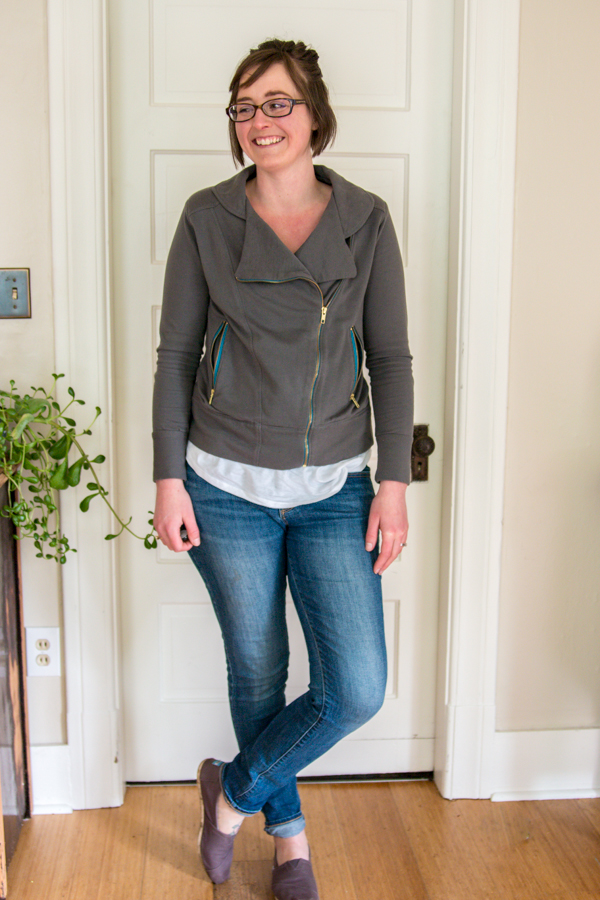 Day 3: The ultimate in comfortable was needed for day 3, the day was grey and rainy and I was doing computer work so I needed a cozy layer. My love for the Carrie Cardigan by Delia Creates is well known on social media. I have two made and wear them on constant rotation, so expect to see the other one worn at some point this month.
I have plans to make the short version for a nice spring/summer layer, something that is desperately needed in Seattle.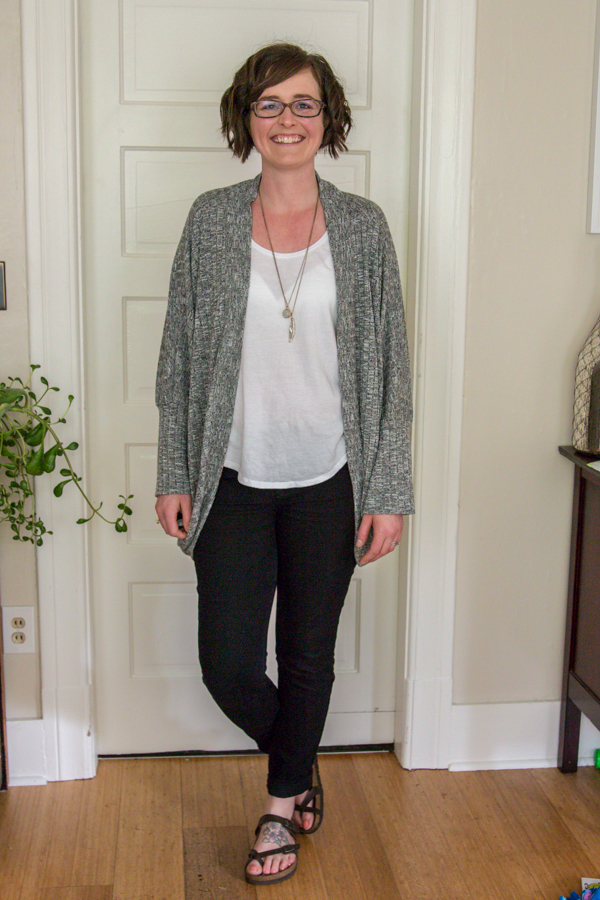 Day 4: This simple black Biscayne Blouse by Hey June is one of my favourite layers in my closet. It is the perfect casual top in the summer with shorts and sandals and works equally as well in the winter with skinny jeans and a Phinney Ridge Cardi. When I made this yearly two years ago I was just learning about making shirts like this so I am really looking forward to making this pattern again when I know it will come together even better than before.
I have a real hole in my closet for tops like this. I mostly wear tees and tanks in the summer and layer them in the winter, but this feels like such a pulled together option that gets just as much wear as the basics. I definitely need more in my closet in basic colours like blue and white. Read all about my love of this black one here.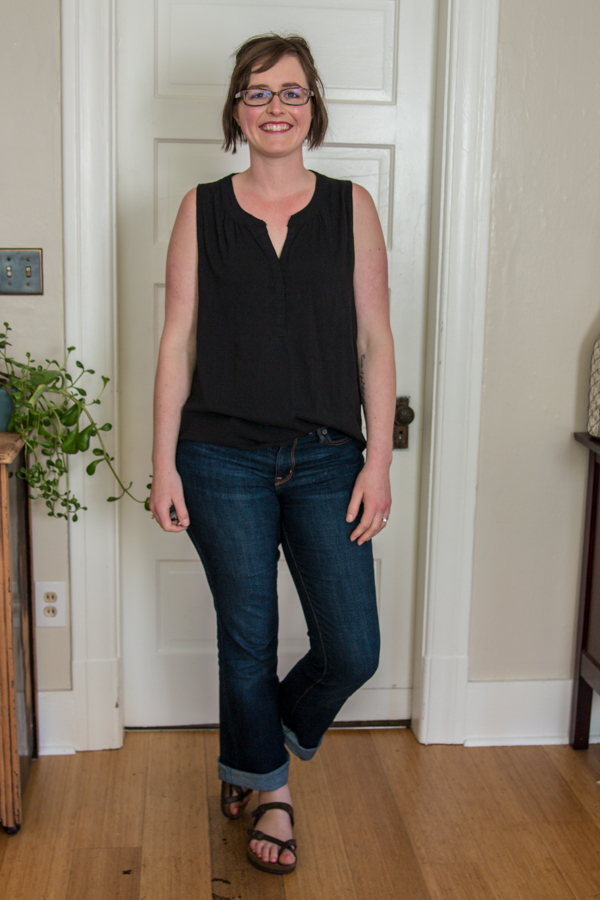 Day 5: My free pattern, Carkeek Dress, from a year ago being reimagined another way just makes me smile. Not only is this a great pattern as a dress but I love that thanks to a little tie of a knot I have a great top. I am loving the high hip length and the relaxed sleeves. Paired with my beloved Birkenstocks and some skinny jeans and I am ready for that casual mom look.
This dress was made as part of the 30 Days of Sundresses with Melly Sews and I am really excited to share another free pattern in a couple weeks for the same tour. So keep an eye out on my blog for the release.
Day 6: On the weekends I am lucky if I put real clothes on, don't even get me started on makeup and doing my hair. Since I had a couple things to do yesterday, including swimming with the kids, I opted for super comfort in my 3/4 sleeve Laurelhurst wrap and some jeans and sandals.
You are probably wondering if I wear my Birkenstocks every day and the answer is YES!! Once they are on my feet in the spring, I wear them pretty much every day until the middle of October.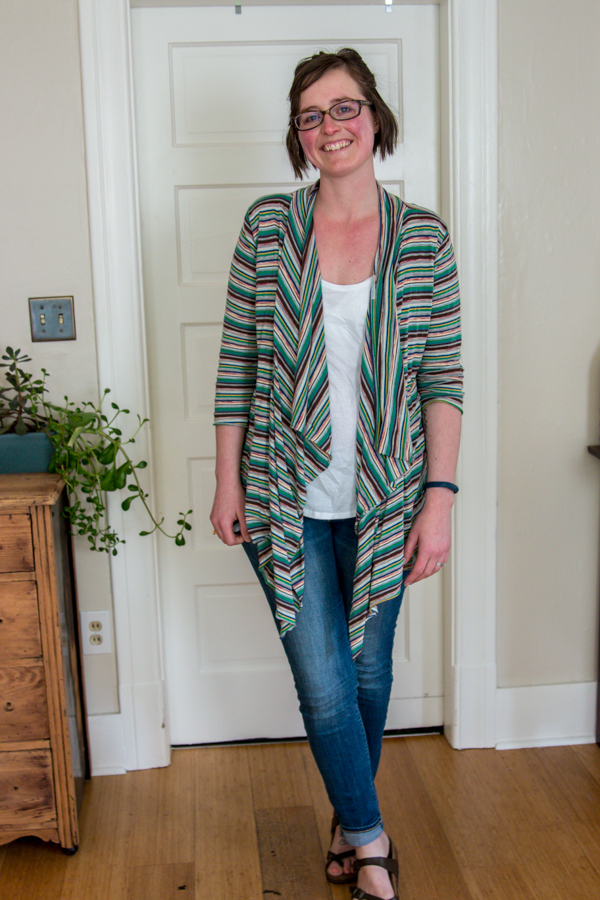 Day 7: Wow you guys, I try it keep it real around here, but this picture is a bit too real. That hair! I guess you get to see behind the curtain for my Sunday filled with yard work, laundry, cleaning and some pattern work. My french terry Bryant dolman is the perfect layer over a racer back tank and some casual shorts. I love that this top can be worn in this super casual way, or paired with some jeans for a slightly more put together look.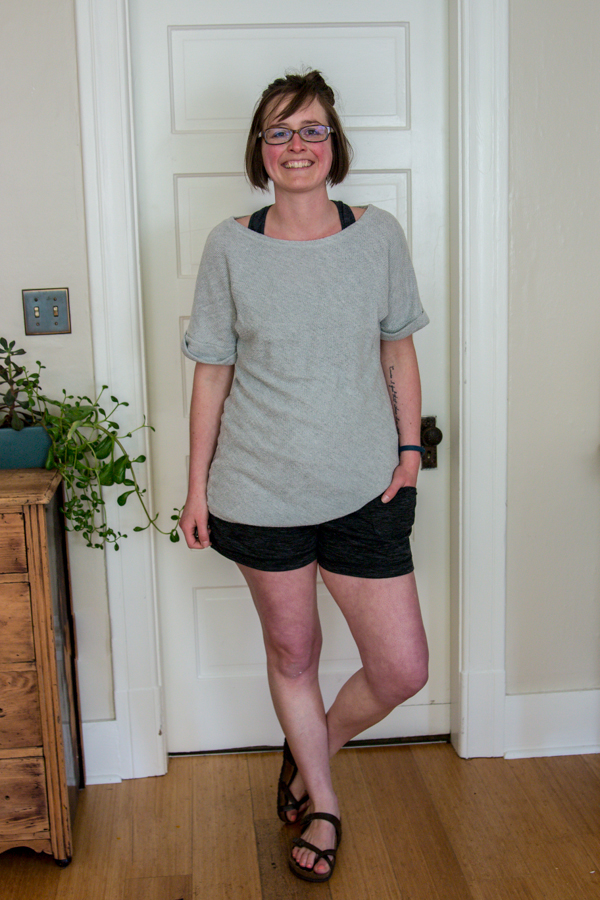 Me Made May First Week Observations:
My wardrobe thrives on layers not just because of the funny weather this time of year in Seattle, but because it gives more life to garments. I am draw to clothes that will work through all 4 seasons either as a stand alone piece or layered together. No surprise either that I have lots of black, grey and other saturated colours.
I love that the clothes I grabbed this week are some newer makes and other than have been around for a few years. Classics are classics for a reason and they definitely have a place in my wardrobe.
To follow along with me daily you can head over to my Instagram feed or just search for #ssdmmm17