Week 2 recap of Me Made May is finally here. It has been a strange few weeks for my business which I will be sharing more about tomorrow on the blog, but I really wanted to recap every week since I am really learning so much about my clothes choices this month.
If you didn't get a chance to read my recap from the first week of this years Me Made May you can read it here.
Day 8: Lasts year during Me Made May I released my View Ridge pattern and still reach for this Herringbone Chambray version I made last year. It's a great layer with a cardi and jeans or dressed up a bit with some white pants and sandals. As I mentioned last week, layers are key for my wardrobe so having more of these transition pieces in my wardrobe are key.
Day 9: It was a rare sunny and warm day in Seattle this spring so I broke out some warm weather clothes. We have had an insane amount of rain this winter and spring so any hint of sun and I am out there in a tank top and skirt. I have never been much of a skirt person before designing my Wedgwood skirt, but quickly realized that it is such an easy skirt to wear I find myself grabbing for it often. Paired with a simple tank and sandals and you pretty much have my summer plans.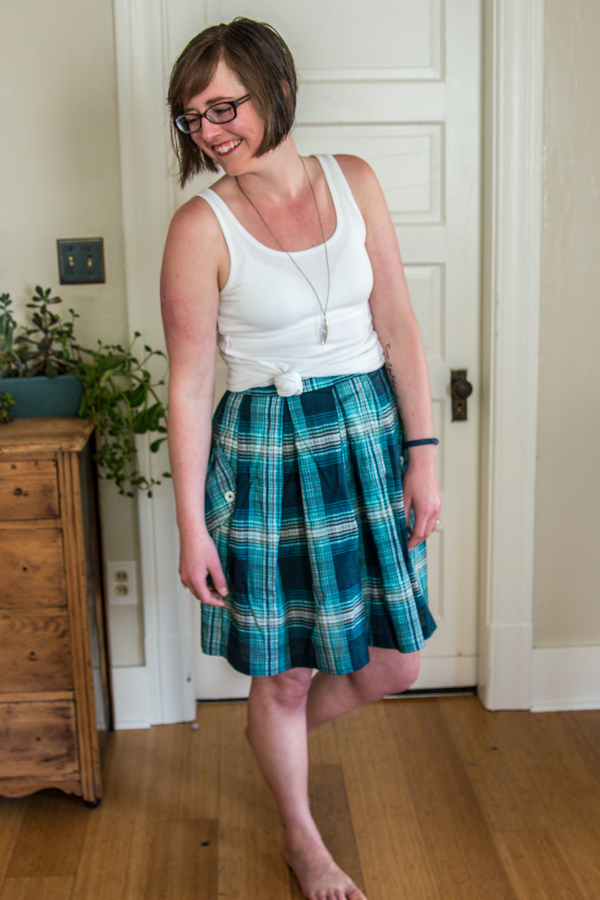 Day 10: If you have wondered what my go to casual outfit is in the winter this is it. When I first made this Cheyenne tunic it was stiff and just didn't hang right on my body. Nothing wrong with the pattern more just that the fabric hadn't really relaxed enough to what I had wanted. But the more that I wash this shirt the better it gets. Paired with my fave black jeans and it is the perfect pulled together outfit. This top is also a really great layer in the summer on the cooler mornings and evenings because it looks great paired with shorts and a tank.
I kind of want to wear it today, but will hold off and try to make it through the month without repeats 😉 But I have a bunch of fabric that is just calling to be made into this shirt, so maybe some assembly line sewing is in my future.
Day 11: After a particularly rough business day last week, more to come tomorrow, I needed all the comfortable clothes and hot coffee. My husband convinced me to go to yoga with him to try and clear my mind. My second Carrie Cardigan was the perfect choice for layering with my yoga pants and a tank. This cardigan is the perfect weight for giving me some coverage without being too warm.
If anyone ever questions whether yoga is actually a workout I was sore for two days from this class. Definitely a different kind of workout than my workout of choice, running.
Day 12: These jeans are my favs, they are the perfect amount of broken in and fit me like a glove. I am seriously considering taking the Indiesew Sew Your Favourite Jeans course to replicate them. I know one day I will mourn them when they wear out but until then I will wear them every day I can.
Now to the actually Me Made item of the outfit, my super relaxed Montlake tee. Because this rayon fabric is super drapey it leaves the neckline even more open and deep, which is actually my preferred look for this tee.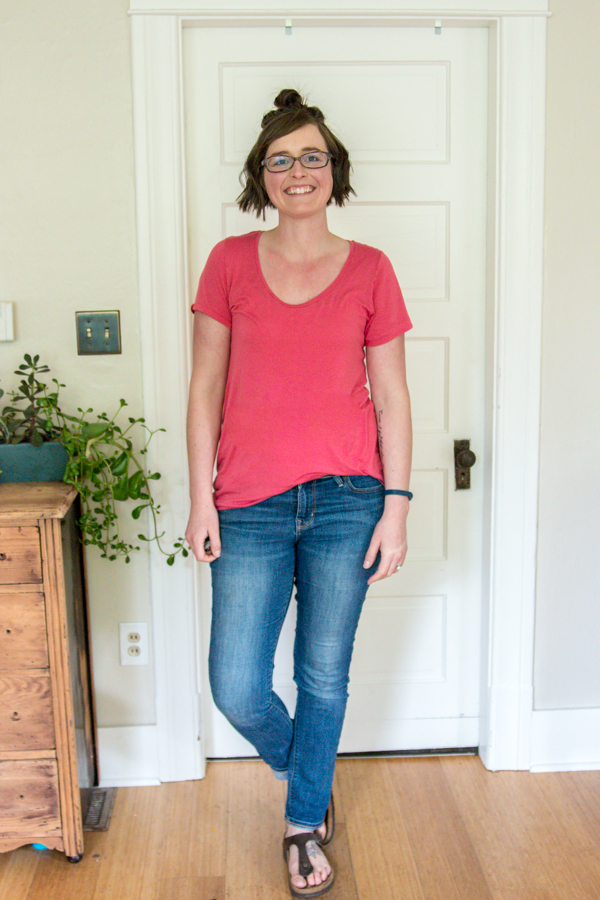 Day 13: Nearly half way through the month and I am wearing my most worn handmade garment, this french terry Bellevue. It is the perfect lightweight french terry that feels warm and cozy without being too heavy. I wear this top year round and just this week realized that I have some seams that are coming apart, sad day. Hopefully I can repair it enough to get another couple years out of it. Either way I need to make some more out of a great jersey weight french terry in my stash.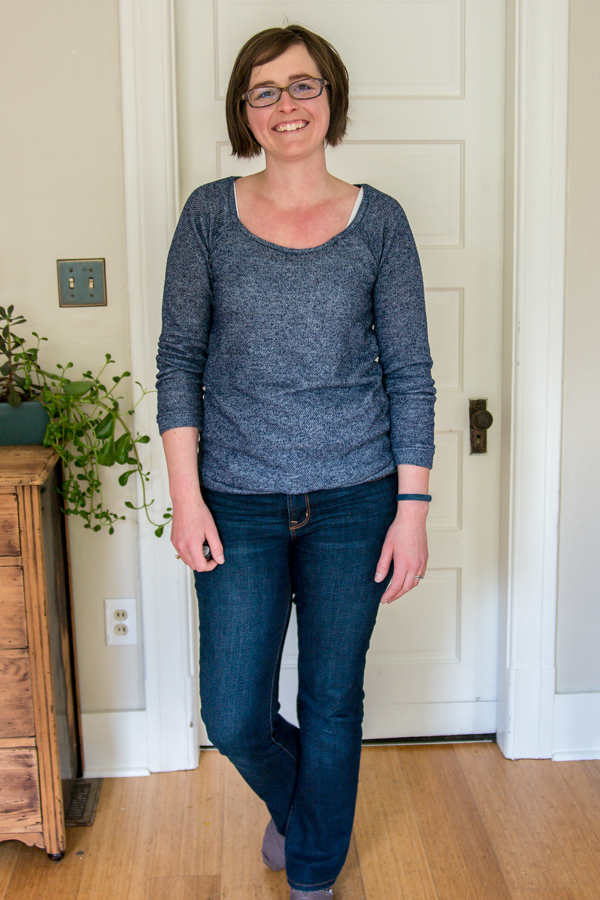 Day 14: The final day for the second week of Me Made May '17 brought an outfit that I have never considered wearing. This Alder Shirtdress has always felt like a standalone dress to me, but pairing it with white jeans and sandals was perfection. Although now that I have paired it with pants, I realize that it is far too short to wear on it's own. I would love to make another one in the proper length for a dress because it really is such an easy piece to wear in the summer.
Since it was Mother's day and I was hosting my mom and sisters and families for dinner I wanted to wear something more than just jeans and a tee, this felt like the perfect casual outfit for the occasion.
Me Made May Week Two Observations: It is all about comfort around here. Whether I am running to preschool or dance I need to be wearing comfortable and causal clothes or I will just change as soon as I get home. Just as I mentioned in my recap last week layers really are key for me. Spring weather can swing drastically here so having options when you are out and about is really important.