When I created the Meadowood I knew it would be a four seasons top for me, I can already picture it with shorts and sandals this summer, but I am getting ahead of myself. Let's talk winter styling, or more appropriately, layering the Meadowood.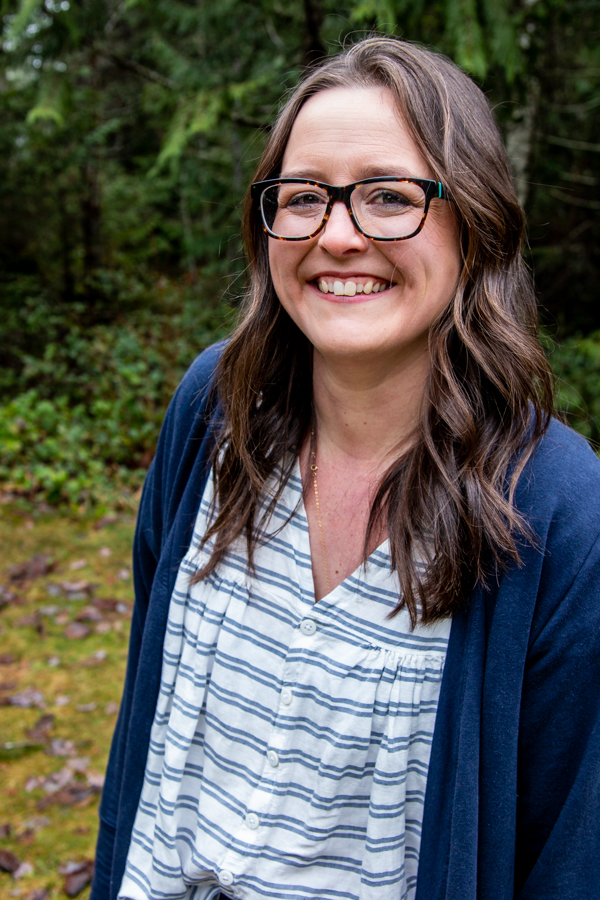 Meadowood has a dolman sleeve which can make layering tricky if there isn't enough room through the sleeves. But since it is such a floaty top it lends itself well to floaty oversized layers. I started to realize a few weeks ago that I have a few patterns in my collection that actually pair really well with it, and I didn't even remember until I got cold one day while wearing one.
I always forget how much I love my Laurelhurst wrap until I put it on and see just how cute it is, ha! I recently made these Ash flare jeans and thought the combination of the Meadowood and floaty Laurelhurst would look great paired with them. I was totally right. I think in order to get the right look doing a front tuck of the Meadowood was important. I threw on some fun earrings and my trusty pair of Dasko's and I was set. I have worn this outfit a few times now and just love the pieces together so much.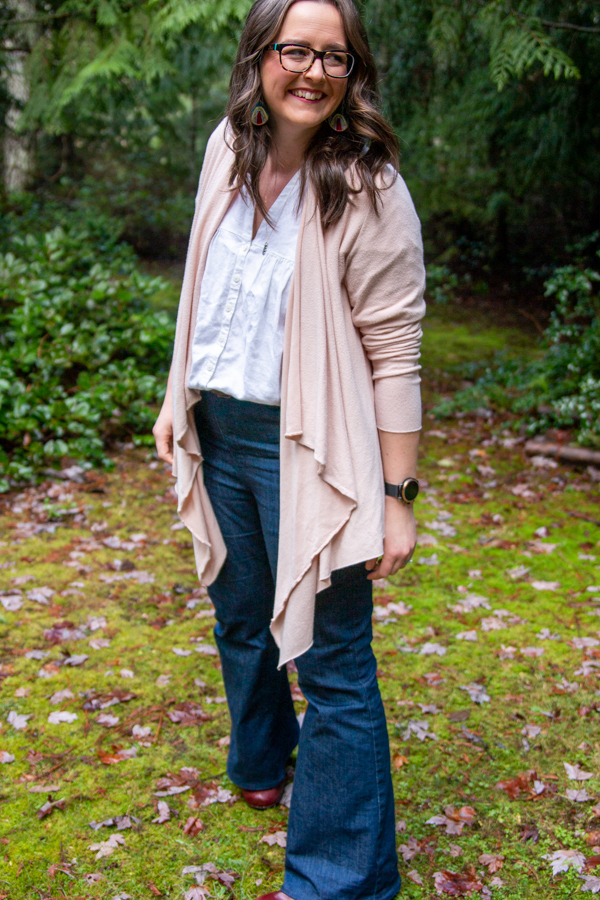 Since my days usually consist of walking the dogs, taking the kids to and from school, and drinking coffee I wanted to find a way to style Meadowood that really fit into my normal everyday life. I pretty much wear a Phinney Ridge cardi with everything around here so I had really hoped it would work with Meadowood, and it did. The slightly larger armhole is perfect match for the dolman sleeve on Meadowood.
I finished the outfit with some slip-on runners which solidified the casual mom look I live in.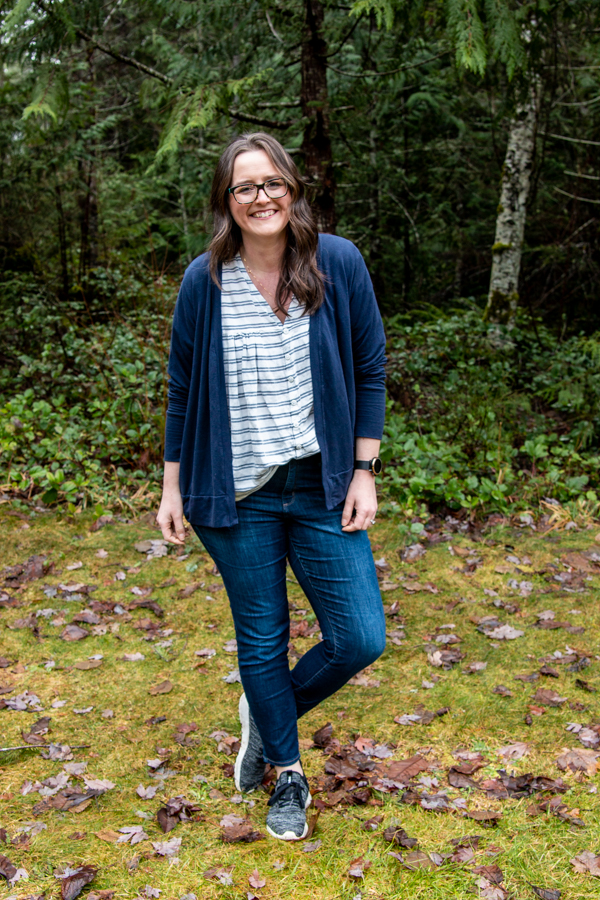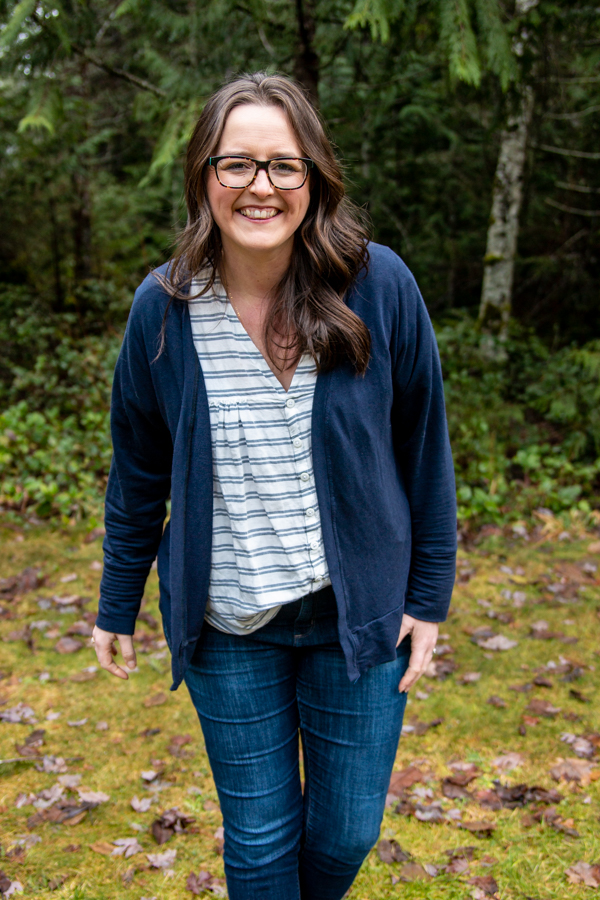 Why not also take a chance with some pattern mixing and distressed denim. I threw this outfit on in a rush and didn't really think much more about it and it became one of my favourite combinations of my patterns. This is a lengthened Phinney Ridge with an added pocket in a lightweight french terry. I never really thought the colour of the cardi was good for me, but I have learned that sometimes it just takes wearing it with something different to change your mind.
To mix things up a bit I went really oversized with my Leavenworth jacket in this bold saturated colour. It really plays off the colours in the plaid while also bringing the whole outfit into the winter. Paired with skinny jeans and some suede booties I was ready to go stand in my yard in the forest and pretend I was actually leaving my house.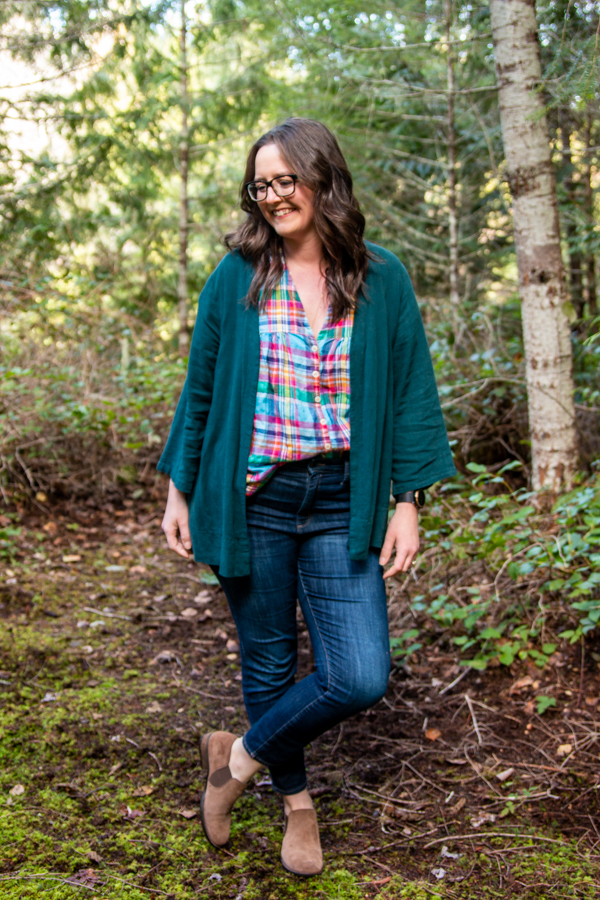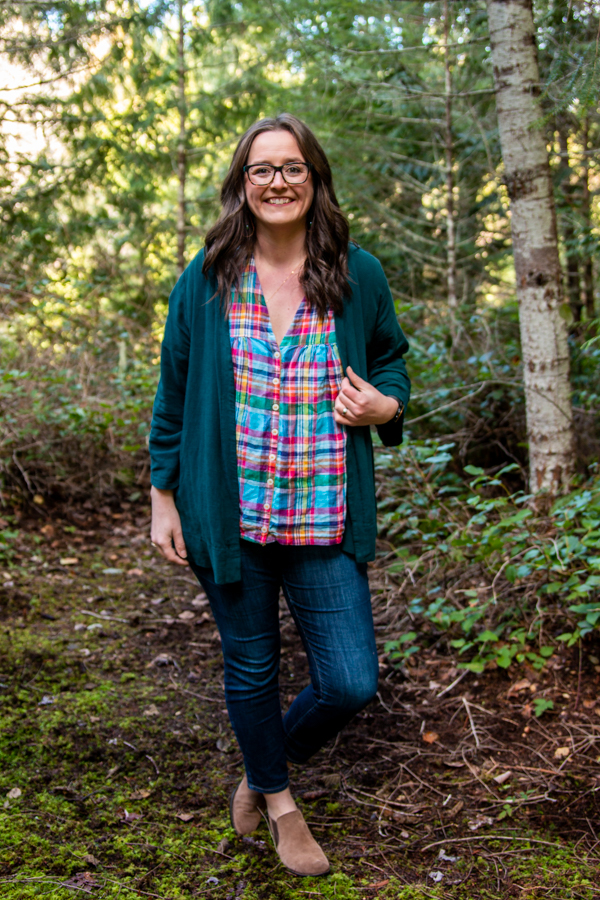 There are just so many fun ways to wear Meadowood even when the temperatures start to drop. I hope you have some inspiration for ways to wear your Meadowood through the winter. Make sure to head to YouTube to walk through the assembly of the pattern or to the blog to see the pattern on my lovely testers.