Testers are what keep this business going. Every time I put out a call for testers I am blown away by the people that want to help me with my patterns. As I start to see the versions pop up in the testing group I get more and more excited. I had a friend ask me recently what it was like to see your work on other people, and I am not sure I can put it into words because it really is amazing each and every time.
When I am working with testers I ask that they tell me the good and the bad because after spending weeks looking at a pattern I can no longer see it objectively. They give the most amazing feedback, ideas, and support and really work with me to make it even better than I could have imagined.
I know that seeing me wearing Meadowood is one thing, but being able to see Meadowood on 28 different bodies is really what you have been waiting for.
Make sure to grab your copy of Meadowood while it is marked down through tomorrow.
---
Here are the testers that made this all possible.
Amy sewed up two versions of Meadowood and I love how she styled them differently. She is actually the one that inspired me to make a pair of flare jeans to wear with my Meadowood.
Andrea used a chambray from Pendleton Woolen Mills that really shows the lines of the pattern. I love that this top could be worn either dressed up or down.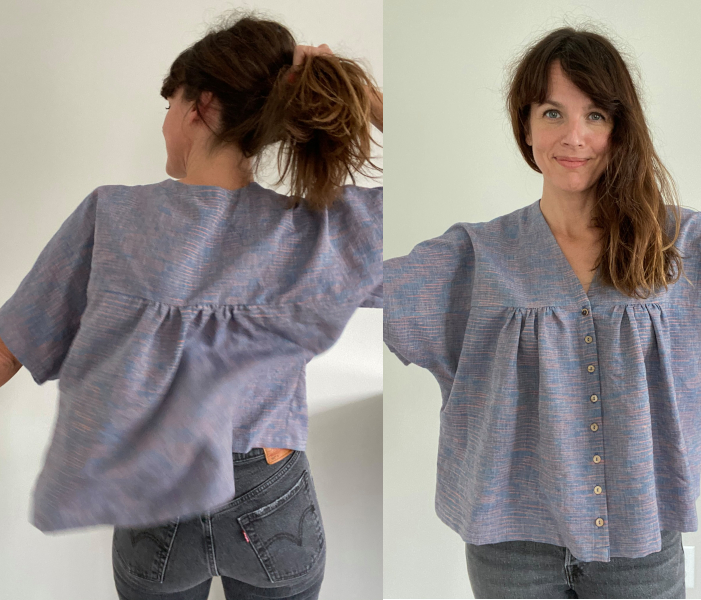 Ashley sewed up this 100% tencel version and I just love it paired with leggings.
Beck sewed up two versions one in a cotton/linen blend and the other is vintage cotton. Both are so cheery it makes me rethink my wardrobe of white, black and grey.
Celine went with a bold print on this rayon that really compliments the drape of the pattern.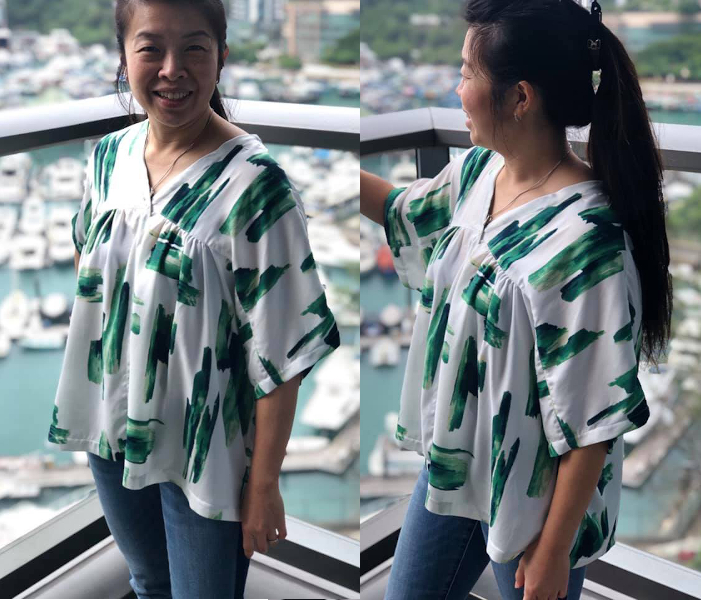 Chelsie sewed her first version in the size recommended by the pattern. She then sewed one up a few sizes smaller to remove some of the ease. Both look great and such fun fabric choices.
Erin sewed up her Meadowood in rayon and I just love how she paired it with leggings, boots, and a cardigan. It is no secret I LOVE a good classic cardigan so I will definitely be copying this look.
Heron used cotton voile for her blouse and I love the floaty feel of the top, such a perfect fall fabric too.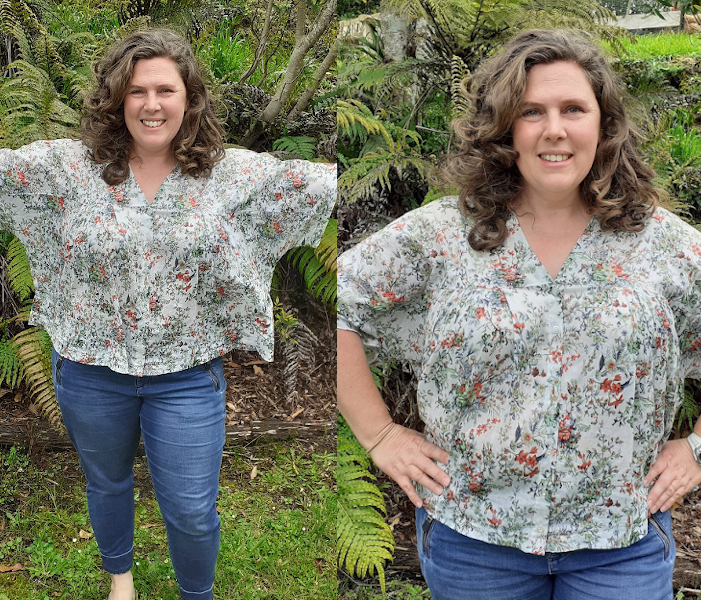 Jen sewed up the most perfect purple top, and I am not normally a purple person. Can we all agree she rocks the side pony.
Jenna's choice of fabric is so my style I just want to sew one up just like it for myself. This rayon gives the drape that is so beautiful in this pattern.
Karen really helped me see with a few small changes she could adjust the pattern to fit her better and so can all of you. Karen took 1/5″ out of the yoke and body of the top so that the proportions were more in line with the intended design. I love the structure of the 100% linen as well.
Lauren and I are twinsies with our white linen versions, it's just so classic and lends itself so well to the lines of the pattern.
Liz used flannel for her version, which I honestly didn't even think of. Then to give it a little more excitement she put the binding on the outside of the blouse. Such a fun design element and I just love the finished result.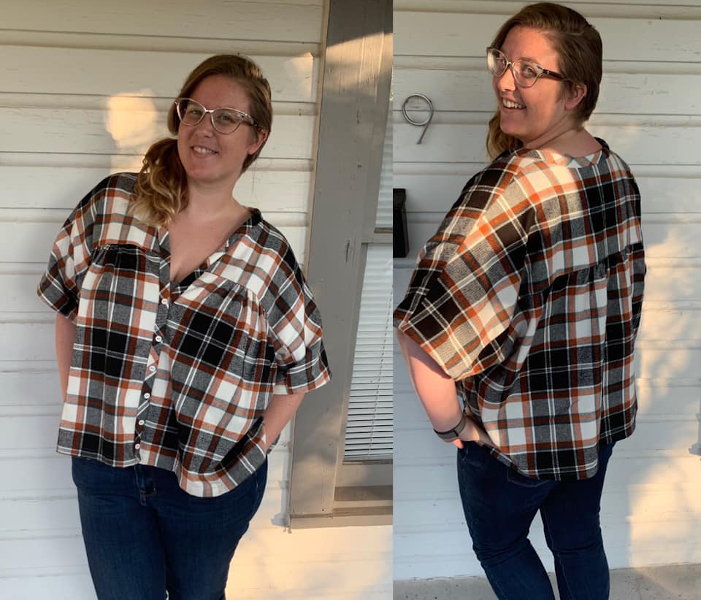 Loni used stash fabric for her top that has the design on the bias so it gives her top such a fun look.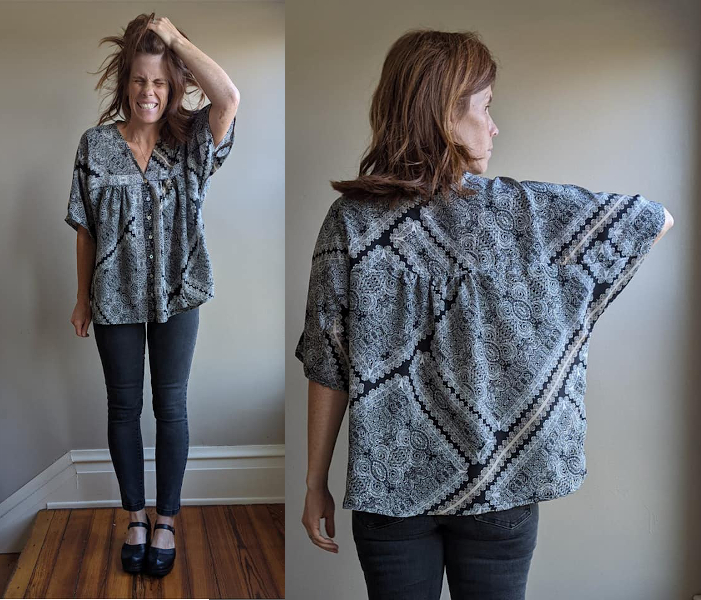 Michelle sized down to get a slightly less oversized look for her top. And since I draft for a height of 5'9″ she also removed a few inches from the length to better suite her body. The fabric is a rayon voile and the combination of fabric and pants just gives me a smile every time I see the picture.
Michelle has fully convinced me to sew up the red and white fabric I have in my stash. I just can't get over what a great fit this top is on Michelle.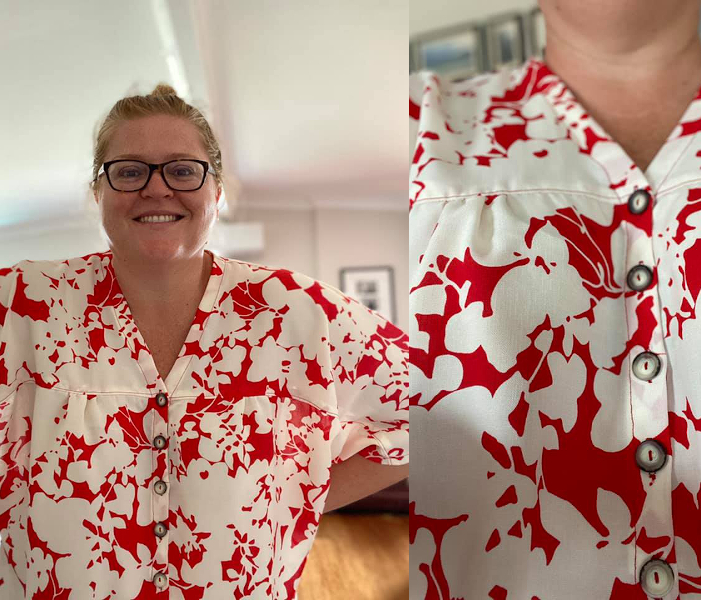 Mikayla used the most perfect colour of linen look cotton for her top. I actually squealed a little when I saw it because I want that fabric too. Other than shortening it to better accommodate her height she didn't make any changes. I love how well the fabric holds the gathers.
Naomi sewed up two versions and both turned out fantastic. You know I have a soft spot for plaid, but the cotton sateen really stands out with this pattern.
Nicola used a linen mix and that fun tropical leaves print left us all feeling like she should be on a beach somewhere with a drink in her hand in this top.
Nina was the first to use a contrasting fabric for her bias binding. This chambray version turned out great and the hind of Rifle Paper Co in the binding is a fun detail on she gets to enjoy.
Robbin used the perfect colour green rayon for her Meadowood. The hint of pattern on the fabric gives it such an elevated look.
Sarah used a rayon for her top and played around with the yoke so the design went the other way. With a contrasting bias and gold buttons I think it is a great top.
Sarah sewed up two versions and with this her second one she decided to shorten it by 3″ to give her more of a cropped look. I think it looks amazing.
Sarah used a blush pink cotton lawn that really compliments the feel of the pattern, it also really holds those gathers which is a favourite part for me.
Susan used double gauze and I love the results. She sized down quite a lot to get a less oversized look and I think the end result is just lovely. Such a fun fabric too.
Tabitha went with a beautiful blue rayon that looks stunning on her. She embraced the over sized look of the top and it really came out fantastic.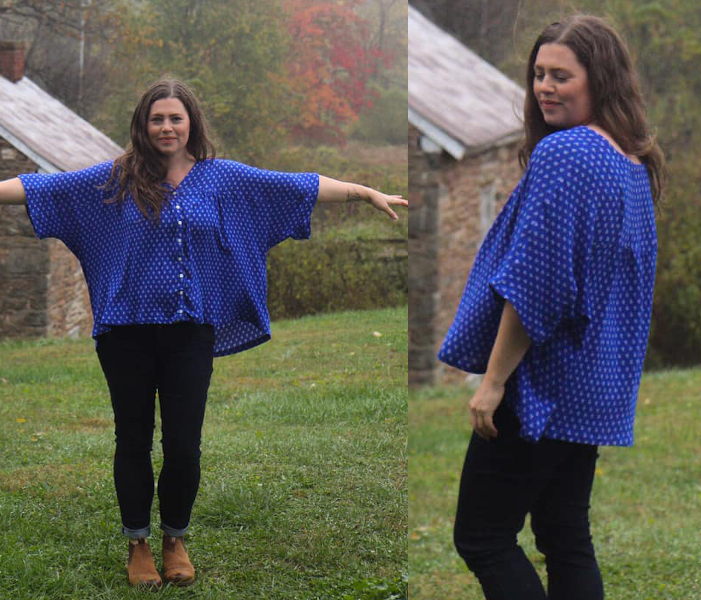 Tineke used a viscose rayon that has the look of a chambray and the drape of a rayon. I love the combination.
Tracy went bold in her colour choice for this double gauze and I really just makes me smile. Other than adding a little length to better fit her style preference she didn't make any changes.