Sometimes in sewing what feels like an epic mistakes turns into the happiest of accidents and so much better than you could have ever imagined.  My tencel twill cheyenne is just that an unexpected surprise from an epic cutting mistake earlier in the week.
Any sewist can look in their stash and find fabric that they are just waiting for the perfect pattern.  Whether the fabric has special meaning or maybe something you splurged on, you just want the garment to be perfect when the fabric is finally used.  But many of us get really nervous when the pattern has been picked and you have to actually cut into the fabric.
Last week I was cutting into this amazing tencel twill I got from Indiesew (sadly it's all sold out) when I realized a few leg pieces in that I actually didn't have enough fabric for my Luna Pants.  After I stopped screaming at myself in my head I decided to switch gears and make use of both the yardage and the pieces already cut out for a Cheyenne tunic.  I knew I would have to get creative with my cutting but if I planned it out exactly I was sure I could make it work.  Y'all should see what was left, literally just scraps!
The end result is hands down my favourite piece of clothing in my closet at the moment.  I feel beautiful in this top!
It's no secret I love this pattern, you can see my chambray version here and my sleeveless version here.
This was the first time I have done the 3/4 sleeves with the button tabs which I have to say it totally makes this shirt.  The drapeyness of the top with the slouchy rolled sleeves has me swooning.
When I made my full placket Cheyenne I found that the tunic length was perfect for my height as sort of an in between shirt and tunic.  Basically it's just me being lazy and not feeling like adding length to the shirt.  For reference, I am 5'9″ and this is the pattern as written in tunic length.  The back hem hits me just below the bum, so if I was actually going for a tunic I would probably add 4 inches so there was a little more coverage at the side.  Personal preference there.
Every time I make a placket on a top I sit back and just stare at it because it just surprises me at how well it came together.  I usually question myself through the whole process but then I do the top stitching and surprise myself and how great it is.  The instructions for this placket are so easy to follow and I get better each time I make it.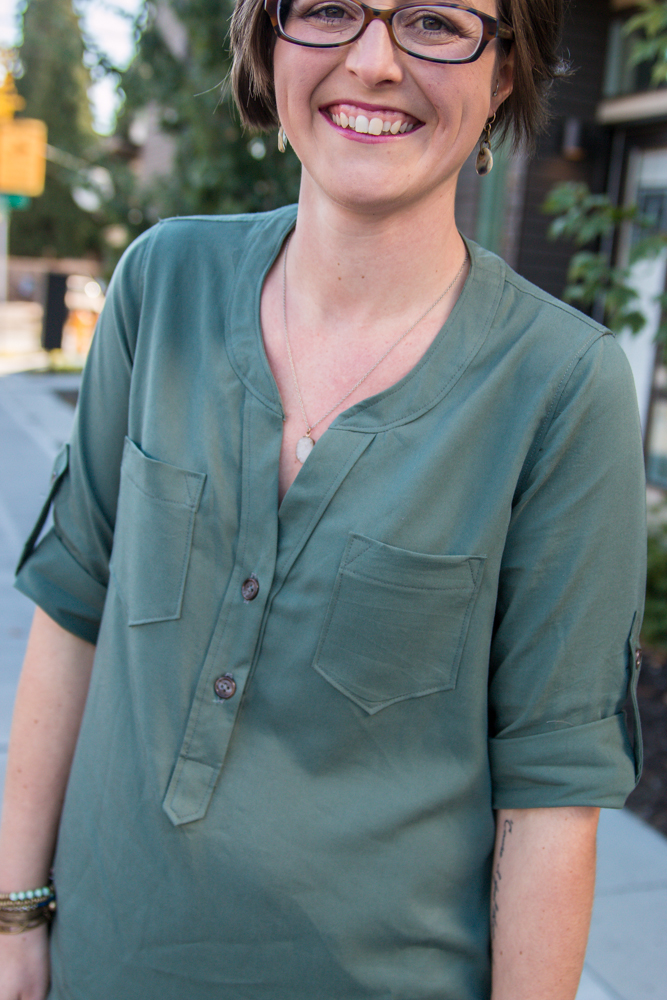 I may be a bit obsessed with tencel twill now and just want to make all the things out of it.  You have been warned there could be a lot more tencel twill projects on the blog in the future.