My Selfish Sewing Week is off to a wonderful start, and at this rate I am going to have a whole bunch of great new pieces for my wardrobe.
The main pattern that was on my MUST list for this week is the Evergreen Jacket from Hey June.  As I mentioned in my introduction post for this week, I had the pattern purchased within minutes of reading it was available.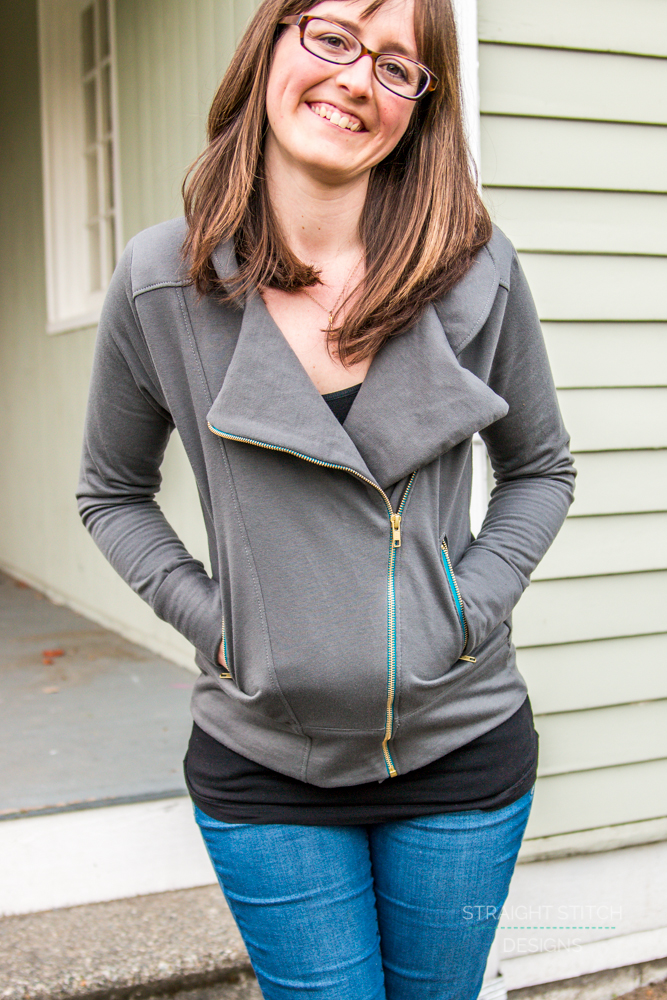 I knew this was the perfect pattern for some grey sweatshirt fleece I had from Girl Charlee, not only is it going to be the perfect weight to give this jacket substance but it will be super cozy on cool spring nights.
There was no questions I was going to use metal zippers, and thankfully I found the perfect compliment to the grey with a dark turquoise brass zippers.  I couldn't find 6″ zippers for the pockets in the same colour so I just bought the 12″ ones and cut them down.  Probably not the official way, but it worked and they look great.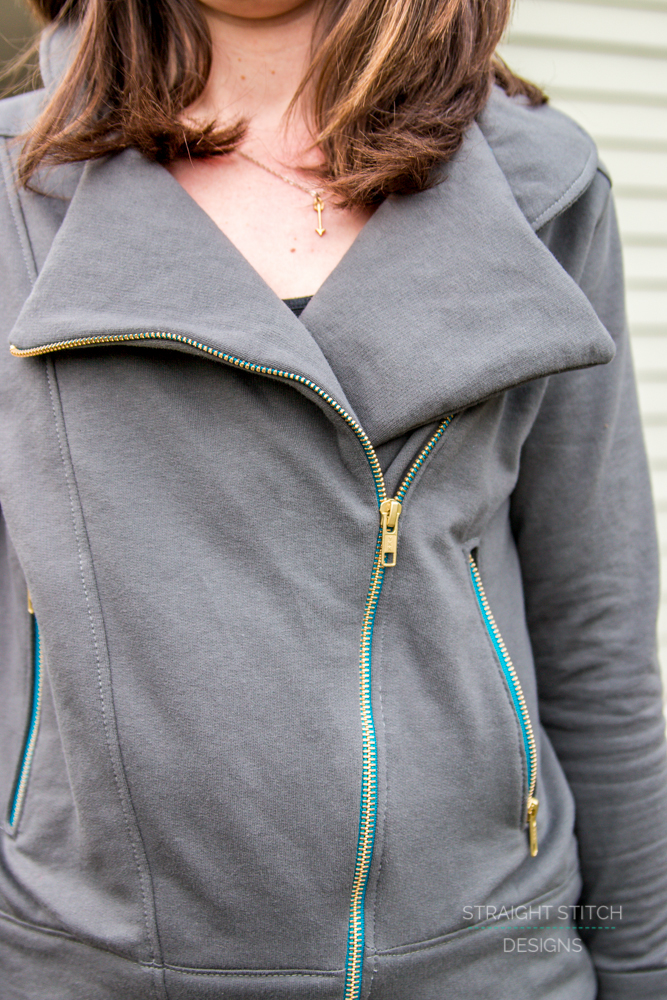 One of my goals for this year, as I have probably mentioned a million times is to improve my zipper skills.  This project was obviously zipper heavy but I felt pretty confident going in.  Heck I was far more intimidated by the number of pieces to this pattern and keeping them all straight than the fact that I was going to be installing 3 zippers.
I did learn a few things while sewing this up that I thought I would pass along, sort of a learn from my mistakes PSA.  So sit down grab a coffee 🙂  (Don't laugh too hard, this is my first attempt at sitting down for a picture and using a prop)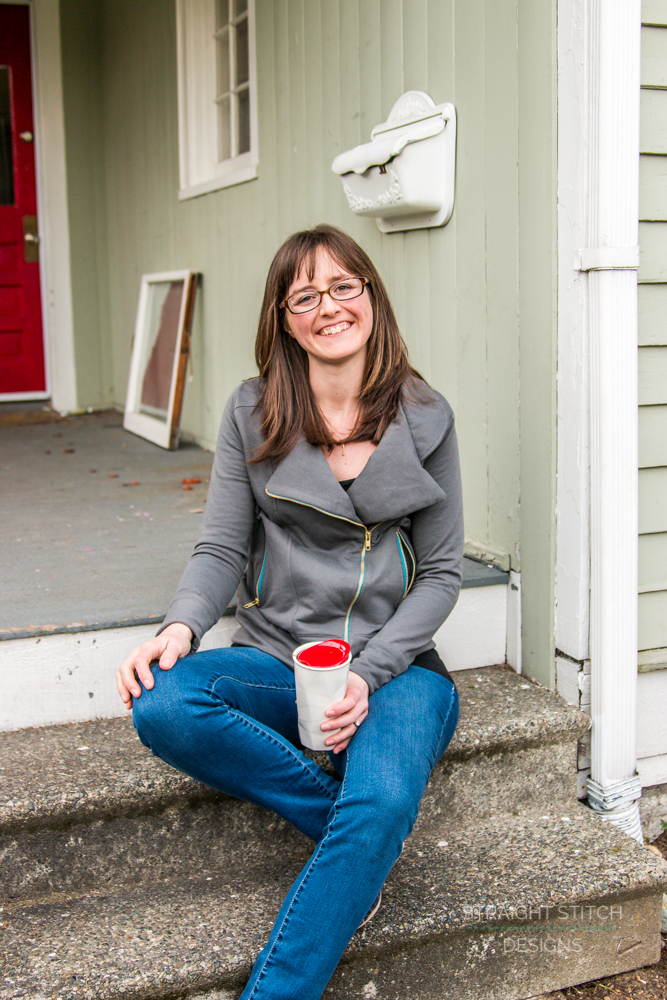 First things first, when picking your size don't make the mistake I did and grade out for your hips.  I am a hippy girl, not in the flower power kind of way but more in the big bum kind of way.  Now normally I have to sew up a small for the top and a large for the hips, so when tracing out my pattern pieces I did what I always do.  After sewing this up it dawned on me that the jacket wasn't even going to be on my hips and therefore it is a little loose at the bottom.  Not a huge deal but also not a necessary change on my part.
Like I said above I came into sewing this jacket feeling really confident about my zipper abilities, I had recently done a bag with a zipper pocket inside as well as a skirt with the best zipper I have ever installed.  So basically I am a zipper pro 🙂
Adrianna's instructions are perfection, she walks you through everything with both clear pictures and great written instructions.  I was just sewing along installing the zipper like the pro that I am, see above, patting myself on the back as I went until I realized I don't think she intended me to literally sew as close as I possibly could to the zipper teeth.  As in so close I have difficulty getting the zipper up and down.  Sewing has a way of knocking you down a peg when you may be a little full of yourself and your abilities.  But have no fear after a little wrangling it is much easier the more I move it up and down.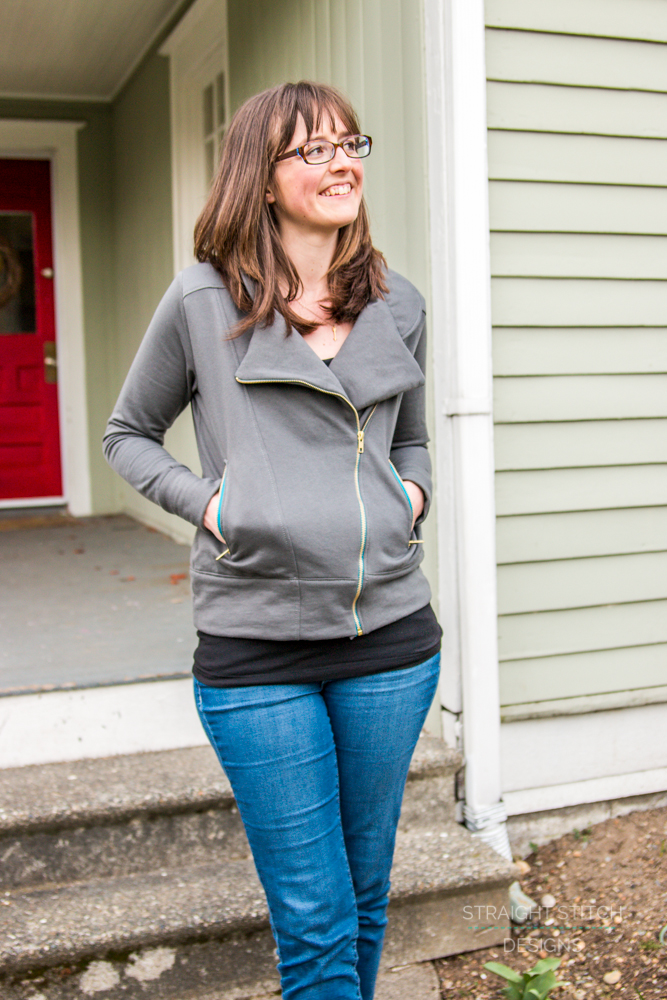 But overall the most important thing I learned with this jacket is the high level of skill that Adrianna has, seriously people the way these pieces were drafted and the full jacket is constructed really is perfection.  I was in awe of her skill through out this entire pattern and I will definitely be sewing another one.
Make sure you go get a copy of this pattern.  If I didn't have a to do list a mile long I would actually make another one this week, I am smitten!