I hope everyone is having a great time sewing for themselves.  Some of us don't do it nearly enough so setting aside a week to sew things that have been on our list is always fun.  I love seeing what everyone is sewing up.
Since I powered through a long night making the Evergreen Jacket for Day 1 I knew Day 2 was going to be sort of a rest day for sewing.  I am also in the middle of pattern testing my next pattern, Laurelhurst, so I thought this was the perfect opportunity to sew up the latest tester version of the wrap to see how the fit was evolving.
The weather is definitely more like spring so I sewed up the 3/4 sleeve in a really lightweight jersey, perfect for layering in Seattle.  There is also the option with this pattern to add a button, so I dug through my button stash and found a great wooden one that worked well with the stripes.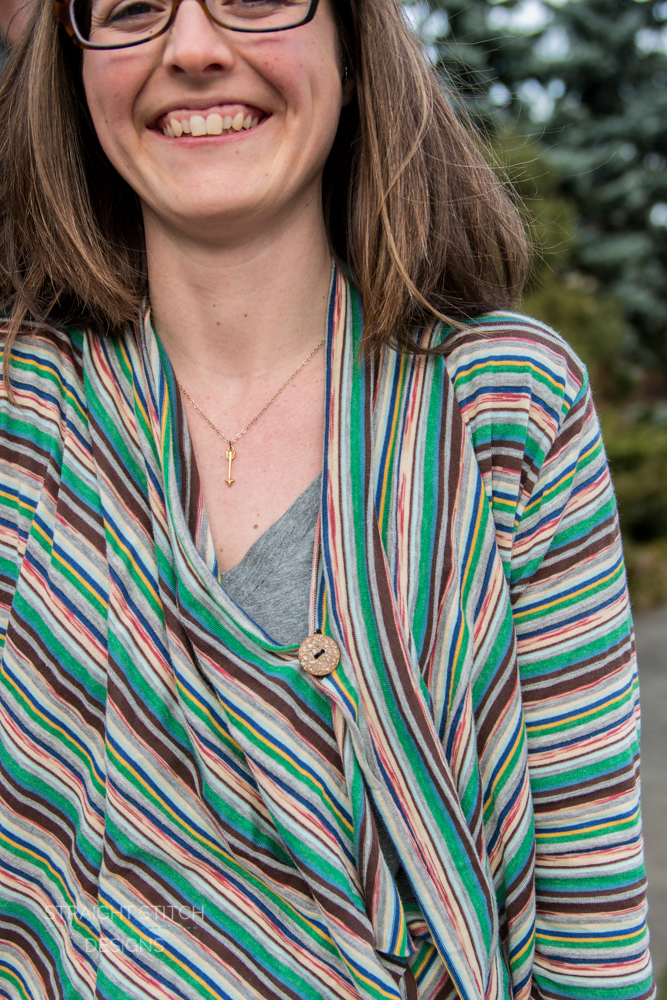 The button helps give it a little different shape while still having the effortless casual look I was going for.
This pattern is such a quick sew that I almost want to make one every morning to wear 🙂  I think people might start commenting if I wear a Laurelhurst every day, then again they will probably be jealous that they can't make a new shirt every morning.
I might try to be ambitious and get this pattern released by Friday since my testers are amazing as usual, we will see how tomorrow goes on the final day of testing.
Come back tomorrow to see the Hudson Pants I sewed up for Day 3!  Pretty excited to have finally sewn this pattern.