Brace yourself people you are about to relive all the amazing selfies you saw of me during the last month.  I am pretty selfied (not a word but I am totally going with it) out!
Hard to believe that I made it through the entire month wearing at least 1 handmade piece of clothing every day.  I never expected to remember to actually do it every day, but I am so glad I did because I got some real insight into my style and current wardrobe.
The main thing I learned from this challenge is that there is no question my style is all about comfort.  But being comfortable and still looking cute don't have to be mutually exclusive, there is no reason you can't make comfortable clothes in a style that is flattering and out of some amazing fabrics!
Can we just pretend that my sewing room isn't a DISASTER, holy moly its a hot mess on the regular.  But in the spirit of being real on the blog I never actually tried to clean it up before a picture, plus I am a bit lazy 🙂  No really ask my husband he will confirm this fact!
It truly makes me smile to see all of the clothes that I have made and can proudly wear out and about.  When my closet and drawers are stuffed full of clothes, I never see everything that I really have.  Spending the month choosing something new every day was a great eye opener, there are handmade things in my closet I won't wear for whatever reason, and should pass along to someone else.  The great closet purge is about to go down in the Payne house.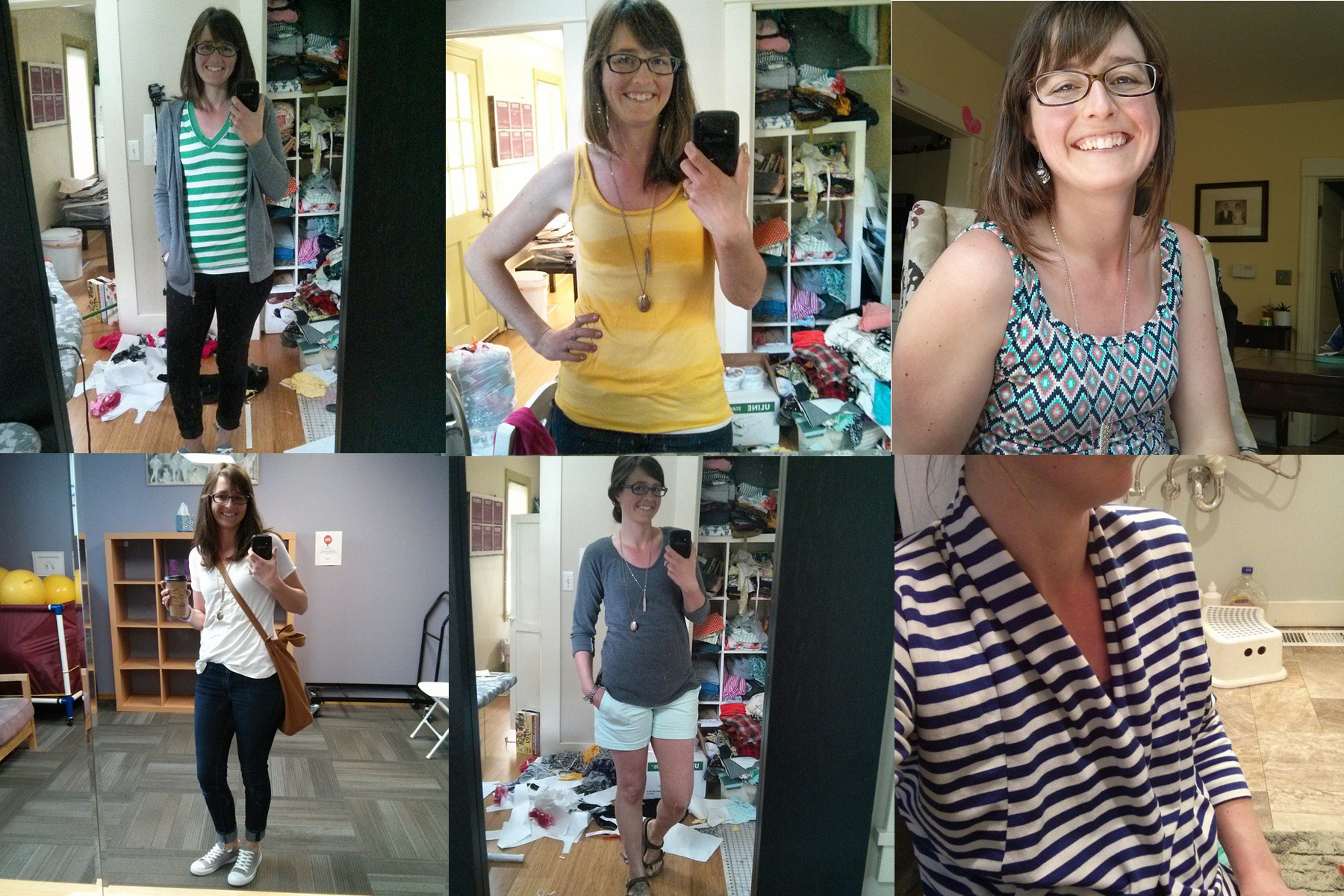 A big part of my success is the fact that I was pattern testing this month, there was no shortage of sample sews to wear.  So current me is writing this to remind future me to pattern test during the month of May next year, it really boosts your choices.  My tank top collection increased by 6 the last few weeks!
If you have been following along all month I hope you got a chance to see the real me, the girl who has a messy sewing room, who takes imperfect selfies, who drinks WAY too much coffee and who lives a pretty normal day to day life.  Well except for that pretty fantastic New Kids on the Block concert I went to this month, but even then it took me 2 days to recover from being out so late 🙂
What I am most excited about moving forward is making more and more of my clothes, clothes that I will actually want to wear and that fit me.  So make sure to follow along both here on the blog and Instagram to see all the fun things I will be sewing over the next few months.  Who knows I might finally cut out my Watson bra and Jamie Jeans…