I have learned over the years that I can't determine whether I will like a pattern based on my ideas of what will look good on my body. We are not neutral about our bodies even if we love and accept our bodies for what they are, we will still always see the 'flaws' and how a pattern may accentuate those flaws. High waisted wide leg pants were definitely a pattern I wasn't convinced I would like on my body.
What is funny about this thought process is that I created a pattern for high waisted wide leg pants for Sew News that I adore and wore almost none stop this spring and summer. The relaxed style of the Pagosa Pants was a great way for me to see that the style is flattering on my body and maybe, just maybe, I could love a pair of fitted pants as well.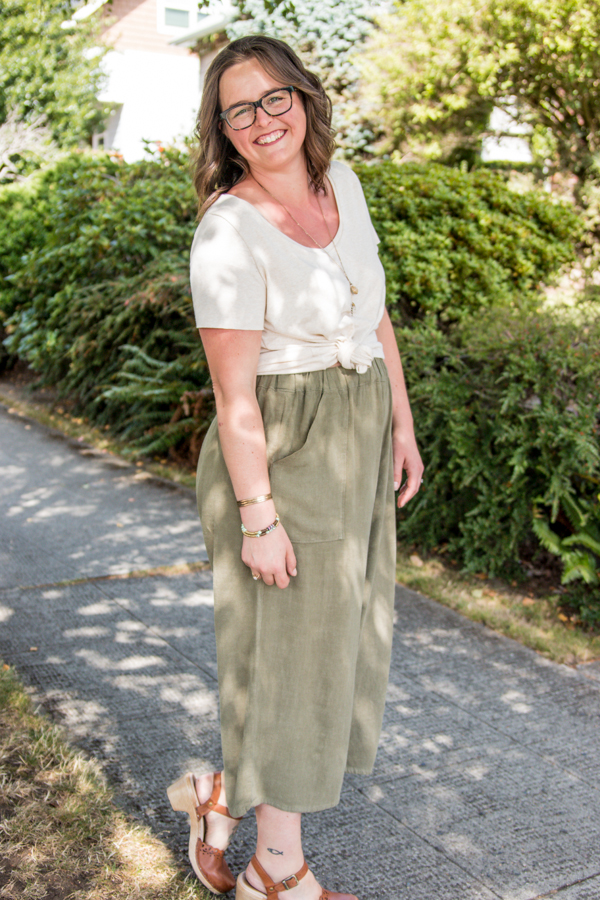 Since I dipped my toes in the waters of high waisted wide leg pants with the Pagosas, I decided to just go for it and make a pair of the Kendrick pants by Hey June Patterns. The pattern is full of options and a really great size range too. I found myself at the top of the size range for hips, but thanks to the 1″ seam allowance at the sides, I knew I would have more than enough wiggle room to get a good fit. Every pants pattern should have 1″ side seam allowance it feels so much easier to know you have the room to adjust without having to go up a size.
Pants are something that has always intimidated me but when I get right down to it, it isn't that much harder than any other pattern. Usually, I have to just take a deep breath and dig right in.
There is one standard adjustment I have to make right off the hop for all pants patterns, and that is scooping out the back crotch curve. What this does is give more room for my butt which also gives more vertical coverage too. Otherwise, the pants ride down too far in the back and you get that lovely wedgie. I usually need a curve that is 1/2″ deeper than the pattern is drafted for. This is another reason why the 1″ side seam allowance is great, since the deeper you sew the crotch curve the less fabric you have across the back.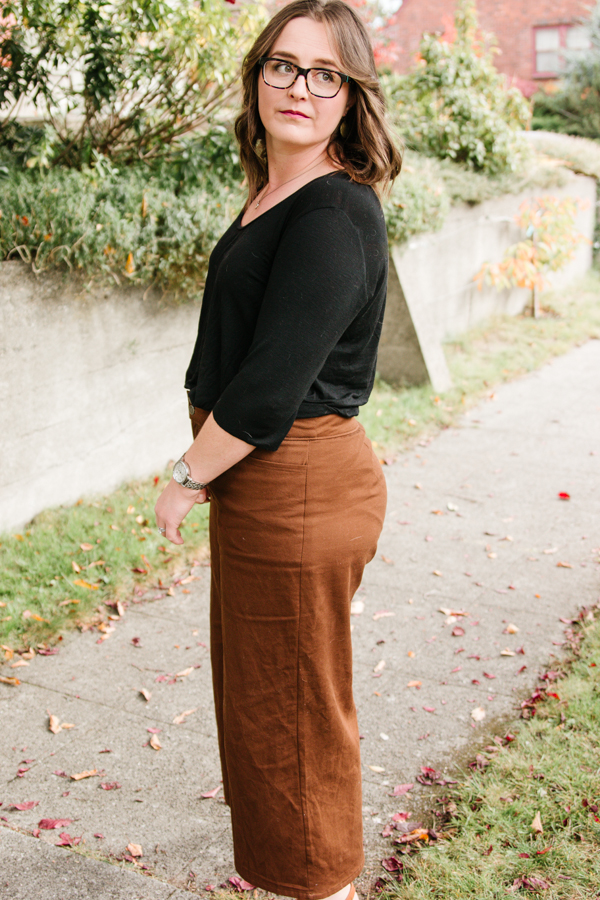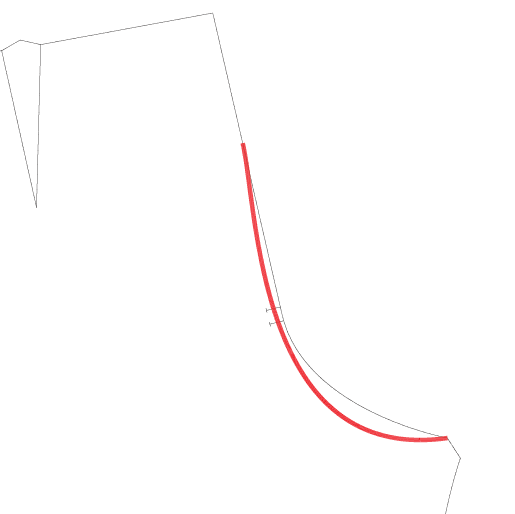 Since I was treating this pair as a muslin of the pattern I went ahead and did the rest of the pattern as drafted and made a few final adjustments before sewing the waistband on, mostly to bring in the center back so that the pants would be snug to my back. Adrianna does a fantastic job of including information on what to do if you have a gaping back waistband so definitely check out that part of the pattern if you are having the same fit issue.
When it came to figuring out what I wanted to wear with them I spent probably 20 minutes pairing them with every type of shirt in my closet. What I was left with was a bunch of no's and a bed full of clothes. The final thing I threw on was a simple black Montlake tee and BAM I knew it was the perfect pairing.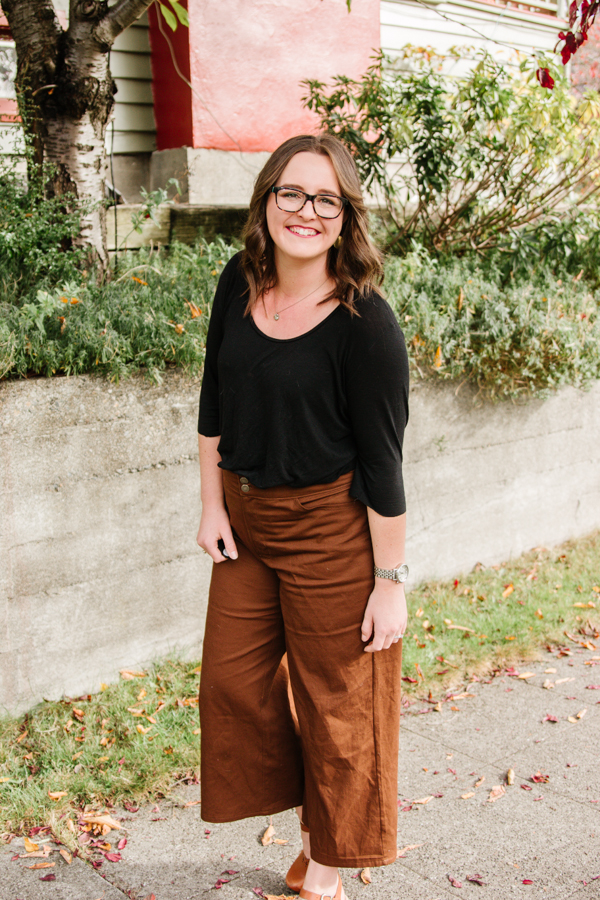 The fabric I used for the muslin is twill from Joann Fabrics in this lovely brown colour. One thing I will say about this fabric is that it did stretch out a ton within a few hours of wearing them. If I was to use it again, I would probably fit them a little tighter. With that said it won't keep me from wearing them. Now that I have the basics of the fit down I can cut into two fabrics from my stash that will be great additions to my wardrobe that is seriously lacking in well-fitting pants. Even though I am horrible at batch sewing, I might try and sew a pair in cone mills denim and black chino twill at the same time, if you think I can get away with black topstitching on the dark denim. Would anyone notice? And do I really care if they do.
These pants are proof that you can't make a decision about a pattern style if you aren't even willing to give it a try. I never expected to like these pants as much as I do, and while I am still trying to figure out how to wear them besides just a black tee I am loving the change of style. I know that a black and denim pair will seamlessly fit into my current wardrobe, now to find time to actually sew them.
I highly recommend this pattern, especially if you have been on the fence about cropped high waisted wide leg pants. They are gold!