When Melissa of Melly Sews/ Blank Slate Patterns reached out to me about doing a pattern swap I was on board immediately. I have been a long-time follower of Melissa and love everything she comes up with whether it be the patterns she designs or the clothes she sews. Melissa decided to work with my Leschi top as a base for her planned hack, and I immediately went with her Austin tee.
I loved the split neck of the pattern and immediately envisioned it cropped and paired with one of my high waisted skirts, either Wedgwood or Madrona. My exact plan though was still undecided until our weather changed drastically a few weeks ago and we had entered fall.
I stuck with the original vision of a cropped length but decided to give it a little more oomph with both my fabric choice and the addition of ruffles at the sleeves. The fabric is a burnout stretch velvet from Joann Fabrics I bought last year for a project I never ended up making. I think the combination of floral design and slight sheer areas is such a fun combination. It elevates this from your basic cropped tee.
It wasn't until I had it all sewn up that I was remembered that I sewed a very similar version of my Leschi last year. I guess I have a thing for v necks and ruffled sleeves.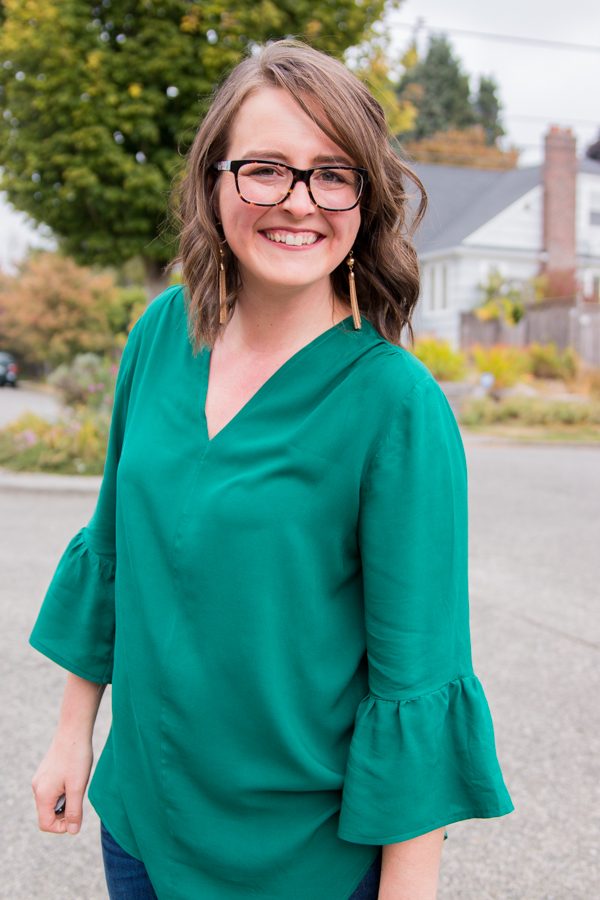 When looking at the high waisted skirt options in my closet I knew I needed to pair it with my dark green knit Madrona skirt. This skirt feels like it is magic depending on what I pair it with. Through the summer I wore it with a tank and sandals and this fall I have been wearing it with a tee, clogs, and a chambray shirt. When paired with this top and some strappy heels I feel like I need to go out and celebrate something, I don't' know what but something.
The changes I made to the pattern were pretty simple. For the length, I measured from my inside shoulder point down to my natural waist, which is where I knew the skirt hit. I measured at the same point on the front pattern piece and added 1/2″ to account for the hem, and then used the front piece as a reference point for the back. Normally I would do quite a bit of grading between sizes for this top to fit, but since I was cropping it I only grading out for the waist.
To add the ruffles at the sleeve I cut the sleeve at the elbow-length and measured the bottom hem of the sleeve. For my size, it was about 12″ wide. I wanted the ruffles to be full so I multiplied that number by 2 for the width of the ruffle. Since my favourite sleeve length is 3/4″ I made the ruffle 6″ tall which would hit me in the perfect place. Simply gather the long rectangle to the length of the sleeve hem and sew it together. Then just follow the rest of the instructions in the pattern.
This pattern was so fun to create not only because I love working with other designer's patterns but because it was fun to see how different a pattern can look with a couple of easy changes.
When I got home from taking these pictures though I immediately threw on jeans and a tee since skirts aren't my typical everyday outfit. I love it with the skirt, but I was curious if I could find a way to make this Austin tee have a greater life than the occasional celebration or date night that requires getting a little dressed up.
I never would have thought that simply throwing it on over a black Montlake tee would make me so happy. Such a fun and unexpected outfit that is so far out of my comfort zone yet fits so well with my other clothes.
Make sure to head over to Blank Slate Patterns to get your hands of a copy of the Austin tee and to check out her version of my Leschi top. Save 20% off both the Leschi in my shop and the Austin tee in her shop with code SSDNBSP
What is your favourite change to a pattern that is easy yet makes a huge impact on the overall look of the garment?