Disclosure: Some of the links below are affiliate links, meaning, at no additional cost to you, I will earn a commission if you click through and make a purchase.
I like to keep things simple in my wardrobe because honestly I rarely wear things that are much more than jeans and a tee shirt. Working at home and living the mom life means I generally grab for comfort but as I have always said you don't have to sacrifice style when choosing comfort. A woven tank is my newest obsession, it feels like a dressed up version of just a simple knit tank and is the perfect layering piece as we head into fall.
When Sew News reached out to me about contributing a pattern for their first capsule collection, Well Traveled, I knew exactly the garment I was going to design. As with many patterns on the market, the basics have been covered many times in many iterations but every designer has the ability to put their own spin on it. The Remmel Tank has all the qualities I have wanted in a woven tank but haven't quite found and I know what a great addition it is to the travel capsule, as I wore it while traveling in July.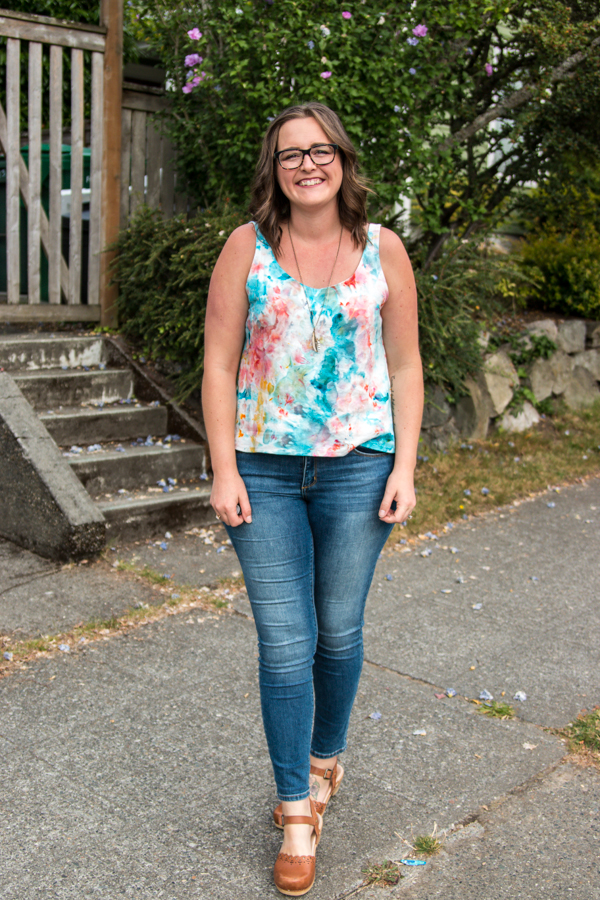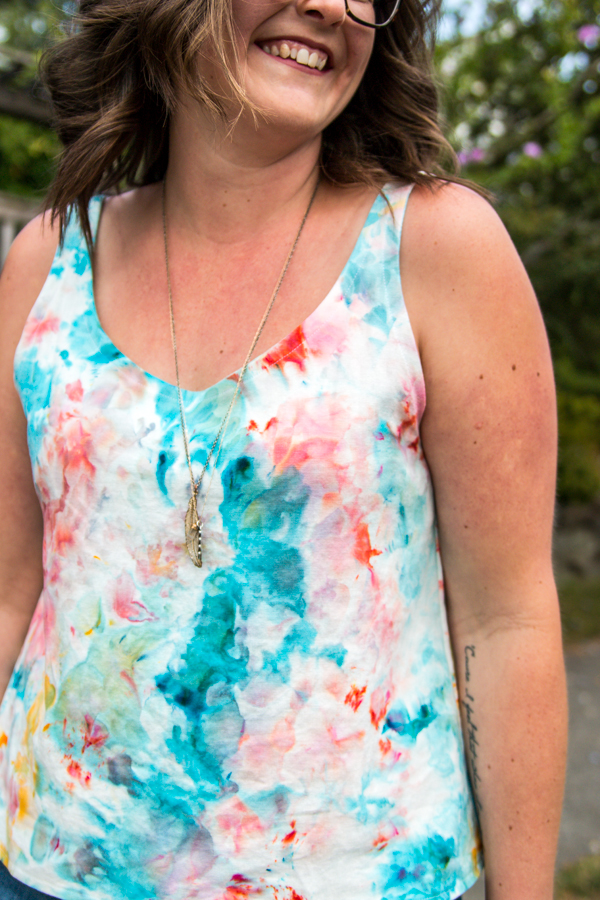 The big thing that I wanted to see in the Remmel tank was straps that are wide enough to cover your bra straps without being too wide, I love the look of dainty straps but I always hate when my bra straps show. I also love finishing woven garments with bias binding instead of facing, so both the armholes and neckline are bias bound. I believe once you get it you will realize that not only does it give a lovely finish but is actually really fun to put in. Plus you can make your own bias tape which is really easy and leaves you with an even nicer finish because the bias is made from the same fabric substrate.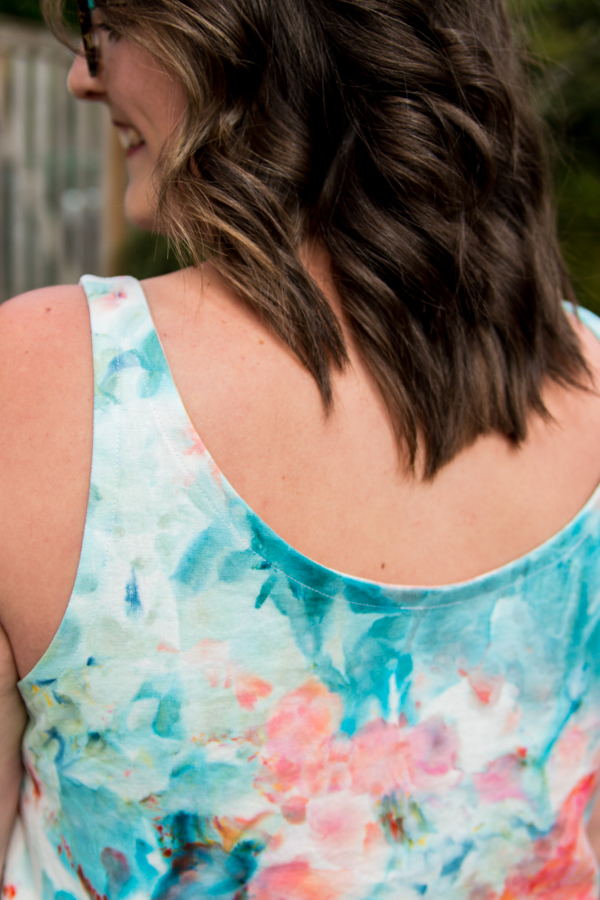 The final element that was a must have in the Remmel tank for me was a wide and deep scoop neck. My most worn pattern is my Montlake tee which has a similar neckline, I definitely used that as inspiration for the Remmel tank. The front neckline is mirrored on the back with a slightly higher scoop but still a dramatic look.
The other important pattern details to note is that it is available in sizes 0-24 and drafted with a B sewing cup. If you are familiar with my other patterns, I usually draft for a height of 5'9″ but draft all Sew News patterns for a height of 5'6″.
Let's talk about the fabric I used for this project. Normally I am a pretty plain fabric sewist; grey, black, and white are my go to colours but sometimes I like to mix it up.
I love the ability to expand my creative brain in new ways by combining a new hobby, like fabric dyeing, with my old hobby turned business. Armed with a linen/rayon blend from Joann Fabrics, fibre reactive dye from Dharma Trading, ice, and the new book from Anna Joyce, Hand Dyed, I was ready to give ice dyeing a try.
What is so fun about ice dying and really fibre reactive dye in general is that you never really know how it is going to turn out. The combination of colours, the effect the ice has on the dye, and the end result once it has been washed all play into the finished product. Since I was viewing this as a sort of practice I focused on trying 4 different colours both on their own and sprinkled near other colours to see what happens.
What I love about the finished product is that even the intensity of the colour changed after washing it. You still get spots of dark intense colours mixed with more muted tones, such a fun combination.
As soon as the fabric was washed I knew without a doubt that we would be doing ice dyeing at my Makers Retreat in November. I can't wait to share my experience with the ladies coming and see what finished result they come up with. I am positive they will be as giddy as I am about the process. Join us at the retreat!
Make sure to check back here in the coming weeks when I share some of the other patterns that are a part of the Well Traveled collection by Sew News.