Nearly 4 years ago I released my Montlake tee pattern and I was so incredibly proud of the pattern I created, I still am because my testers and I worked really hard to get the fit just right. I loved everything about the pattern, it was everything I want in a tee and I just knew others would feel the same way. I was really proud of the size range I had, not many indie pattern companies at the time spanned 0-24. But as we all know things change and I began to realize about a year ago that my pattern was not nearly as inclusive as I thought, mainly because I was near the top of my own pattern at the hips. And if I was pushing the top of my size range, then there were many women who would never get the chance to sew my patterns, and I am not okay with that.
So I did what any designer should and I started tweaking my size chart, reaching out to sewists to see what their thoughts were on my new size chart and tweaking it again. I remember one comment in particular from a sewist who said she would love it if the pattern went to a 60″ hip. I don't know why that stuck with me so much but it became the goal to have my patterns now go up to a 60″ hip and to do that I ended up creating a new size chart that goes from 0-34! You guys, that's 18 sizes! But what I am even more proud of is not that there are 18 sizes but that the size 34 looks just as amazing on as the size 0. When my size 34 tester posted her pictures I nearly started crying, I couldn't believe how amazing she looked in the tee, and it validated all of the work over the last year I have done to get this pattern here.
With the re-release of my Montlake Tee, I am so happy to know that more and more women can sew my favourite pattern. This is the pattern I have used to teach hundreds of women to sew at conferences and in my sewing workshops here in Seattle. This tee is the perfect beginner project that looks anything but beginner when done. It only seemed fitting that it be the first pattern in the new size range and the pattern I use to mark my 5 year business anniversary. Who would have thought this little business I decided to start with two little kids at home would become what it is today. I am proud of what I have created and even more proud that when I saw there needed to be a change that I took the time to figure out how I can make my patterns even better and more inclusive moving forward.
---
With the re-release of Montlake I wanted to do something a little different for the pictures, so I asked my mom and sisters to join me for the photo shoot, as a way to share the pattern on different bodies. My older sister is a busy lady and we just couldn't find a time for her to join, but don't you worry she will be in the next one.
It was so fun to hang out with my mom and sister in our new tees and just laugh and take pictures. I told them at the beginning of the shoot that if you laugh for a picture your smile is more genuine, so we definitely laughed in these pictures.
Since I was making changes to the size chart, I thought I might as well add a v-neck option to the pattern, everyone needs a v-neck tee and the fit of Montlake is perfect for a loose v-neck. Both necklines have the signature narrow neckband of the previous Montlake pattern but with much better instructions for sewing them together.
Montlake now includes a front bodice piece for both a B and D sewing cup, in all 18 sizes! If you are outside the D sewing cup there are also instructions on a cheater full bust adjustment to give you the extra room you need. I also provide instructions on picking the best size for your measurements, grading between sizes to achieve a custom fit, and adjusting those sleeves for your strong arms. With 4 sleeve lengths; short, elbow, 3/4, and long there are endless opportunities to create the tee of your dreams.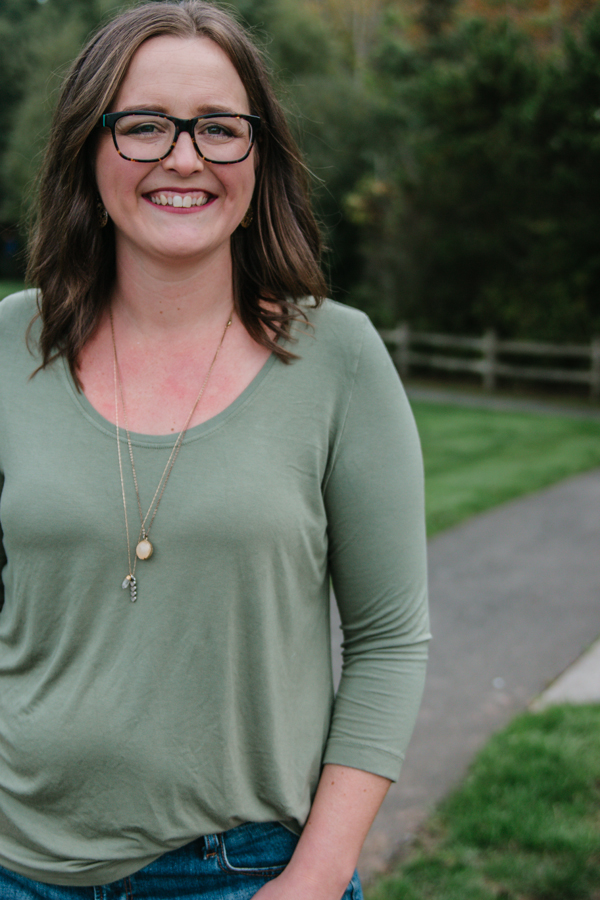 I am incredibly proud of this pattern and I hope all those that sew it know how much love went into making this the best pattern I could. For the release and in honour of my 5th business anniversary, you can save 20% off the new Montlake Tee pattern as well as any other pattern in the shop with code SSD5YEARS.
If you have previously purchased the Montlake tee pattern the new version is in your account, just log in and download.
Don't forget to share your version of the tee on social media with #montlaketee and #straightstitchdesigns so I can see how you make the pattern your own.
Happy Sewing!