Half way through the Remix the Stitch tour and I didn't think it was possible to see so many different makes.  No one has repeated one another yet which is pretty surprising.  I know from peeks that next week has some equally fantastic outfits to come!
If you are just joining make sure to head back and read Day 1, Day 2, Day 3 and Day 4 of the tour.  I promise you will see all of my patterns in a whole new light after seeing the things these amazing ladies made.
First up today on the blog tour is the lovely Allie of Indiesew, who I think is the bees knees.  Last year shortly after joining the amazing sewing community that is Indiesew, Allie reached out and asked if I would join her Fall Collection blog tour, ummm yes!  From there she quickly become one of my biggest supporters in this sewing community.  I am pretty sure that Allie is the nicest person ever and has really become a champion of the indie sewing movement, you have to go check her out!
Allie went in the most perfect direction for fall, cozy comfy workout clothes, that I for one would wear on the daily.  Allie's racerback Greenwood has been on my list of hacks since I released the pattern in May, I just never seem to get around to it.  I just love the simple lines of the back and can't wait to make a closet full of them.  Allie also remixed the Ravenna into a perfect french terry pull over, she lengthened the back and omitted the zipper and ruffles.  By adding a neckband to the top it gives it the perfect sporty/classic look.  I love everything about this look and will be making it immediately.  Head to Indiesew to get all the details on her remixes.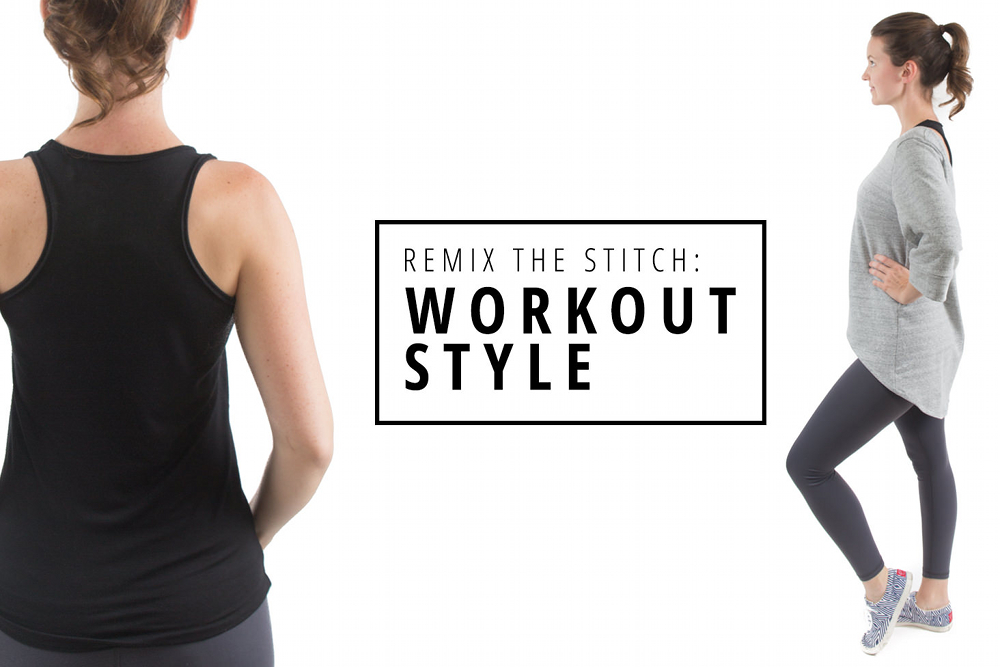 Oh man you guys Jess of If Only They Would Nap was a definite on this blog tour I am just glad I didn't have to beg too much to get her to participate.  You can't help but like her when you read her blog or see her pictures on social media.  We have become friends over the last year and I just wish she would move to Seattle already so we can get our crazy kids together to play.  Since that probably isn't going to happen, I will settle for facebook messages and virtual high fives!
Sometimes mistakes lead to the best things.  After a slight panic over a disastrous Ravenna remix and thinking it was a day later than it was, Jess pulled it out and created this mashup that makes my heart so happy!  Never would I have thought to take the sleeves from the Capitol Hill pattern and attach them to the Greenwood tank!!  I think we can all agree this is a pretty fantastic looking t-shirt.  The wide neck and relaxed fit has me dreaming of cooler temps and cozy layers, man I love everything about this.  To get all the details on how Jess accomplished this look head to her blog.
Elena from Randomly Happy is a new to me blogger but someone I need in my life, ha!  I discovered her while browsing Indiesew Creations section and loved the things she was making up.  One visit to her website and I was sold!  In fact we both decided that she gets to be an honorary member from afar of my mom group, because my mom friends are pretty kick butt and so is she.  I was so happy that she could squeeze this tour in even though she had a big trip to Canada planned.
For our final remix today Elena went with the Greenwood pattern.  While this may be a basic tank as is, she remixed it in the most perfect way by adding a yoke and pleating in the back!  I love the chance to add a fun accent of fabric and gives this tank pattern a chance to shine on it's own as more than a layer.  I am definitely going to be trying this remix very soon.  Head over to Randomly Happy to get the scoop on her tank remix.
There will not be a blog tour post tomorrow so make sure to come back on Monday for Day 6 of the tour.  And make sure to take a minute and enter the giveaway which features some pretty amazing prizes.