I hope everyone had a great weekend!  We had a big birthday celebration for Sophie's 5th birthday on Saturday, filled with lot of food, friends and family so needless to say the rest of the weekend involved relaxing.
But I am back at it this morning to share with you the three lovely sewist joining me for Remix the Stitch – Day 6!
It's only fitting that I start today with the person who made this whole business a reality for me, Lauren of Baste + Gather!  If you are familiar at all with the sewing pattern designer world you know Lauren because she is pretty much changing lives left and right.  Overly dramatic, I don't think so 🙂  I emailed Lauren when I first got the idea of taking her Pattern Workshop course and told her I had no idea what I was doing but wanted to know if I would be able to handle the course.  She basically said that if I got the Aldrich book I could definitely do the course.  As you know the rest is history and I now have a successful business and 6 patterns under my belt, all because she believed in a random stranger who emailed her.  She is the nicest lady around and I am lucky enough to call her a friend.  A full post on my experience since taking this course is in the works so be warned there will be more gushing on this lady in the future.
Lauren recently had the cutest little baby in all the land, check out her instagram account for pictures of Finn, you can thank me later for the baby fever.  Lauren decided to work with the Greenwood and Laurelhurst pattern, which are perfect for all the nursing moms out there.  Lauren made a slight tweak to the Greenwood pattern by simple widening the shoulder by 1/2″ to better cover her bra strap.  Easy peasy right?  This makes a big difference for those women with wider bra straps, but keeps the overall look of the original pattern.  Head over to Baste + Gather to get all the details on this remix and to see even more great pictures from Lauren.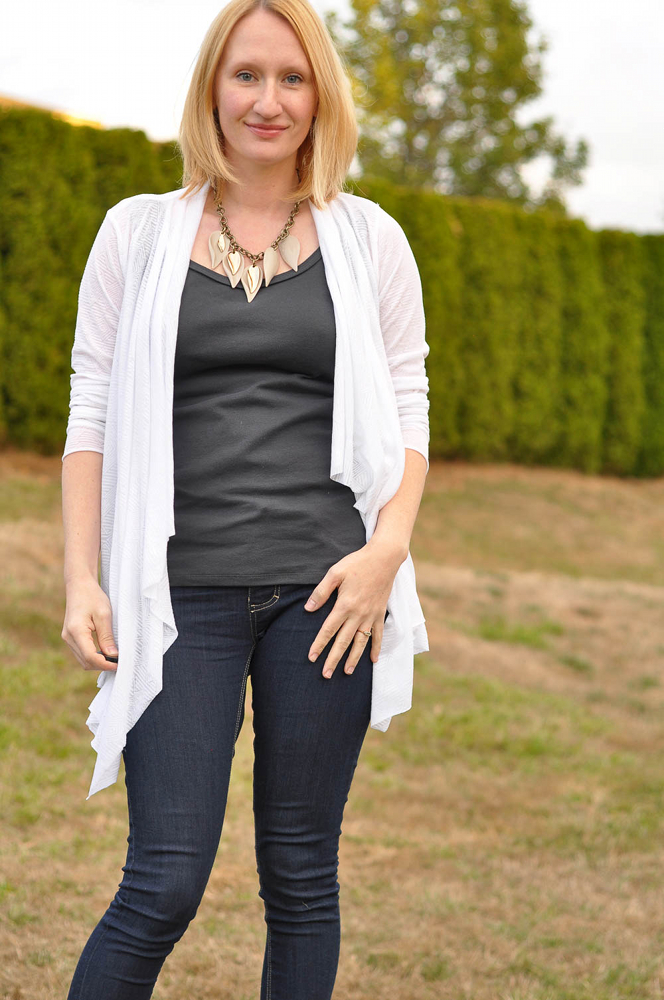 Sara of Made by Sara was my very first tester who was nice enough to help me with my free pattern, the Mae Tunic.  I really had no idea what I was doing so her help was invaluable.  She has gone on to test 2 more of my patterns, Bellevue and Greenwood, and I hope she will continue to help me with pattern testing because I absolutely love her feedback.
Sara chose to work with the Ravenna pattern and remixed it in a way that works perfect as we move into fall.  Sara added long sleeves to the shirt with elasticized cuffs at the wrist and then brought the scoop in the back up slightly, since it is starting to get cooler.  I think these two changes are perfect and give the top a whole new look.  I am definitely trying a long sleeve Ravenna soon.  Head over the Made by Sara for all the details on her look. (Due to some technical difficulties, this post will be live at Made by Sara at 9:30 PST today)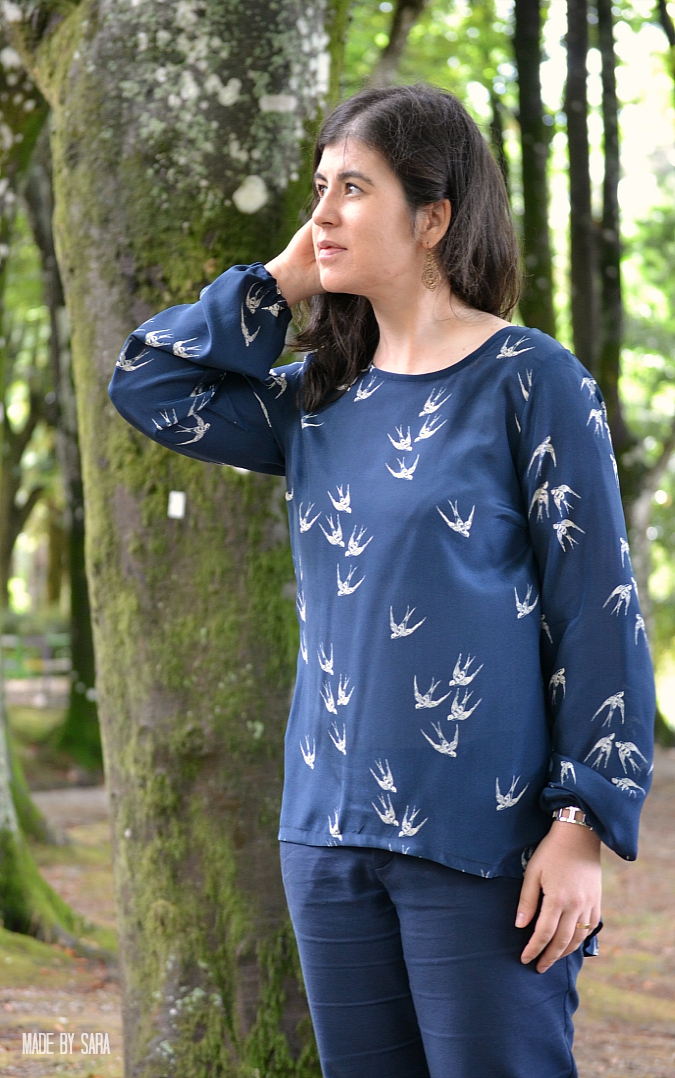 Last fall Jaime of Made by Jaime posted that she was looking for some people to be guest bloggers for her.  I threw my name on the list thinking it would be a fun way to get to my name out there in anticipation of my first pattern release, I never realized I would get a friend out of the deal.  I had a great time working with her on that post and was lucky enough to have her join me in testing the Ballard pattern, where she invaluable in her sewing knowledge.  She continues to be so encouraging and supportive as I grow my business and one of the nicest people around.  I don't know how she does it all because she also homeschools her kids which is amazing in and of itself.
When Jaime mentioned that she was going to make a maxi length Capitol Hill I was pretty darn excited.  But check out those sleeves which she completely surprised me with and couldn't be more fun on this dress.  These fabrics look phenomenal together and she deserves to have a night out on the town with this dress.  Head over to Made by Jaime to get all the details on this lovely remix.
Come back tomorrow for even more sewists sharing the remixes.  And head over to the giveaway post to get a chance at an amazing prize pack.
Tuesday, September 8th: Meg Cookin' and Craftin' | Jennifer Ginger Peach Studio
Wednesday, September 9th: Ajaire Call Ajaire | Heidi Handmade Frenzy | Stacey Boy, Oh Boy, Oh Boy Crafts
Thursday, September 10th: Melissa Rebel & Malice | Annika Näh-Connection | Abby Sew Much Ado
Friday, September 11th: Katie It's Hard to Hear Up Here | Jane Buzzmills | Lisa Mabey She Made It
Saturday, September 12th: Elena Randomly Happy | Allie Indiesew | Jess If Only They Would Nap
Monday, September 14th: Jaime Made By Jaime | Lauren BASTE + GATHER | Sara Made by Sara
Tuesday, September 15th: Audrey Skirt Fixation | Teri Fa Sew La
Wednesday, September 16th: Emi Just Add Fabric | Rachael Imagine Gnats | Teresa Dandelion Drift
Thursday, September 17th: Kaysie KZJO'STUDIO | Rita Conversas de Hermanas | Stephanie Swoodson Says
Friday, September 18th: Andreia In a Manner of Sewing | Nienke Pienkel | Abbey Sew Charleston | Hayley Welcome to the Mouse House