Welcome back to Remix the Stitch – Day 4!
I hope that all of these amazing bloggers have been giving you a bunch of inspiration for your next sewing project. I know I have an ever growing list of clothes to sew now that my mind has been blown with the possibilities.  Todays remixes are no different.
First up today is Katie from It's Hard to Hear Up Here who has actually been a tester for me from the very beginning.  Katie is the most patient tester in the world, especially when it took us 2 days of back and forth emails to determine her computer had downloaded the file wrong and that the pattern wasn't off by like 3 sizes 🙂  It was such an ordeal but she stuck with it and I was determined to use her to test at every chance I got, which to day is 3 more times.  She is the sweetest person and I have enjoyed working with her over the last year.
Katie decided to be an overachiever and use three patterns for her remix.  The tank top underneath is the Greenwood and then she mashed the Ravenna and Ballard to make the white top.  I am not going to give it away, but the back is pretty fantastic.  Make sure to head to the blog to see more pictures of how she achieved the open back.
Jane of Buzzmills is someone I have been stalking for awhile.  I promise it was only internet stalking and not like sitting outside her house stalking 🙂  I just love her style and that she somehow finds time to sew herself amazing clothes as well as her two kiddos.  I am always sure to love what she sews up so it seemed only natural that I would give her one of my patterns and watch her do her magic.
Jane remixed the Ballard top into a knit dress and I have to say, this is right up my style alley.  From the length of the dress to the grey fabric I am so in love.  I can picture this worn with leggings and boots for preschool drop off.  For all the details head over to Buzzmills and read about Jane's remix.
Lisa of Mabey She Made It is someone I got to know after I started linking up with her for Do Tell Tuesday, and if I remember right, one of the things I linked up got featured the following week which was super exciting.  From there I started following her on social media and as they say the rest is history.  Lisa has such a classic style and always seems to pick the best fabric for her projects, her remix is no exception.
Stunning picture!  Somehow Lisa managed to pick a fabric for her Ravenna top that fit her surrounds to a T.  I love the use of the same fabric for the ruffles, which is actually something I haven't done, I always using a contrasting fabric.  For more amazing pictures and all the details on Lisa's remix head to her blog.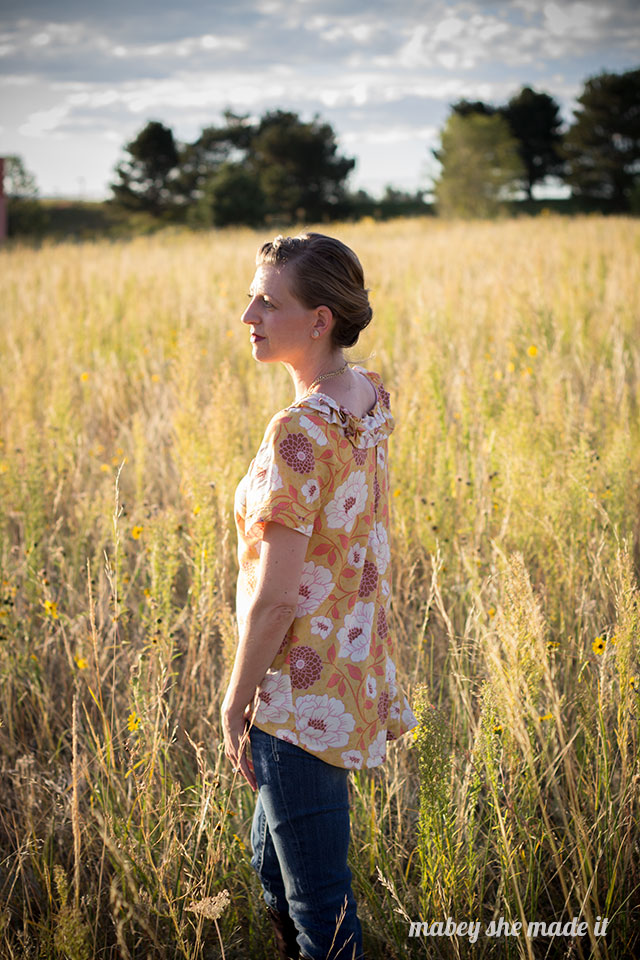 If you have had your eye on the Stitch Kits in the shop but haven't had a chance to grab one, a few of the fabrics are nearly sold out.  This is the only chance for the next year you will be able to get Stitch Kits and patterns for this price.
Head back here tomorrow for 3 more ladies showing you the amazing things they have sewn up.
Tuesday, September 8th: Meg Cookin' and Craftin' | Jennifer Ginger Peach Studio
Wednesday, September 9th: Ajaire Call Ajaire | Heidi Handmade Frenzy | Stacey Boy, Oh Boy, Oh Boy Crafts
Thursday, September 10th: Melissa Rebel & Malice | Annika Näh-Connection | Abby Sew Much Ado
Friday, September 11th: Katie It's Hard to Hear Up Here | Jane Buzzmills | Lisa Mabey She Made It
Saturday, September 12th: Elena Randomly Happy | Allie Indiesew | Jess If Only They Would Nap
Monday, September 14th: Jaime Made By Jaime | Lauren BASTE + GATHER | Sara Made by Sara
Tuesday, September 15th: Audrey Skirt Fixationy | Teri Fa Sew La | Hayley Welcome to the Mouse House
Wednesday, September 16th: Emi Just Add Fabric | Rachael Imagine Gnats | Teresa Dandelion Drift
Thursday, September 17th: Kaysie | KZJO'STUDIO Rita Conversas de Hermanas | Stephanie Swoodson Says
Friday, September 18th: Andreia In a Manner of Sewing | Nienke Pienkel | Abbey Sew Charleston