As a maker I can't be tied down to just one form of making when there are endless ways to be creative. I have always considered myself a hobby pickerupper (yes I made that word up) in search of the newest hobby that can take over my house and fill my creative brain.
If you pair this need to always have my hands making something with my absolute love of teaching and sewing you get the perfect recipe for a Makers Retreat. So instead of searching out the retreat that might tick all of the boxes I was looking for I decided to just host my own. For anyone who has been following me for any period of time or listened to my interviews on my podcast, A Coffee with Makers, you know this statement is a totally normal thing for me to say.
By hosting the retreat myself and enlisting the help of my friends Delia of Delia Creates, Jess of La Mercerie, and Adrianna of Hey June I was able to pull together all the creative pursuits I have as well as the amazing ideas that these ladies came up with to create the long weekend of my making dreams.
Who doesn't want to spend 3 nights and 4 days in the mountains of Washington spending our days creating, trying new crafts, fostering our creative community and eating really delicious food. For all of the details head over to the Makers Retreat page.
REGISTER TODAY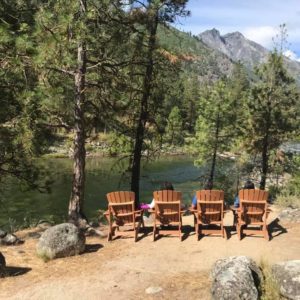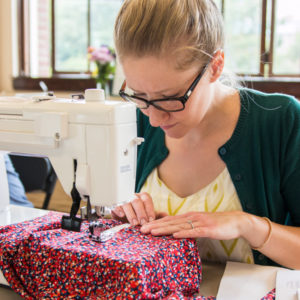 Over the next few weeks I am going to share more about each of the workshops we will be doing over the course of the retreat. I tried very hard to get a good mix of activities that works for sewists and makers of all levels. So I hope there is something at the retreat that you are really keen to try or to brush up your skills on.
The first workshop that I want to talk about is my newest obsession, indigo dyeing. Back in January I jumped in full force to try indigo dyeing for the first time with my sons 1st grade class. Not only was I using a room full of 5 and 6 year olds as my guinea pigs but I was going to take the dyed fabric and turn it into a quilt. The fact that I had never indigo dyed or made a quilt never really registered with me, I mean how hard can it be. I will save the story of making my first quilt for the retreat, make sure to ask me because WOW!
I really winged it in this first attempt at indigo dyeing, the results were great but I knew I had a lot to learn. Thanks to a kit from my friend Anna Joyce I at least didn't have to gather my own supplies.
Fast forward to April when I realized that there was going to be an indigo dyeing workshop led by Miranda Anderson of Live Free Creative Co while I was in LA for Craftcation. I signed up immediately and was able to take the workshop with my sewing friends Beth of Sew DIY and Katie of Threadbare Fabrics. I learned so much in that class and felt so much more confident in my new obsession.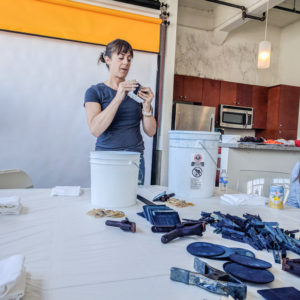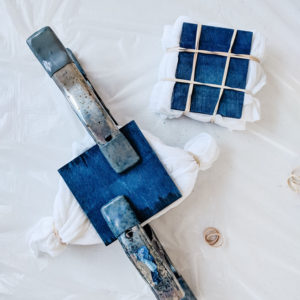 Now with two tries under my belt I was ready to use my new knowledge and some great supplies from Dharma Trading to dye some fabric and some old shirts that could use a new life. And more importantly to practice again so I can teach everyone at the Makers Retreat how to do it.
Since I was going to be buying all of the supplies instead of a kit I relied heavily on the resources at Dharma Trading, which not only made it easy to know what items to get but there were also instructions on making the batch of indigo. And boy did that indigo turn out amazing! What you can't tell from this picture is that the dye is actually an electric green which turns to the deep dark blue when it is exposed to air. It is magic or some may say science 🙂
There are so many ways to fold the fabric either with Shibori inspired techniques or even those skills we learned tie dyeing fabric as kids. I decided to fold the fabric according style and then again in the opposite direction. Using rubber bands, clothes pins, large popsicle sticks, a scrap piece of wood, and large clamps I was able to create different resists and designs for the dye to work it's magic. I think this was so successful for my son's class because they could be as creative as they wanted and get cool results every single time.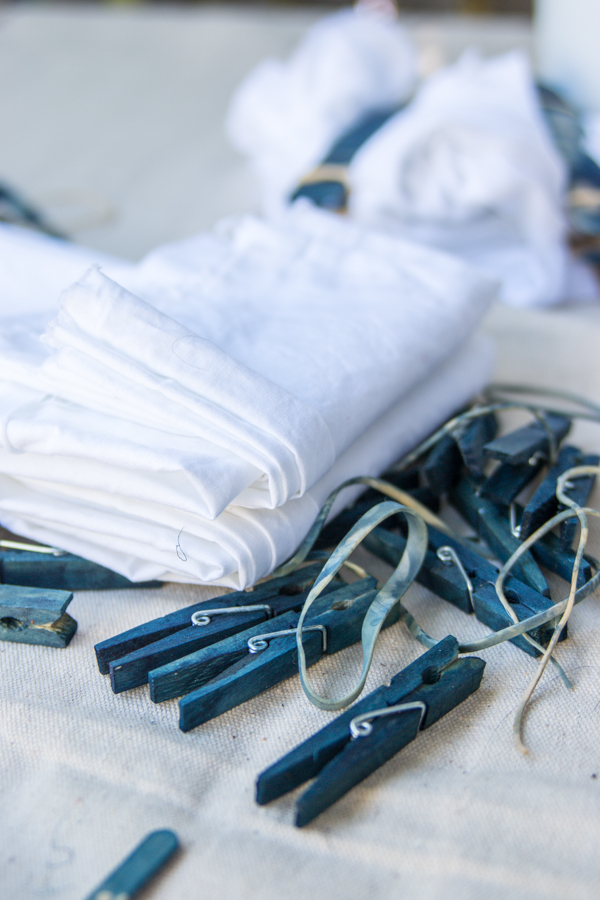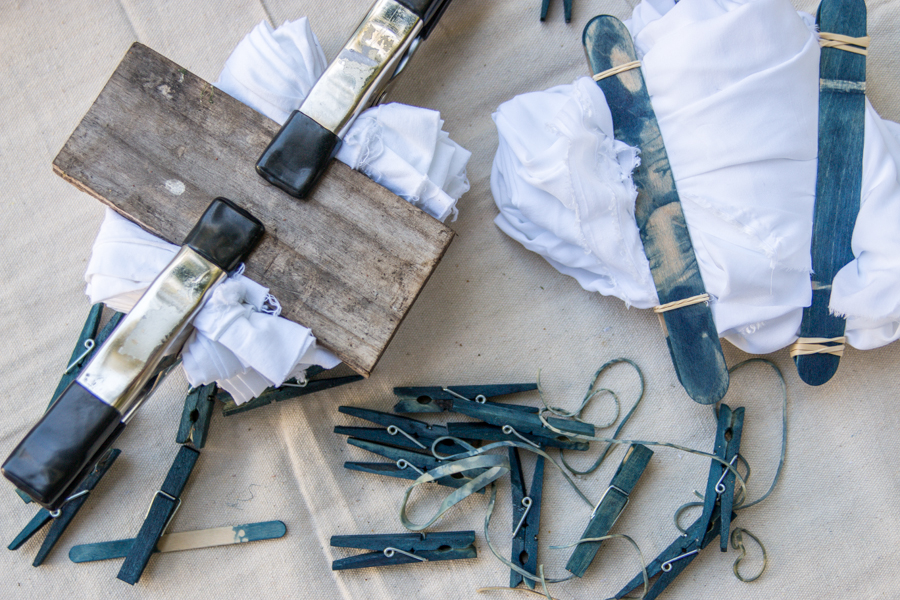 One of the things that I learned from Miranda was that you won't get a darker dye if you leave it in longer, you get a darker dye by putting it in the dye additional times. The things you can learn from other makers that change the way you make is amazing to me.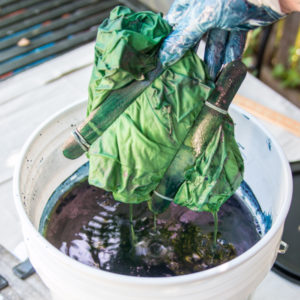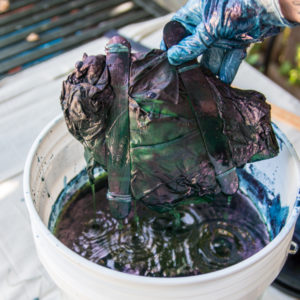 The best part with each piece is taking off the resists and seeing the finished product. Every piece is going to be different so it really is a surprise every time. It's also pretty amazing to see all that green and watch it slowly turn to blue.
After rinsing all the indigo out of the fabric, I laid it out on the fence to dry and for the last little bits of green to oxidize. Look at that gorgeous viscose batiste!! I can't wait to share next week what I am actually making with this fabric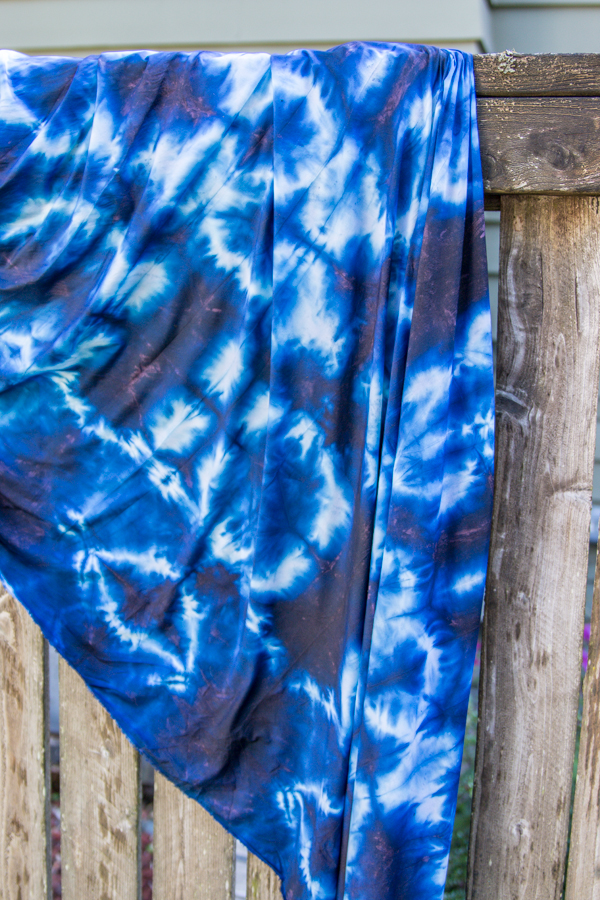 Have a convinced you to join me for the Makers Retreat yet? How about the fact that at the workshop we are going to be sewing an exclusive retreat pattern that I am designing with the fabric that we are dyeing!! More on that in the next few weeks.
Happy Sewing,
Kimberly