It's safe to say I think I have found my newest obsession!  There isn't much better than a well fitting t-shirt.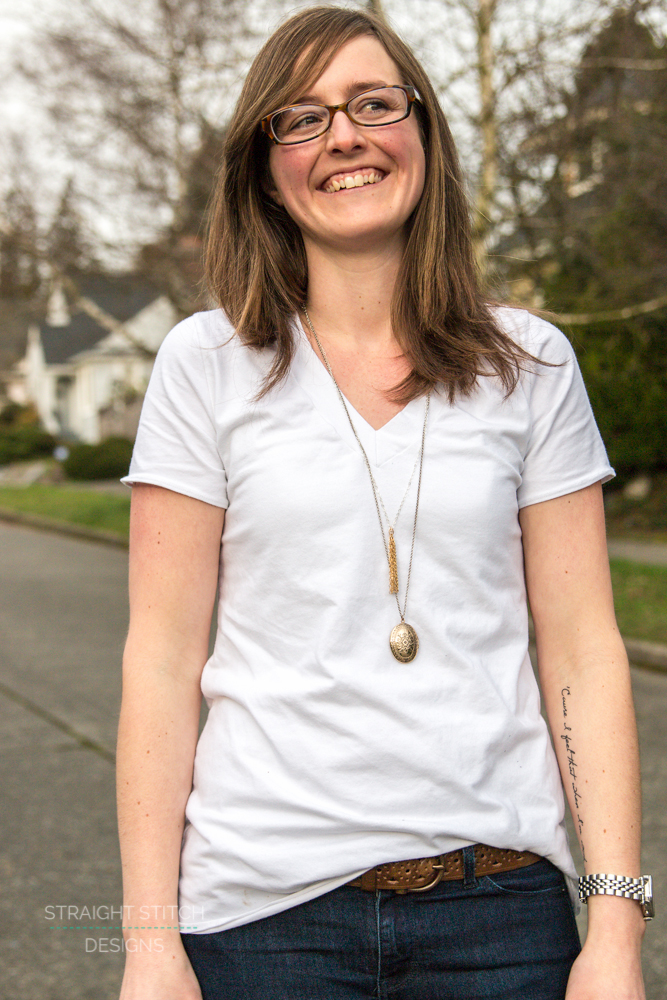 The Union St. Tee from Hey June is spot on for fit, so comfortable without being too tight.
I sewed up the XS based on my bust and then graded out to a medium to give me a little more room through the waist and hips.  I also went ahead and added 2 inches to the length to give me an extra long tee.
V-Neck shirts have always scared me, getting that point just right makes the shirt.  I have only attempted one before in the past and the results were less than perfect so it was enough to make me put off trying it again for a very long time.
I am happy to say that this pattern has more than proved a V-neck can be done and look great and not leave you sweating and frustrated at the end.  The pattern walks you through the steps with great illustrations and written directions.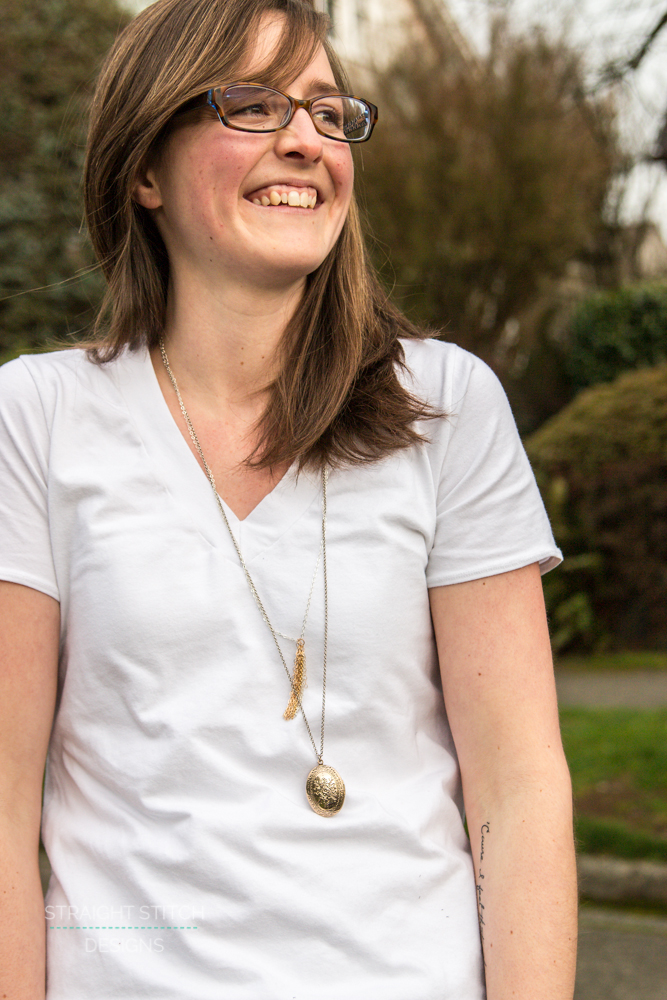 The pattern has a crew neck option and 3 additional sleeve options.  Like I said the perfect tee!
I have another one cut out and at least 3 more planned for the next few days.  So basically I will be wearing this shirt every day in a variety of sleeve lengths.
I just have to add a little something here about one of the necklaces I am wearing in these pictures.  This tassel necklace has quickly become my favourite necklace and was purchased with such a great cause behind it.
Adrienne, who runs the etsy shop Twink Louise, and her husband Brad are looking to add to their family through adoption and using her love of creating to do it.  All proceeds from her shop go directly towards the adoption costs, that is something my baby loving heart can definitely get behind.
I actually stumbled onto this shop when my sister, who went to University with Adrienne, commented on a picture.  Turns out I went to high school with Brad, it's such a small world.
Please take a minute to check out all the amazing necklaces she has in her shop and make sure to follow her on Instagram where she posts all the new jewelry she is working on and cute pictures of her adorable son.
Through the end of the month Adrienne has a coupon code in her shop for 35% off orders of $50 or more with code YOUROCK35.*
* I was not given this necklace or paid for this review.  I purchased this necklace and all opinions are my own.  I just wanted to share the love of this great shop and the efforts of a family to bring someone new into their lives.