I hope you are all spending today feeling the love with the special people in your life.  I got my valentines present early last night and have managed to only eat 3 of the super yummy chocolates my husband got me.  They are calling me from the kitchen as I write this post, I will try to resist.
One of my valentines this year got a special outfit for heart day.
One of my favourite things to do for Sophie is sew her something while she is napping and then surprise her with it when she wakes up.
When she came in my sewing room and I showed her the special shirt I made her she actually squealed.  Pink and shiny is pretty much her favourite so the fact that it had a pink shiny heart on it was almost too much for her to process.
This top and pants are part of the new Haven Acres Mini Collection just released by Jenn of Jennuine Designs.  I had the pleasure of testing the collection over the last month and love all of the pieces in the collection.  I have been so busy sewing my own patterns lately that I just haven't done much sewing for this girly so I was excited to have a chance to sew for her again.
The Dressage Leggings are so fun with the contrasting panel in the middle which was the perfect opportunity to take some dance wear knit and add a great pop of colour.  There is also the option to just have a basic legging which is a great addition to every kids wardrobe.
I have shared this here before, but Sophie is super skinny for her age which makes it difficult to find her RTW clothes that are long enough while still staying up.  Even when making her pants like this her teeny tiny waist and longer legs add a little challenge.  If you find yourself in a similar situation I thought I could give you some of the things I did to help with your handmade leggings.
Based on Sophie's waist measurement she needed the 9-12 month width but then a 4T length.  After a bit of trial and error I determined that I couldn't just extend the 9-12 month into the 4T length because there just wasn't enough room in the leg for her.  Since there was such a huge different between width and length I decided to go ahead and do the 9-12 months to the hip point and then grade out to a 2T through the legs and a 4T length.  That gave her the fitted look of the leggings while still with a bit of room.  It worked out perfectly.
The Haven Acres Blouse is actually meant to be sewn in woven fabric with a really cute keyhole at the front, but I couldn't resist trying it out in knit.  Sophie is a busy little girl so I knew knit was going to be much better for her.  The pattern as written calls for elastic at the bottom of the sleeve but by leaving it out it gives it a more relaxed look which is perfect for climbing around in the backyard.
I never tire of making clothes for Sophie because of the pure joy she shows when she gets something new.  How can you not make this sweet girl something if she reacts this way when you hand it to her.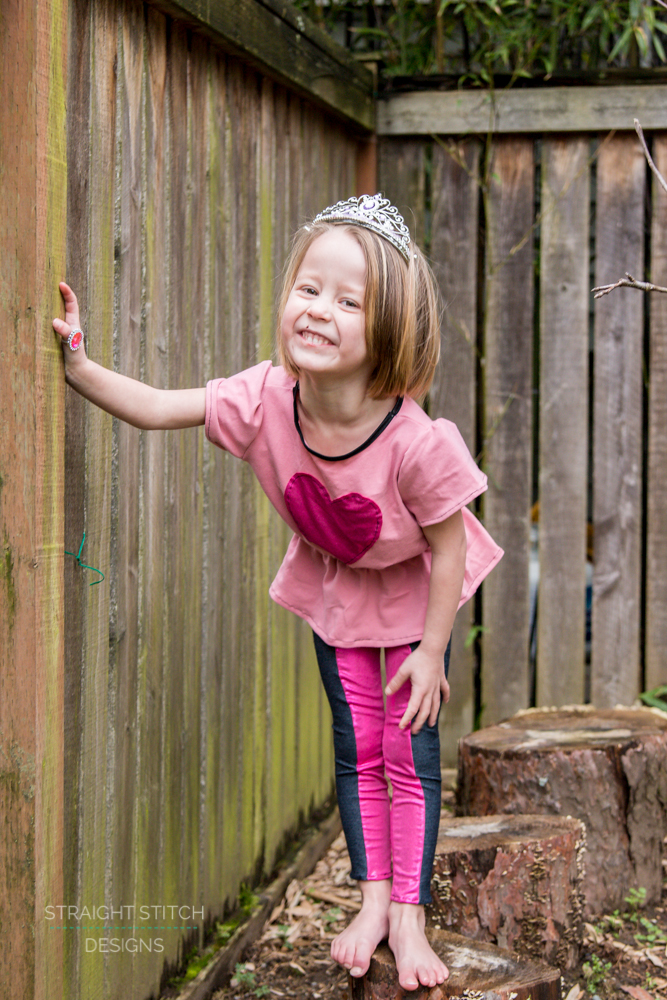 The collection also includes the cutest cap which I didn't include in this outfit because Sophie felt the tiara was a much better fit for the outfit 🙂
This fantastic bundle of patterns is on sale for 25% off through today and then it is 20% off the retail price when you buy the bundle over the individual patterns.
Make sure to check out the rest of the people that have participated in the blog tour this week over on Jenn's blog, there are so many great versions of these patterns.  I can't wait to use some fun motorcycle fabric to make Benny a pair of dressage leggings, he will rock them.