I feel like I haven't sewn for my kiddos in forever, other than a few sets of pajamas that is pretty much true.  So when I was asked to join the Summer Swimwear Tour I thought it would be a perfect opportunity to sew some swimsuits for the kids.  My big plans of sewing swimsuits for both kids turned into just a swimsuit for Sophie, which turned out pretty darn cute.  Benny will get one eventually #secondkidproblems
The tour is put together by some pretty great ladies, Call Ajaire, The Wolf and the Tree, and Gracious Threads.  It was so hard to choose which of the suits to sew first especially when there is a classic maillot, rash guard set and swim shorts.   In the end I decided to go with the rash guard set from The Wolf and Tree, since if you saw above I had planned to sew something for both kids and I thought it would be a great gender neutral option.
Rachael of Imagine Gnats graciously offered those of us participating some fabric to sew our suits up so I quickly grabbed up this bright coral and cream polka dot fabric both is a large and small scale.  I forgot how much I love sewing for kids, because it just uses such little fabric.
There are so many different views with this pattern, how do you even choose.  I am a sucker for a high waist bottom and I thought that paired with the crop sleeveless rashguard would be perfect.  I deviated from the pattern slightly to make both the top and bottom reversible!  I think that might actually be her favourite part about this swimsuit.
I had grand plans of sharing with all of you how I made it reversible but to be honest I don't even know how I did it.  It was a real workout for my brain including SO MUCH seam ripping, like probably over an hour.  It was not a pretty sight in my sewing room, but once I stopped just sewing willy nillly and actually thought about it the whole thing came together quite nicely.  I basically kept telling myself that it had to go together like an infinity scarf and that pretty much worked 🙂
The only thing I had to go back and change after the suit was put together was to add some elastic to the leg openings since I omitted the leg bands that the pattern called for.  Once the elastic was added the fit was perfect!  This was definitely not the fault of the pattern and more of my need to make this quick sewing project not very quick at all, ha!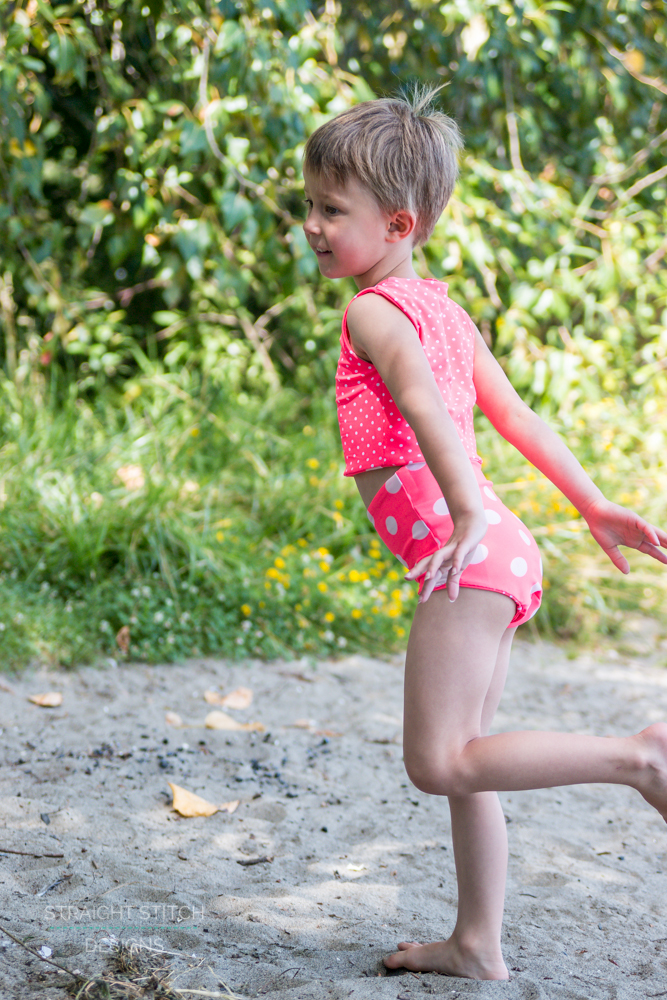 This is the perfect suit for swimming, dancing on the beach and shell collecting; all things that are a huge part of Sophie's life.  I highly recommend sewing this pattern up in one of the many views, I know I will be sewing another one up for Benny before the summer is over.