As you know I typically sew for myself whether it be a basic like a bra or a sample for one of my sewing pattern I don't normally sewing for my kids. If you sew for kids you can relate, they just grow so fast. But you guys, why in the world do I not sew for Sophie more often. Abby of Sew Much Ado really knocked it out of the park with the Sullivan dress. I can't believe how ridiculously adorable this dress is on my girl.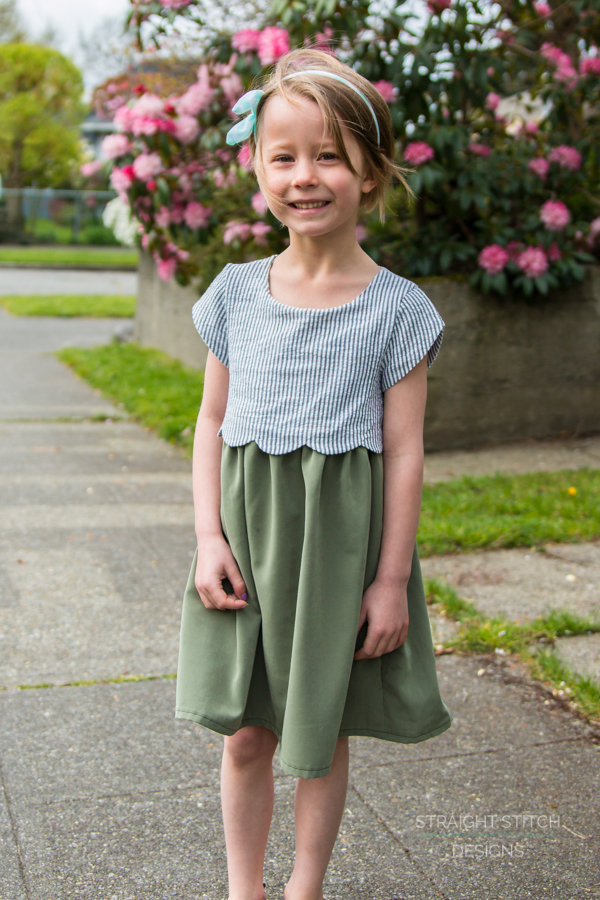 I have to be honest I am a little jealous of this dress, I might need to find a way to hack another dress to look like this. I will probably look like a 6 year old girl but…
The fabric pairing is so perfect for spring, and if you remember I was going for coordinating with Benny's Mini Hudson Pants without being too similar. If only I could have convinced them to take pictures together.
The sleeves and scallop detail are what really make this dress something special. I love the construction and how the bodice looks like a separate piece or overlay on the top of the skirt.
[wbcr_snippet id="23160″]$content[/wbcr_snippet]
Not to be a total Sullivan dress fan girl but I am actually going to be using this pattern for some flower girl dresses for Sophie and the other flower girl at her uncles wedding in June. A little dupioni silk and tulle overlay on the skirt will be so adorable!
It is no secret I love a good keyhole back so I was particularly happy to see this detail on the dress. A simple white button gives it such a girly detail.
The fabric I used for this pattern is green peachskin and black and white seersucker. The seersucker appeared in my stash and I have no recollection of where it came from, ha! It turned out great and hope to eek out something for myself in what I have left of the peachskin.
Such a satisfying sew and clearly I have a fellow fan in this dress. So much fun to sew for Sophie again, it has been too long and clearly I forgot how much she loves it.