Spring is here and I can finally share with you the sleeveless Leschi dress I made a few weeks ago. I had been planning a sleeveless version since I released the pattern in October, so I thought why not go for not only sleeveless but also a dress. This is the ultimate spring/summer dress!
The fabric I chose really chose me while I was working the Style Maker Fabrics booth at Sew Expo last month, I was the perfect weight and drape for my vision. Unfortunately they are all sold out, but check out these other rayons you can choose from, I especially love this floral rayon challis.
The style lines of this pattern lend itself perfectly to a drapey knee length dress, in my case it ended up a bit shorter which works great on my 5′ 9″ frame. Normally a shift dress is not one that I gravitate to since I usually prefer a bit more shaping at the waist. But as soon as I put this on I couldn't help but grin at just how perfect it is. I know that the fabric choice has a lot to do with the movement of this dress on my body. But I still think it is incredibly flattering on me.
The best part about this remix is that I simply lengthened the top at the lengthen/shorten line by 8ish inches and followed the rest of the instructions in the pattern. Easy right!!
The gathering and slightly dropped shoulder make this so much more than a simple shift dress. I love the look of the sleeveless dropped shoulder but if you would prefer it to be up on your shoulder, you could easily narrow the back yoke at the shoulder before you gather the front to match.
I try to avoid bias binding whenever I can, mostly because I am lazy, so I decided to just finish the armhole with a narrow hem. Just fold your fabric under 1/4″ twice and sew in place near the fold. Easy right?
The neckline and shoulder detail of this pattern usually get all the love but I have to say as a dress that hi-lo shirttail hem has me obsessed. It makes it look like my legs go on for days!
You do have to be careful when sitting down though because it gets really short, not that I know from experience 🙂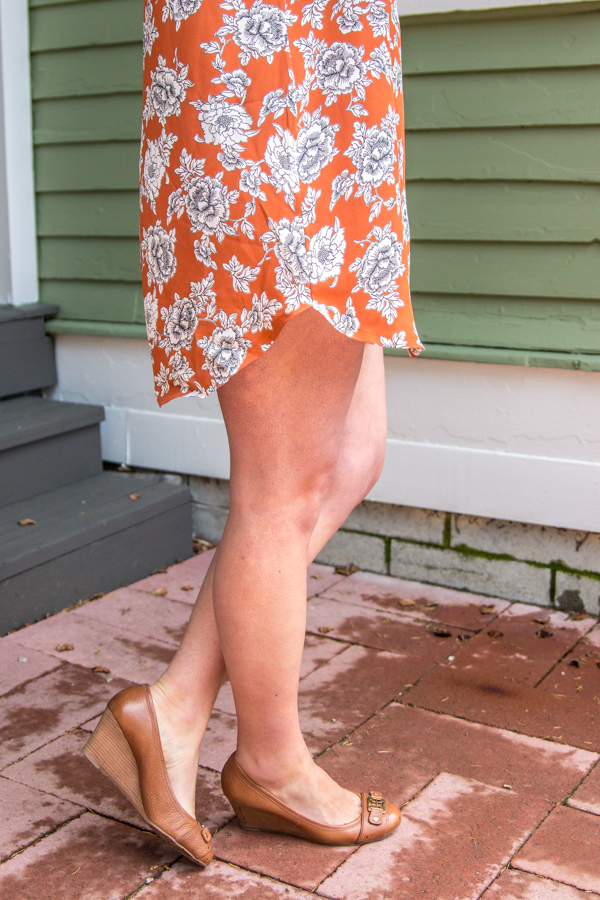 The best part about bringing your vision to life is that in some cases it far exceeds you expectations. I knew Leschi was the perfect pattern to be sewn sleeveless, but I didn't realize just how great it is as a dress. I feel amazing in this dress and can't wait to make another one, you can never have too many dresses in your closet.
If you need any more encouragement to add this pattern to your collection, head over to this tutorial on sewing the collar in to see it is nothing to be intimidated by. Through Sunday you can get the pattern for 10% off with code LESCHIREMIX at checkout.