I couldn't be more excited to share with you my newest pattern, Magnuson. The evolution of this pattern over the last two years has been fun as the designer to watch happen. What started out as a utility/military inspired jacket has turned into a more modern take in vest form. So many of the original elements are still there with so many new and fun details.
Magnuson has a button placket, stand collar, side slits and oversized pockets, not to mention the gathered waist. So many utility or military inspired vests have the waistband casing on the outside of the jacket giving it a very casual look. I wanted the ability to cinch in the waist but not have the ties hanging down, so inside the waistband went.
The inside is just as beautiful as the outside with flat felled seams throughout. I get a smile on my face every time I look inside one of my vests.
When deciding on fabric for this pattern I wanted to play around with my options and see how the pattern behaved depending on the fabric I used. Sharing with you how the pattern looks in different fabrics has become one of my favourite parts of every pattern release.
The fabrics I used for all pattern photos is from La Mercerie and it was heaven to work with. I will be doing a more detail post tomorrow about the fabrics I used, but I wanted to share the specific fabrics I used so you can grab some while Jess still has it in stock. And because Jess is the greatest she is actually giving you 10% off these 3 fabrics through Sunday with code MAGNUSON. So click over to her shop and check out these and all the other fabrics she has. I may be partial because she is my friend but I think she is pretty freakin awesome and so is her fabric.
The first fabric I used was this Chino Twill to give the pattern a structured look.
To show that this pattern works with a super drapey fabric I decided to use the Viscose Twill in light beige for my second Magnuson.
I couldn't get a linen version out of my head so I snagged some of this striped linen blend from Jess before it was even in the shop. It pays to have friends with fabric shops 🙂
As you can tell the pattern gives you so many different looks just from the fabric you choose. But more on that tomorrow.
While every body is different, I really strive to provide a great fit for everyone. Magnuson is available in sizes 0-24 and nested in a way that allows for grading between sizes for your waist and hips. If you are wondering what size to sew, the pattern includes some guidelines for choosing a size. The pattern is drafted based on my height of 5'9″ and a B sewing cup, so if you have a larger sewing cup size you may need to do a FBA to ensure the correct fit. I will share about that in the sew along that will be happening in the next week.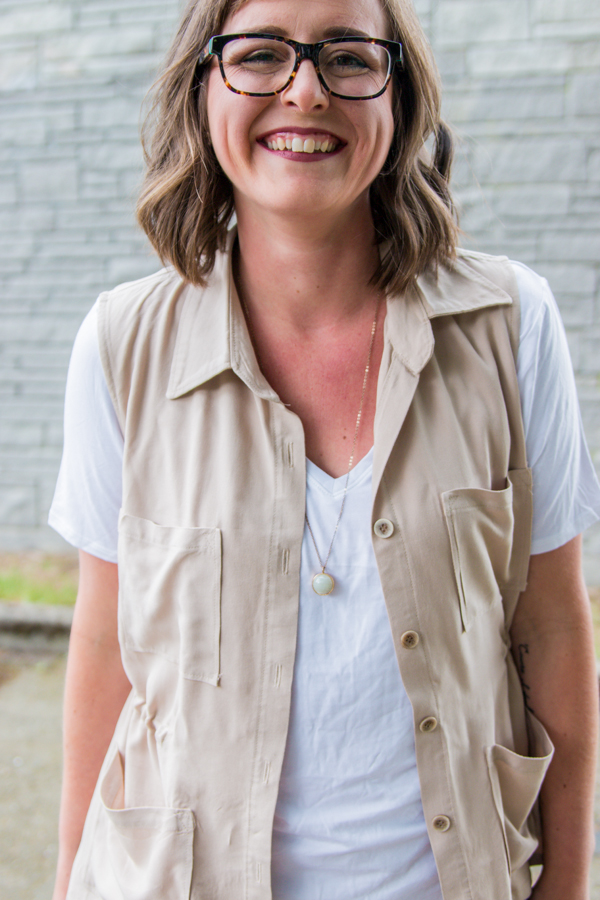 Magnuson is marked down through Sunday, no coupon needed, so head over to the shop and get your copy today. The PDF pattern is available for instant download and the paper patterns will be shipping on Monday. Join me tomorrow when I will share more about the 3 vests I sewed and how the fabric gave me different looks for each.