The ladies over at Pattern Anthology never seem to disappoint.  When they all started hinting on Instagram what the upcoming collection was going to be, I started to get excited because the patterns looked like women's patterns.
The Just Add Jean collection was announced the beginning of March and I snatched it up within minutes of getting the email. Because I wear the mommy uniform of jeans and some form of a T-shirt every day I knew these patterns would get a lot of use.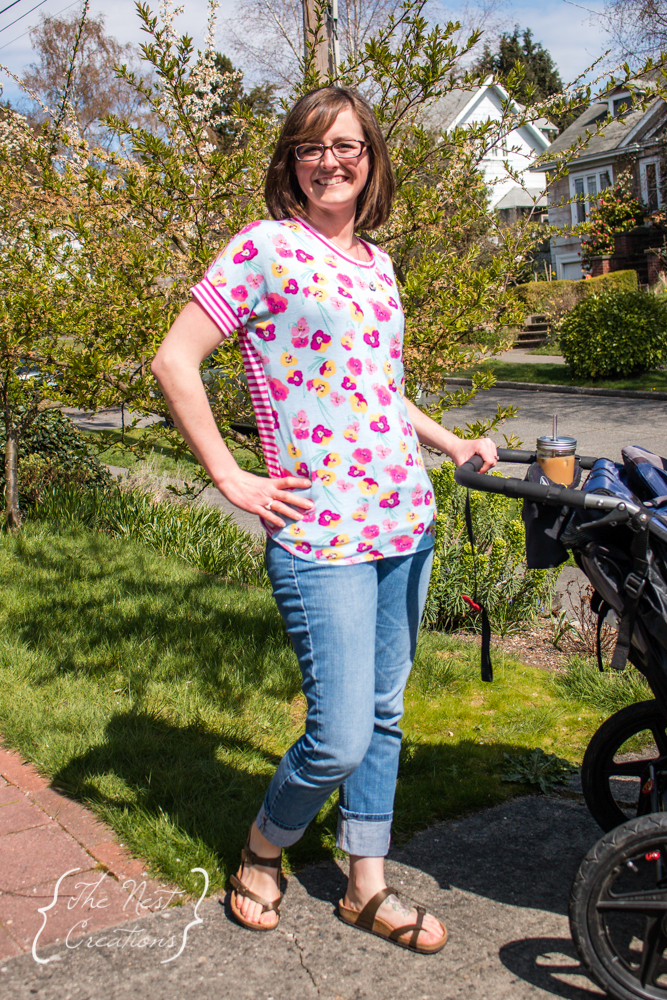 On Saturday I had a preschool registration event to attend and figured why not make a new shirt to wear. Most people might have thought about it earlier in the week but I thought about it while I was laying in bed that morning. So I hopped up and got to work sewing my first Day Tripper top an hour and a half before the event.
I recently got a new order of fabric in from Girl Charlee and thought it would be fun to do some pattern mixing on this shirt. These two lightweight jersey knit fabrics just screamed spring and were a really fun combination.
I modified the pattern slightly by mirroring the back curve on the front giving it the look of a dress shirt instead of the hi-lo from the pattern.
In the interest of time I also left off the fun tab detail on the sleeve but I plan to make another one soon with that detail.
The Day Tripper is a really quick sew which is a great feature when you are trying to make one last minute. I love that a variety of knits would work for this pattern whether it is a lightweight jersey or a heavier interlock.
If you make the longest length it would also work great with leggings and great pair of boots. There is no greater pattern than one that can move you through all the season in a variety of fabrics.