Man, I am on a roll!  I have sewn more for myself this week that I usually do in a month.  It is nice to focus on my own wardrobe every now and then.  Especially with Kids Clothes Week coming next week when I will be solely focused on my littles.
Melissa of Melly Sews just released her newest pattern the Pocketful of Posies Dress on Tuesday.  You may notice a pattern lately but the second I saw it pop up on Instagram or Facebook or Twitter or I don't remember now I scooped it up.  Hard to pass up on a pattern that is not only cute but bound to be super comfortable.
I wanted to sew it up right then and there but as usual life got a bit busy and I wasn't able to get to it until today.  I knew with the neckline of this dress it would be perfect for my thrifted piece of crocheted lace I have been hoarding in my thrift pile.  A few months back I found this shirt at my local thrift store and knew I had to take it home with me not because of the shirt but because of the crocheted neck.  There was so much potential there.
After getting it all unpicked I was left with the perfect neckband for my new dress.  Now I just had to figure out how I was going to adjust the pattern to accommodate it since there was no guarantee it was going to be the right length.
Once I had the front piece of the dress completed I attached the lace in position where I could get it as close to the shoulder seams as possible.  The best way to make the lace work was to not use a contrasting colour neckband but to have it match the rest of the dress.  The lace was about 1/2 inch short but I was able to just bring the neckband forward slightly to fix it and no one is the wiser.
The construction of this dress was really straightforward thanks to Melissa's amazing directions and pictures.  I love when patterns like this are nested so that I can truly make a piece of clothing that is tailored to me.  I am a size small top, medium waist and large hips so dresses can be difficult for me most of the time.  It was really easy to make the necessary adjustments to make this pattern work wonderfully for me.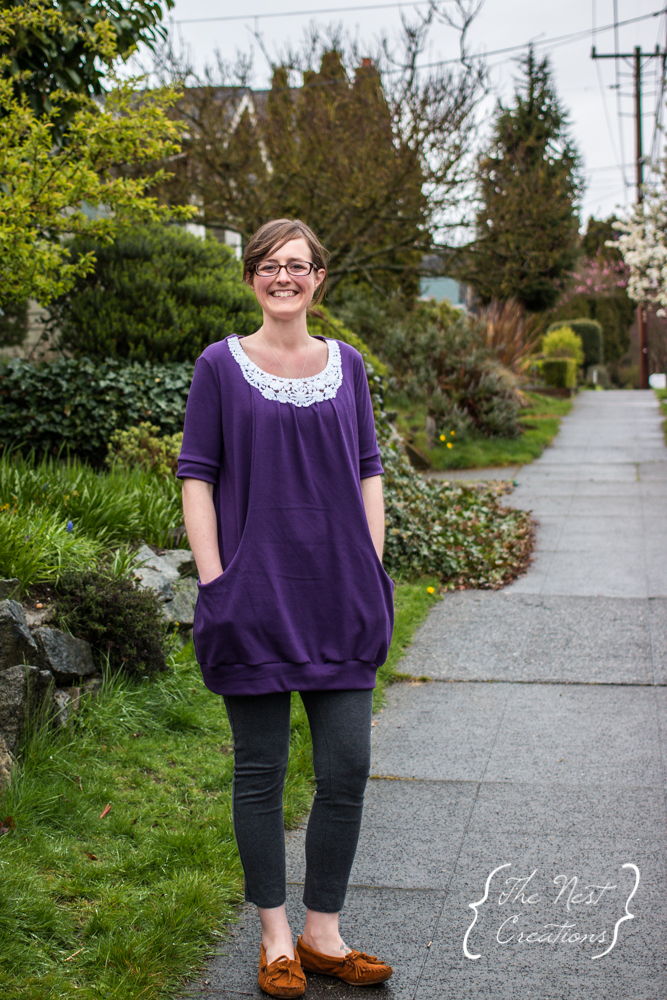 Leave it to me to make a silly mistake after the dress was all done.  I tried it on and it looked really long so instead of removing my sweats to check I just took it off removed the bottom band cut off a few inches and re-attached the bottom band.  Unfortunately that silly rash decision resulted in the dress no longer being a dress and becoming a tunic, unless that is I was completely comfortable rocking a mini skirt to the park.
Thankfully this totally works as a tunic with some grey ponte pants and my favourite moccasins.  And considering the spring weather here in Seattle I am sure to get lots of use out of this spring and then into the fall.  I absolutely love this tunic it is so comfortable I don't want to take it off.