This month our challenge was a bag swap with our sewing buddy, and just like last month I finished it just under the wire.  If you remember from my write up of Challenge 1 last month I have the coolest sewing buddy of them all, guaranteed.
I was able to actually meet up with my sewing buddy Jeni while she was in town for a knitting conference with a bunch of her friends from Victoria.  We had so much fun walking around the marketplace talking about sewing and knitting and getting to know each other even better.  Do you see that sweater she is wearing in the picture? yeah she totally knit that.
I had so much fun with her and her friends, who were the sweetest people, I had to keep texting my husband that I was going to be just a little bit longer.  Who would have thought I would randomly be matched up with someone and we would get along right from the start.  She even inspired me to start my first real knitting project, more on that in another post.
Because it seemed so fitting, I decided that day to make a knitting project bag for her because you always have more than one knitting project on the go.  I immediately had a vision for this challenge that involved an upcycled sweater, a brass zipper and a really fun interior fabric.
The best shape for the bag seemed to be a box bag so there was more than enough room for a ball of yarn and knitting needles.  I was limited in the amount of outer fabric I could use since I was using an upcycled sweater so I had to wing it a bit in the construction.  Thankfully the basic concept of how to put together a box bag is pretty straightforward.  I was pleasantly surprised at how well the zipper went in on this bag considering this is only the second zipper I have sewn into a project.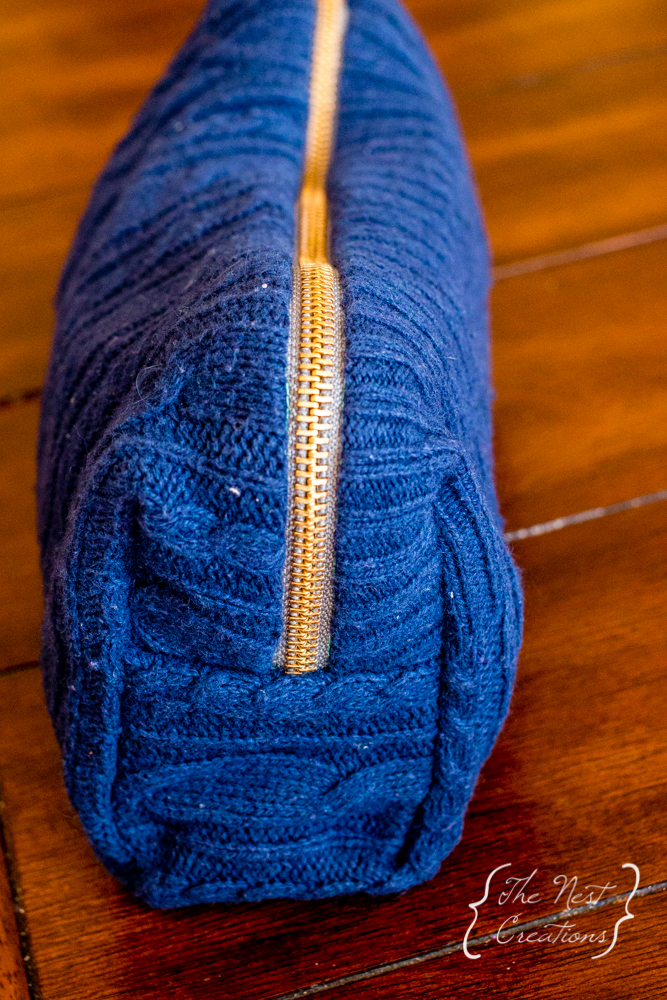 Thanks to my large stash of fabric I was able to find the perfect interior fabric that complimented the colour of the sweater fabric while still being a pop of colour and interest.
I love this bag so much I want to make another one for myself.  It may have to be a smaller version since I am almost out of sweater to cut up.  I hope Jeni loves this bag as much as I do.