When Allie of Indiesew contacted me last month about having my Laurelhurst pattern included in her Fall Collection I couldn't respond fast enough.  Once I stopped sending !!!! to my husband I responded with the perfectly professional email saying HECK YES!  It's a good thing we are friends or she might have thought I was a bit crazy.
The thing is that Allie has an amazing eye for pattern pairing and I wanted to be a part of that genius.  She started curating these collections last fall, if you remember I was a part of that blog tour, and every collection since then has been amazing.  But I have to say, everything about this years Fall Collection is perfection and so much my style I just can't stop thinking of everything I want to make with it.  She put together the collection that makes up the perfect fall wardrobe and now I get to show you what I made with four of these amazing patterns.
As soon as I saw that the Sloan Leggings by Hey June were a part of the collection I knew the entire direction my look was going immediately.  These leggings needed to be made with a black stretch faux leather accent, there was no way around it.  The perfect faux leather from Girl Charlee was already in my stash and it paired perfectly with a black ponte for the main panels of the pants.  They are everything I dreamed of!
Once I had the pants figured out the rest all came together perfectly.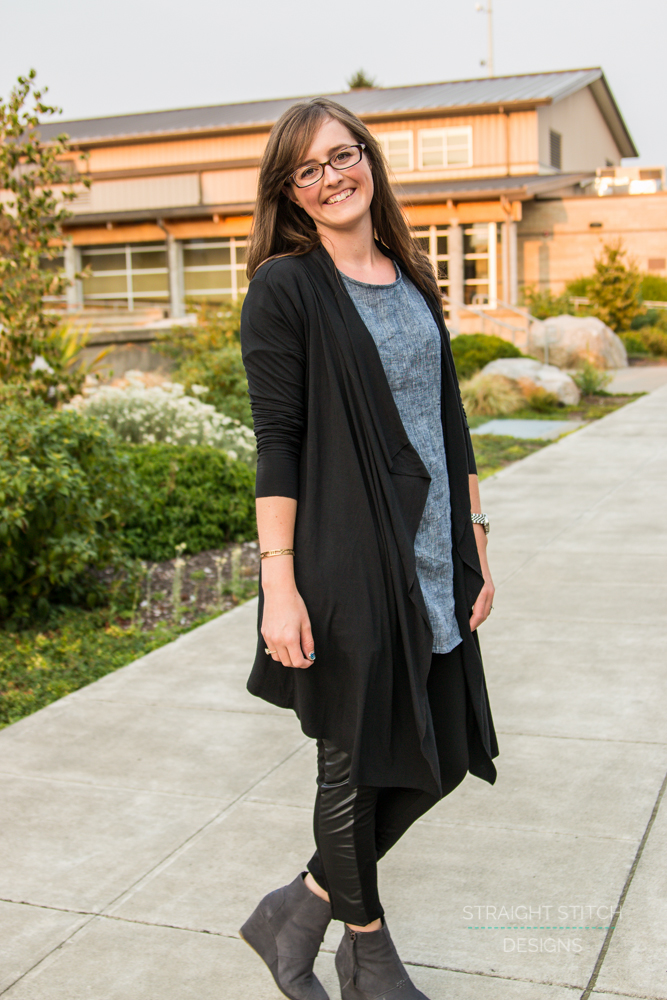 To play off the edginess of the leather accent leggings I thought a chambray Cabin Dress by Blueprints for Sewing would be a nice contrast.  But then I found this amazing blue linen in the Indiesew fabric shop that was even more perfect.  I think I heard Allie is working on getting more of it for the shop.  If she does snatch it up while you can, it was a dream to work with.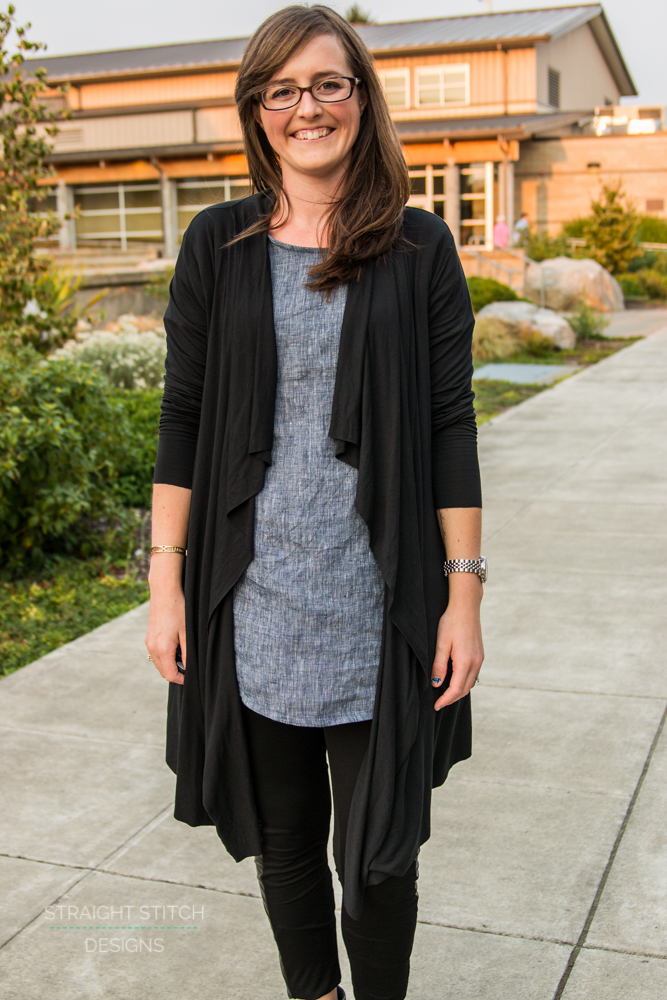 The final piece to round out my outfit was a long sleeve Laurelhurst in the softest jersey I have ever worked with.  I spotted it in the Indiesew Fabric Shop when I was buying the linen and knew I had to have it.
Because I was going for layers I needed the cardigan to be longer than the pattern calls for.  So I went ahead and added 6 inches to the pattern, that coupled with the fact that the fabric drapes beautifully I was left with the perfect length to go with my leather pants and tunic.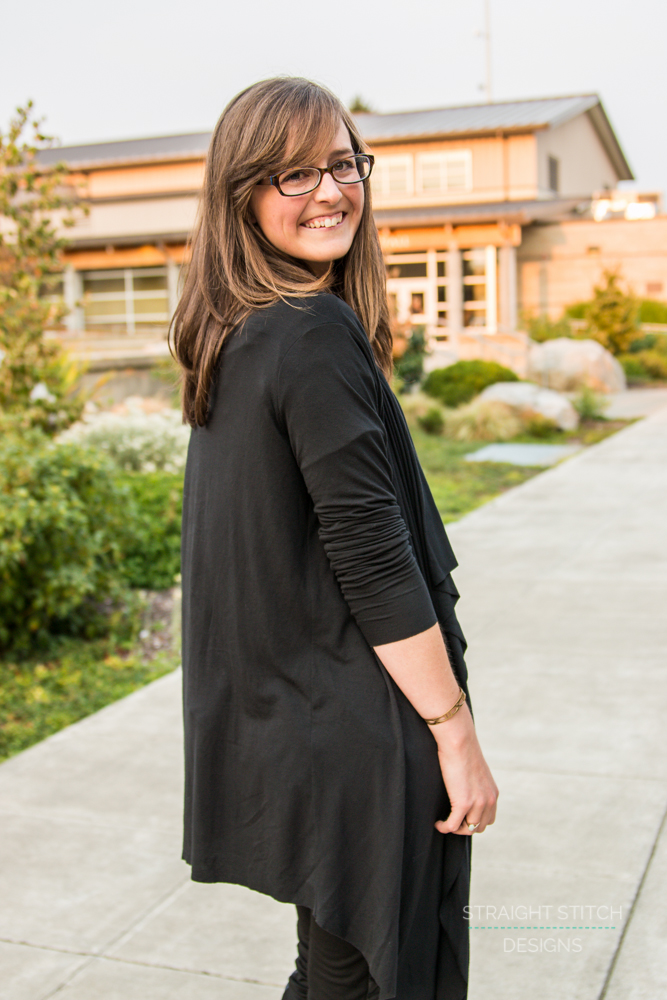 And while these pieces together are perfection I wanted to also show you how you can take them and mix in with clothes already in your closet to make even more outfits.  Because while I NEED leather accent pants in my wardrobe they are not nearly as practical as jeans.
All I did to mix this outfit into daytime and busy mom appropriate was throw on some jeans, my favourite Greenwood tank and some boots.  I will admit here that I have already worn this outfit two days this week and I am not ashamed to say once the weather cools down it will probably happen at a much great frequency.  It's just so comfy.
For something even more casual I swapped out the tank and cardigan for the linen tunic and paired it with the London Backpack by LBG Studio, which is also a part of the collection.
When Allie mentioned that she was going to scale up her copy of the backpack pattern by 25% I knew I wanted to try the same.  This would leave me with a backpack that could be used on a day trip around town with the kids and all their stuff while still holding my things.
I wanted something fun and funky for this backpack that would go with anything while also standing out.  The fabric I used for the flap caught my eye on a recent trip to Joanns and I loved it so much it had to be incorporated into the backpack some how, the flap seemed like the perfect place.
For the lining fabric I thought why not throw caution to the wind and use another bold fabric.  No one else is really going to see it but it will make me smile every time I open the bag.  You can never have too many bold fabrics on a bag.  A pop of colour in an accessory is perfect when wearing more neutral clothes.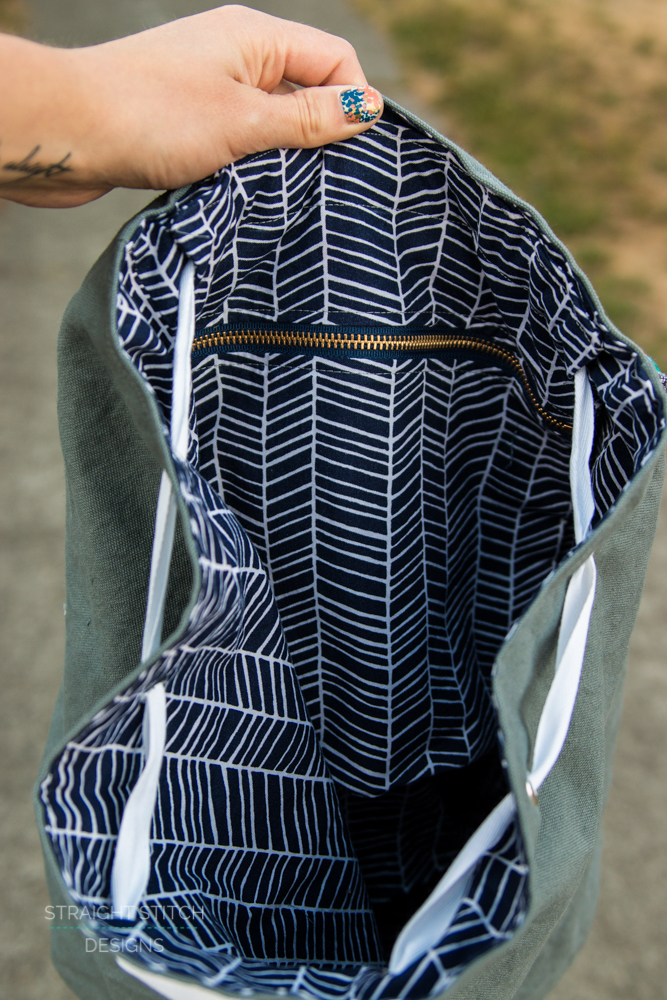 Since I was using brass zippers on the pockets I decided to leave off the zipper flap on the back so that you can see the zipper in all it's glory.  Goodness I love an exposed brass zipper.
I had so much fun putting these looks together and I couldn't be more honoured to have my pattern in this collection.  I hope you have been able to see that the skies the limit with the patterns in the Fall Collection.  Once you have these staples in your wardrobe you can mix and match them with all the clothes already in your closet to take your wardrobe to a whole new level.
Make sure to check out the rest of the ladies in the blog tour below to see what they came up with using these patterns.  And don't forget to head over to Indiesew and grab your copy of the collection, it never hurts to grab some fabric while you are at it, you will not be disappointed.
Monday, August 24th: Lauren | Right Sides Together
Tuesday, August 25th: Lori | Girls in the Garden
Wednesday, August 26th: Kimberly | Straight Stitch Designs
Thursday, August 27th: Trine | Groovy Baby and Mama
Friday, August 28th: Taylor | Blueprints for Sewing
Monday, August 31st: Erin | Sewbon
Tuesday, September 1st: Elena | Randomly Happy
Wednesday, September 2nd: Tara | Girl Like the Sea
Thursday, September 3rd: Lola | Love Lola