I think the best outfits are when you don't think about any fashion 'rules' and just grab things you want to wear.  Today I wanted to wear something different than I would normally ever wear and it just happened to be two completely different patterns, stripes and gingham, forcing me to do some pattern mixing like a boss!  And really they are both blue so it totally works!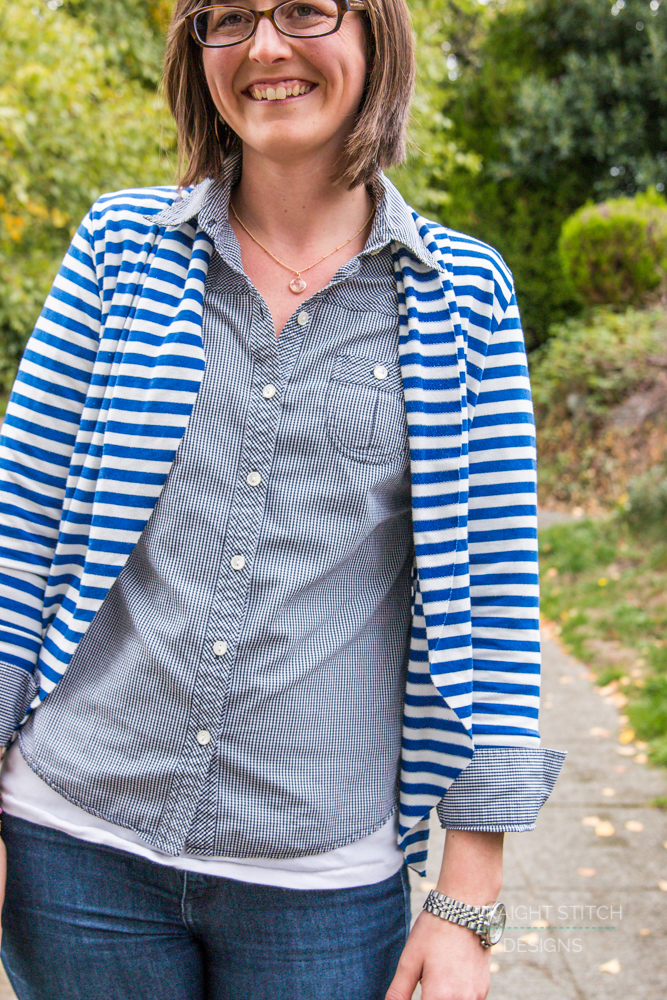 I recently rediscovered this Julia Cardigan by Mouse House Creations, in my closet when I started clearing things out thanks to Kon Mari.  Since I have so many fewer clothes to choose from I find that I genuinely love the clothes that I do have now.  When I woke up to grey skies I knew this was going to be the outfit of choice, perfect for running around town or taking the littles to their gymnastics class.
I tend to sew tops longer so that they cover my bum but I think with this all layered together with my cuffed skinny jeans and fav boots it works great.  Plus you can't go wrong with one of your layers being this white Union St Tee I love and wear all the time.  I only wish I had sewn this gingham shirt, but I have plans for an Archer very soon so I know this cardigan is going to look great with my handmade button up.
I actually sewed this cardigan up right around the time I made this other Julia, but just never blogged about it.  I am cringing just linking to this blog post because it is so bad, but you have to move up from somewhere and my photography skills have definitely improved since then.  For this version though I actually did 3/4 sleeves which worked perfectly with this french terry from Girl Charlee.  I wish I would have gotten more of this when it was for sale, I love it so much!
I am challenging you to think outside the fashion box and look for pieces you love and join me by pattern mixing like a boss!