As my blog and business have grown over the last year and a half I have strived to share the real me both here on the blog and in social media.  But even those real life glimpses don't tell everything about me and my life, and if you are new to SSD I thought it would be fun to start the new year with new introductions.
You have probably figured it out by now but I am Kimberly and I am the designer/owner/paper pattern assembler/sewist behind Straight Stitch Designs, it's a one women show around here.  I love having something in my life that allows me to be creative and fill my closets with loads of custom clothes.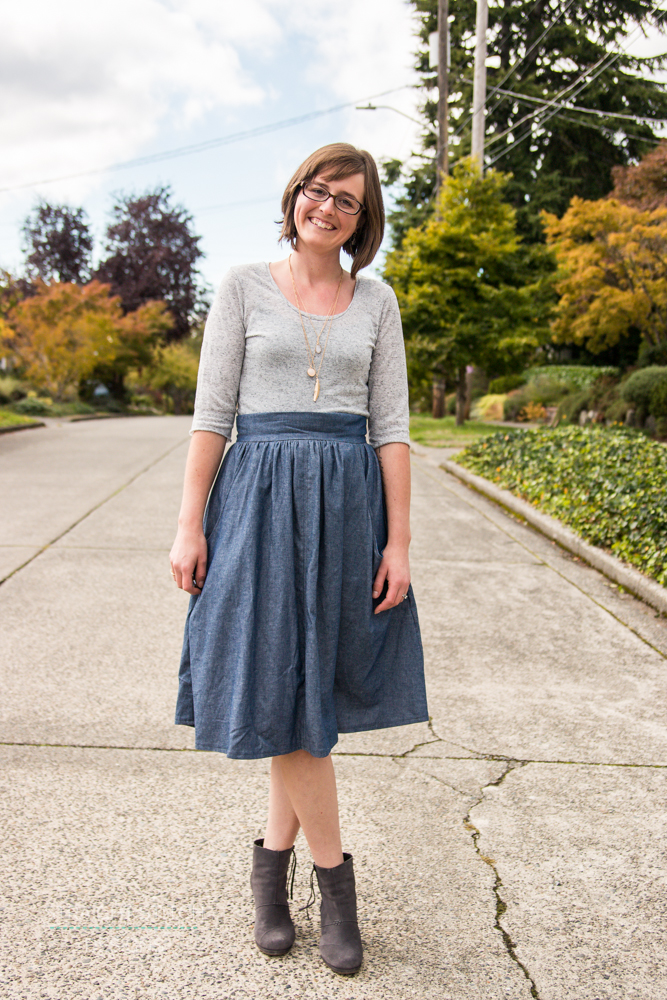 My team consists of my husband Sean who is my sounding board for ideas and helps me see reality when I run with a vision.  I don't always listen to him but once I have stepped back from the ledge I see his suggestions are quite good.  As I have mentioned before, Stitch Kits were entirely his idea.
Sophie and Benny are a big reason why I am building this business while they are young.  I want to have the ultimate flexibility in my life so I can be there for field trips, sick days or lunch dates at school.  These things wouldn't be nearly as easy if I had a traditional 9-5 job.
When I started the Pattern Workshop course by the always amazing Lauren Dahl of Baste + Gather, in May of 2014 I had no design or drafting experience.  After exchanging some emails with Lauren she encouraged me to do the course because I could totally handle it.  I learned far more than I could have ever imagined, and had so much fun doing it.  With the skills I learned in the course I released 6 sewing patterns in my first year, catapulting a business I could have only dreamed of.
If you are at all interested in learning how to create your own patterns I HIGHLY recommend this course!  Plus she just moved it to a new platform and it is gorgeous and super easy to navigate.
I am one of eight kids, the auntie to 11 nieces and nephews and pretty much couldn't imagine not having chaos at all family functions.  These siblings and their spouses or significant others are so encouraging of everything I do.  It's nice having a built in cheering section and even free labour at times when this one woman show just can't do it all herself.
This may look like a big group but in fact there is 1 sibling and significant other missing as well as 7 nieces and nephews that weren't born when this picture was taken.  Clearly we need to all get together this summer and update.
I learned how to sew back when I was in high school from my mom but didn't pick it back up seriously until I was pregnant with Sophie, because obviously I had to make all the baby things.  And while this picture has nothing to do with sewing and is 11 years old it is one of my favourites with her.
My design aesthetic is most definitely Style and Comfort Combined.  As a mom to two young kids I need to be able to have clothes that get food and snot on them and not be worried about ruining the clothes.  But just because I need functional clothes doesn't meant they can't also be stylish.  I know many of you are looking to update your wardrobes as we come into the new year.  The best place to start is in my shop where you can find a variety of patterns that can be tackled by sewists of any level.
I have quite a few new patterns in the works so make sure to check back here tomorrow for the first tester call for my new pattern, Montlake.
It was fun sharing some things with all of you that you may not already know.  If you have any thing else you would like to know please let me know, I can answer them either in the comments or in a future blog post.