I am so excited about todays release and I have my husband to thank for it!
I have a history of utterly and completely rejecting my husbands ideas and then shortly later realizing my error and seeing what a fantastic idea it was.  You can imagine how exciting something like car shopping is with me, and yes I should have gotten the van like he suggested but that's a story for another day.
Last year while talking about ways to expand Straight Stitch Designs my always brilliant husband suggested sewing kits with everything you need to complete a project.  I struggled with the idea people, I just couldn't wrap my mind around it.  And then one day it clicked and that is when the idea of Stitch Kits was born (thanks to my husbands assurance it was a good idea).
I created these kits so that you could walk from mailbox to sewing machine with everything you need to complete the project.  I have done all the work curating a collection of fabrics that compliment the pattern included, finding a coordinating thread, getting custom measuring tapes made!! and putting it all together in a muslin project bag.  Everything you need in one place without the work of going to the fabric store or taping a pdf pattern together before actually sewing.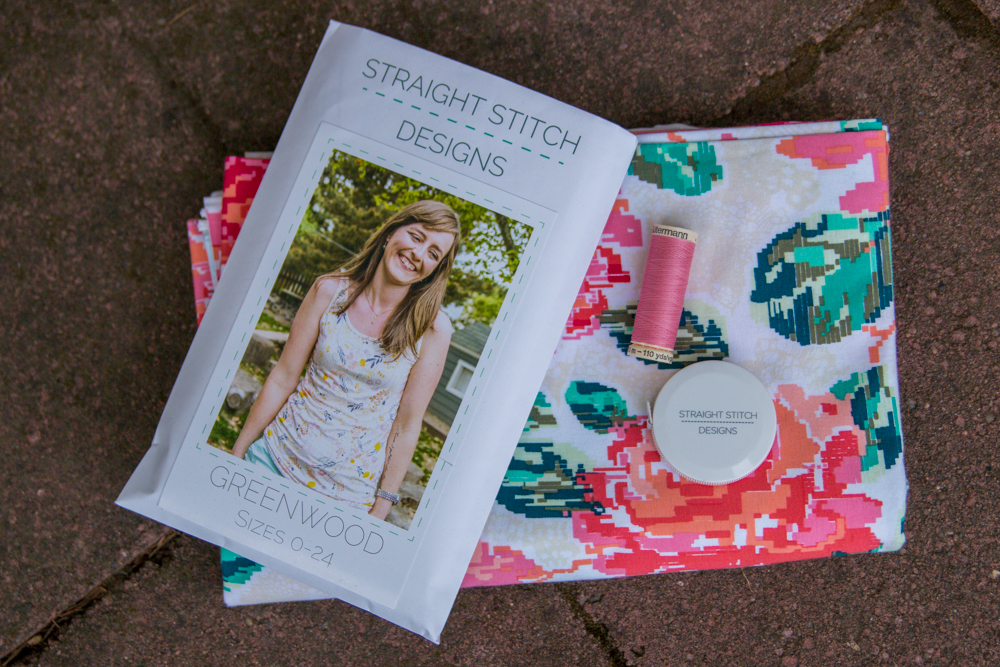 All fabric for these kits is from Art Gallery Fabrics and is the most high quality knit I have worked with and even better to wear.  The thread included is a spool of Gutermann All Purpose thread in a coordinating colour, perfect for sewing the pattern together and top stitching the finishing touches.  The measuring tape is pretty much the bees knees, I seriously can't stop smiling when I look at those cute little measuring tapes.
Available in the shop now are the Greenwood Stitch Kits in three different fabric choices, including 1 solid colour.  There are limited quantities so make sure to grab one if you are thinking about it because they may be gone before you get a chance.
These kits make a great gift for a beginning sewer or someone who just doesn't want to brave the aisles of the fabric store to get all of the supplies.  I completely understand that fabric shopping can be overwhelming so why not just get a kit and be done!
Make sure to come back on Friday for the release of the Laurelhurst Stitch Kit and then the Ballard Stitch Kit on Tuesday.  There are some pretty great fabrics available for those patterns!!
Okay, go get your copy of the Greenwood Stitch Kit before they are all gone!