I love when a pattern can be made as written but then also use it as a springboard to so many other looks.  I have felt from the beginning that Ballard is just that, a great pattern on it's own but with endless possibilities.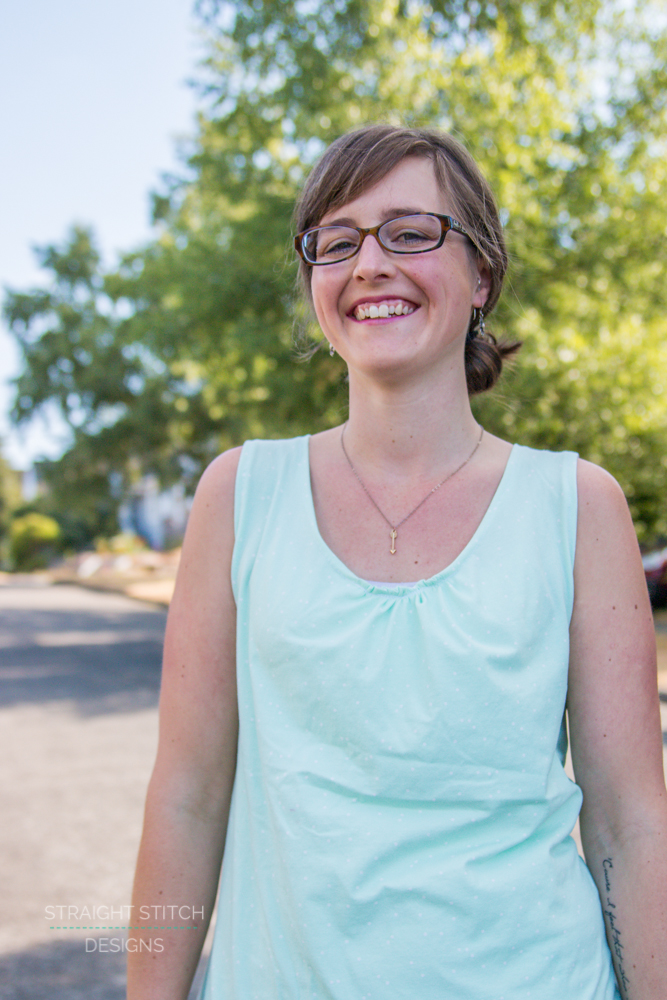 When I was sewing a sample for the Ballard Stitch Kits we were in the middle of a ridiculous heat wave and the thought of putting on a 3/4 sleeve top to take pictures seemed like torture.  It was then I realized why not just make the Ballard sleeveless.  With a couple basic modifications to the instructions as written you are left with a totally different look.
For the neckline you have a couple options, you can finish the neckline as described in the pattern with a standard neckband or finish as it is laid out in the Greenwood pattern for a slightly more tailored knit finish.  If you don't have the Greenwood pattern head to this video to see how I do it which can be applied to any knit binding.  Either one works great.
For the armscye I went for a simple fold under and a twin needle hem.  If you are not comfortable with double needles my favourite go to knit stitch is just a zig zag stitch.  All you have to do is fold under 3/8″ and sew with either a twin needle or zig zag stitch, easy peasy right?
For the back of my sleeveless Ballard I wanted to have something flowy and relaxed for these hot summer days so I made one modelled after this perfect version by Allie of Indiesew (I highly recommend reading through the other posts Allie put together for this pattern, she pretty much rocks and so do these posts)
Pair your new sleeveless Ballard with some linen shorts and some cute sandals and you have the perfect summer outfit for heading to the farmers market, the park with your kiddos or just hanging around the house.  If you don't want to pick out fabric and thread you can also just head to my shop and grab a kit for this pattern and I will ship all the supplies to you.