I had meant to write this post a few days ago, but jet lag kicked my butt. I got home late on Thursday night from two weeks in Europe and at 36 I just don't bounce back like I used to. But I slept for 10 hours straight last night so I fee like a new woman.
Black Friday through Cyber Monday is such a big deal in the US and I discovered this year, around the world as well. It is a time to get Christmas presents for those in your life as well as treat yourself to some of the things you have been eyeing. Many of the deals I am going to share are going to up your garment sewing or push you towards making your own patterns 😉
*Some of these links include an affiliate code, which doesn't cost you any money but does mean I might earn a few dollars from your purchase.
First up are the deals in my shop. All patterns both PDF and Paper are on sale for 25% off with code BLACKFRIDAY18. There are so many great cold weather options such as Montlake for a closet staple, Leschi in a holiday fabric for a party, or Magnuson for a great layering piece.
There is also a one day sale on my Sewing Workshops and Gift Cards. I have recently added gift cards to the shop and thought this sale would be a great way to kick it off. Save 15% off any of my sewing workshops and gift cards with code HOLIDAY18. I have a few classes that are going to be added in the next week so not only are the gift cards great for gifts but you could also buy one to use for a future sewing workshop.
Now to share some of my favourite shops and the sales they are running through today.
La Mercerie is filled with with not only some of the best fabric I have worked with but also yarn for my new knitting obsession. Jess does an amazing job of searching out new and different fabrics and pairing them with patterns that elevate both. Jess has extended her Black Friday sale through today for us!! Save 20% off your purchase with code THANKYOU.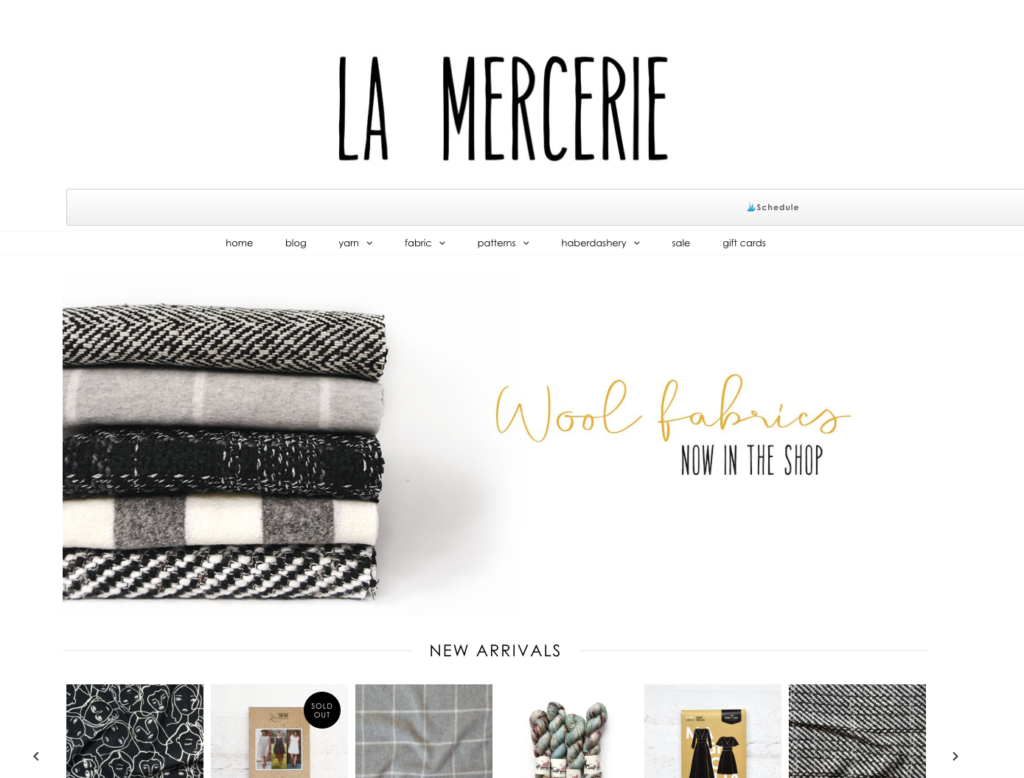 Threadbare Fabrics is the shop I always come back to for denim and hardware kits. Katie was one of the original independent shops to carry Cone Mills Denim and even though the White Oak mill closed this year there is no shortage of denim to have. And with the kits she makes it easy to get everything you need for a new pair of jeans. Not only does she carry denim but also has a great curated selection of both wovens and knits. Katie is having a Cyber Monday sale for 20% off your purchase with code CYBERMONDAY18.
I discovered Sewing Studio this year and just love the quality and variety that Karleen has put together. Karleen makes it a point to search out fabrics that are new a different and really focuses on quality with all of her fabrics. The fabrics I have gotten from her are all amazing and are not to be missed. Sewing Studio is offering 20% off your purchase with code THANKFUL. So don't miss out on a chance to snag some of her great fabric.
For the sewist in your life who wants to venture out into something new, consider buying them an Espadrille kit from A Happy Stitch. As you know I sewed up a pair of the wedge espadrilles for a blog tour that Melissa had and they are a fantastic project even for those sewist with limited sewing knowledge. Melissa is offering $7 off your order with code SUPPORTSMALLNOW.
Lastly I wanted to share some of my favourite sewing tools both big and small. I use these various products all the time in my sewing and find they make a huge difference in getting that clean and professional look to my garments.
I purchased my Brother Serger 4 years ago and it is probably the biggest workhorse of my sewing machines. I really felt like this was a game changer for me in terms of sewing with knits and finishing woven garment seam allowance. The sale is a great deal so don't miss out.
Using a tailors clapper and hem gauge are not only amazing for sewing jeans but are so helpful for getting a crisp finish to your seam before hemming. The tailors clapper is not marked down for Cyber Monday but it is worth the full price.
I wish I could share all of the amazing sales that are going on today but that would lead me to the longest post in history. I hope these sales have given you lots of inspiration!
Happy Sewing (and shopping)!