Creating Eastlake was quite the process, there were multiple iterations of the pattern before I finally decided to just go for it and make a DEEP v-neck top. I am smitten with how it turned out and with each new version that I sew I get even more excited. With a closet full of these tops I can definitively say that this style top is going to look amazing on everyone!
The obvious striking detail of this pattern is the v-neck front which is finished with a facing, one of my favourite finishing techniques for knits. It gives it such a pulled together professional finish without being any more difficult. To secure the front facing I wanted a wide topstitch which mirrors the bottom hem.
Eastlake is designed with variety in mind, I want you to have a pattern that has multiple style options so you can fill your closet with them. There are two sleeve lengths, two sleeve cuff options, a top and dress cut line and two options for the back of the pattern. While I love the overlapped sleeve cuff there is just something about a simple sleeve cuff and that v-neck that makes my heart flutter.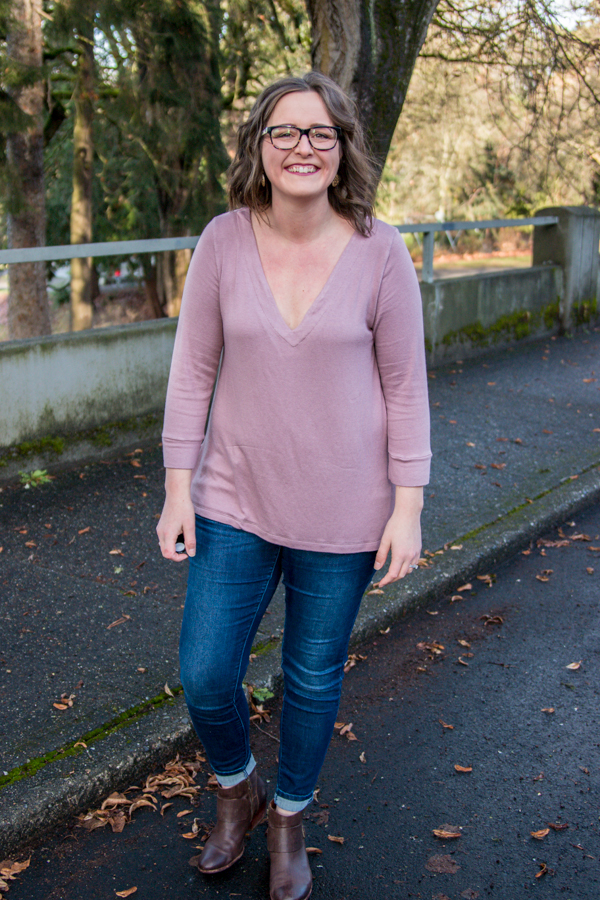 Eastlake can be made with either a gathered or pleated back yoke or just a straight back. This version I decided to mix things up and sew the back bottom piece in a rayon! Another fun feature is the back neckline is lowered to show a little more of your neck, such a fun and feminine detail to the top.
The entire pattern started with these cuffs, a feature I knew I wanted and so I designed the pattern around it. In a structured fabric you truly see how lovely this simple overlapped cuff is.
The last feature that adds movement to this top is the split hem. I love that a simple detail can really elevate the overall look of the pattern. I must confess, I have been wearing this mauve top non stop since I made it the other day. In fact I am sitting here right now typing this post with it on.
All of the elements put together leave you with such an amazing staple pattern for your closet. No judgement if you make one of each option.
Tomorrow I will be sharing my holiday dress version as well as some great fabric options for this pattern. Eastlake is 20% off through Sunday, no coupon code needed, so head to the shop and grab your copy.