At the beginning of September I decided I was going to make the Hampton Jean Jacket. And shortly after proclaiming I was going to make one, Alina of Alina Design Co reached out to see if I wanted to a part of her Hampton Jacket blog tour. This was just the motivation I needed to get it made, otherwise I might sit on the denim for a year and never actually put it together.
I already have a perfectly broken in jean jacket in my closet so I wanted to take this as an opportunity to make something a little bit different. Until two nights ago the plan was to make the jacket with fleece knit sleeves and a hood, but as it happens so often in sewing my plans changed. Mid project I tried on the jacket to check fit and knew it needed to be a Hampton Jean Vest instead.
Speaking of fit, according to the size chart I was a size 4 at the bust and 12 at the waist. After looking at the finished garment measurements and getting some insight from Alina I went with a straight 4 and the fit is spot on. So make sure you look at the finished garment measurements when choosing the right size.
The denim I used for this project is 10 oz cotton denim in a light wash from Blackbird Fabrics. The fabric I used is all sold out, but you can actually pre-order some cone mills denim from Caroline now. If you haven't ever worked with Cone Mills denim it is a real dream to work with so I highly recommend checking it out.
After I had sewed the vest together I wanted to find a way to give it more of an aged look. I toyed around with the idea of following Alina's suggestions of bleach dying, but it wasn't quite the look I was going for. That is when I remembered the idea of tea dying denim, so I decided to give it a try. I had no real plan other than make a really strong batch of black tea and soak my jacket in it. I let it soak for about an hour and then washed it. I was actually surprised that it did have a more aged look. A fun first experiment with tea dying.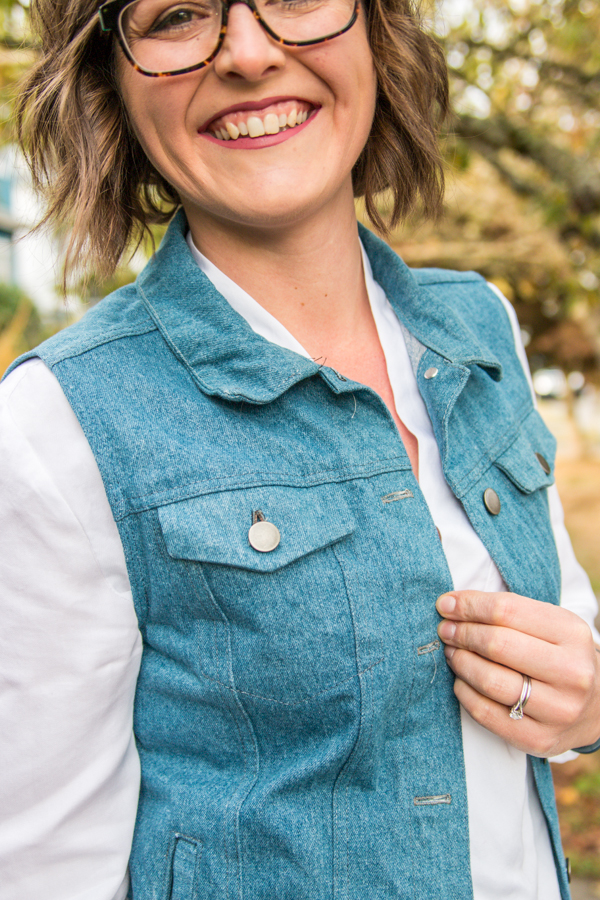 The pattern really is fantastic, I was impressed with the quality of instructions and content to help walk you through the process. There is a great sewalong for the pattern on the blog, so if you get stumped you can always check the blog for more info. The way of doing the welt pockets was different than I had done before, but they came together beautifully.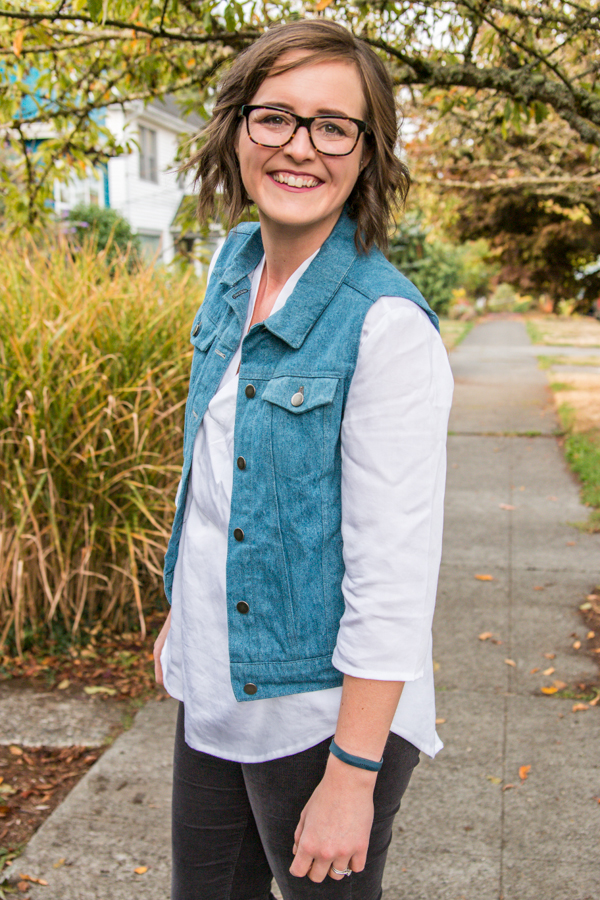 Since I have never owned a denim vest I wasn't really sure how I wanted to style it other than dark pants and booties. To get a bit of contrast I decided to pair it with my crisp white Leschi blouse and I love how it came together. After the fact I wore a super chunky scarf with it and love how that looks too. So basically just like a denim jacket, you can wear a denim vest with anything.
I am building up the courage to distress this jacket a bit, but until then I am super happy with the result.
If you want even more inspiration for making your own Hampton Jean Jacket make sure to check out the rest of the ladies on the tour. And this week only you can grab your copy of the pattern for 15% off with code HAMPTONSFORALL.