Happy Happy Fabric Friday!
I have spent the week finalizing the fit on my newest pattern, Leschi, and to say I am excited to send this to testers is an understatement. If you want a peek at the pattern head over to Instagram to see a few versions I have sewn up.
Earlier this week I shared my fall style using fabrics from Style Maker Fabrics Fall/Winter collection. There were so many other amazing fabrics that I wanted to work with for that blog post, so I thought todays Fabric Friday would be a great opportunity to talk even more about Style Maker Fabrics.
Last March I actually had the opportunity to meet Michelle and she was just as great in person as she is online. Michelle is such a wealth of knowledge on fabrics and patterns that I finally had to pull myself away from her booth and let her get back to her customers. If you peruse the website you will see the care that she and her teams puts into each fabric purchase to be on trend and with amazing quality.
I am sharing 3 more of my favourite fabrics from her collection below, but if you want a great look at all the fabrics in the newest collection make sure to watch this video by Lindsey of Inside the Hem.
I wanted so badly to incorporate this textured boucle sweater knit into my fall look and just couldn't seem to pull it into the rest of my vision. But I am convinced that it would make the most amazing relaxed Blackwood Cardigan by Helen's Closet. The cream and black is so classic and the texture just looks so warm, I want to wrap myself up in it. I would be lying if I said I hadn't already thought about how great it would be as a Laurelhurst, but I can't always suggest my own patterns 😉
Next to all shades of grey I think my new favourite combination is black and cream, so I am not surprised I was drawn to this fabric.
This season I am obsessed with deep saturated colours, and this tencel twill in Aubergine is !! I can't even describe how much I am loving this colour for fall and I haven't come across a tencel twill that I haven't loved so it is a perfect combination. I immediately thought of the Lander Pants from True Bias when I saw the fabric. Just imagine brass buttons paired with this fabric, I have got to sew a muslin of those pants very soon.
The last fabric that caught my attention in the collection is this Floral Silk Crepe. I love that it has the on trend floral element but is very clearly a fall fabric, the colours are deep without being too dark. This fabric would pair wonderfully with a flowy feminine top that can be dressed down with a pair of skinny jeans or even worn with the Lander pants in the twill above. The Valley Blouse by Cali Faye Collection would be lovely in this fabric. Another great option would be the Highlands Wrap Dress by Allie Olsen, you could even follow this tutorial on her blog to make it into a wrap top with bell sleeves.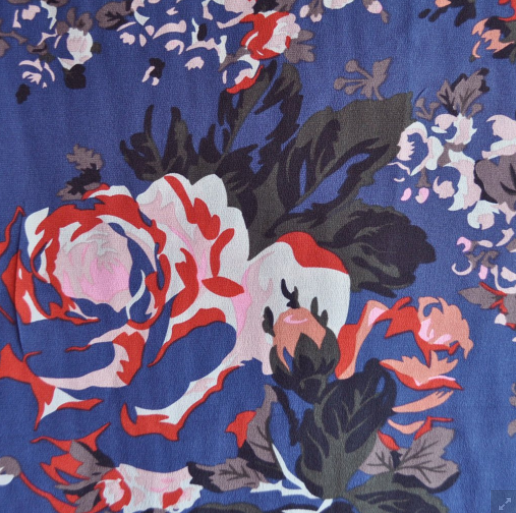 This is just the tip of the iceberg when it comes to the fabrics available at Style Maker Fabrics, you definitely need to go have a look. As if you need even more to convince you to check them out, Michelle let me in on some fun things headed to the shop over the coming months. There will be a small collection of metallic fabrics for holiday sewing coming to the shop in late October as well as more colours of stretch velvet. Every winter I think that will be the year that I finally sew something in stretch velvet and every year I never get to it. I think with these colours I might finally make it happen.
See you next Friday with another edition of Fabric Friday.