When Michelle of Style Maker Fabrics asked me to be a part of her Fall Style Tour I immediately said yes. Who doesn't want to sew with dreamy fabric and then gush about it on their blog. I am joining quite a group of amazing sewists for the tour, so if you haven't been following along last week make sure to go check the rest of the ladies out.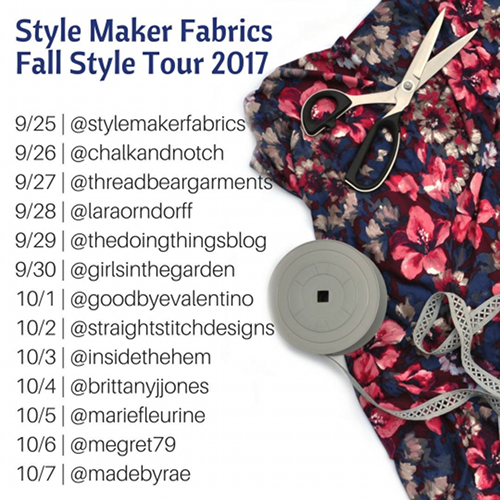 Choosing fabric was the hardest part, there are just so many fun prints and textures and substrates in this collection. If you want to get a peek at all the fabrics go watch this video by Lindsey of Inside the Hem, where she is showing swatches of all the new Fall fabrics now available in the Style Maker Fabrics shop.
Layers are key here in Seattle through the fall. You can have a chilly morning that become a warm afternoon so as long as you have your layers you are ready for the day. And while I love a tee and hoodie, sometimes it's nice for those layers to be a bit nicer than your average outfit.
I have been itching to make the Morris Blazer by Grainline Studios for months, and knew this was the perfect opportunity. So the hunt for a fabric lead me to this dreamy Herringbone Flannel Suiting in a black brown colour. It is the perfect weight for the pattern and I think will look amazing both dressed up as pictured or casual with jeans and flats.
Here is a moment of transparency, I actually sewed this jacket in the wrong size. I was gutted to realize I had sewn a 4 instead of a 6 through the bust so the arms are a little tight, through no fault of the pattern. But the good news is that the more I wore it it seem to relax and wasn't nearly as snug. I am still incredibly happy with it, just sad at my silly mistake.
Once the jacket had been decided on I wanted something in a pop of colour for the bottom and when I saw this Sueded Modal Blend Shirting in Teal I knew it would pair beautifully with the black brown jacket.
I am a reformed skirt person and couldn't get enough of them through the summer, so I started looking at how to style a skirt in the fall. I kept coming across pictures of high waisted skirts paired with blazers and decided to go with my Wedgwood skirt. Since I wanted something with clean lines I omitted the exposed zipper at the back and instead put an invisible zipper in the side seam. There is a full tutorial on the blog if you want to make one as well.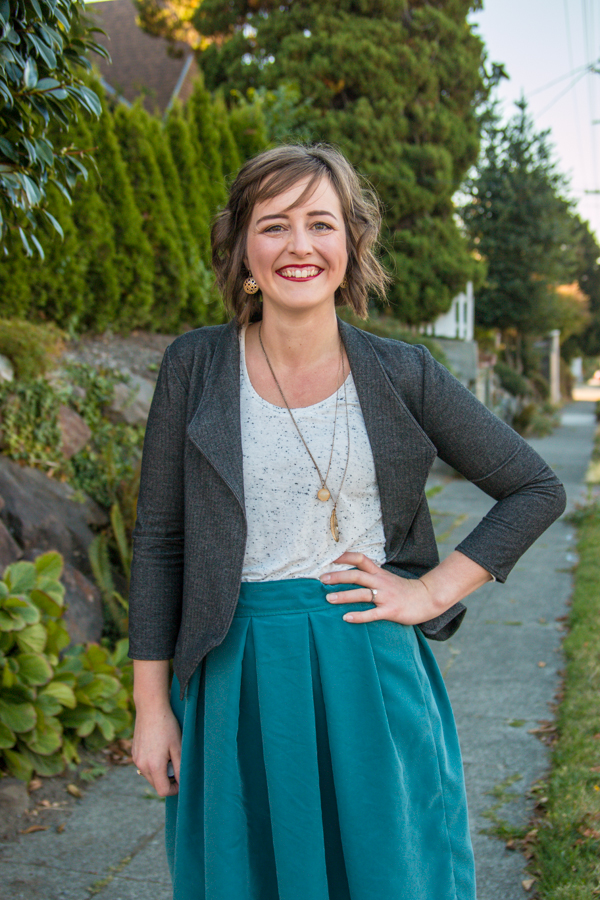 Now all that was left was a simple tee out of a not so simple fabric. When trying to decide on a fabric for my tee, Michelle suggested this Cream and Black Speckle Jersey that turned out to be the most perfect fabric to round out the look. I wanted my base layer to be fitted but not skin tight and have elbow or 3/4 sleeves so they didn't poke out the bottom of the Morris sleeves. My Montlake tee was the perfect choice, and since I have sewn 1 or 2 or 50 already the pattern is a quick and easy sew.
While this speckle jersey is not a part of the fall fabric line it is available from Michelle, so I highly recommend it. It was great to work with and perfect not boring neutral for my wardrobe.
The whole outfit came together and really inspired me to step up my fall wardrobe beyond jeans and tees. I am ready to sew up another Morris Blazer, this time in the correct size, to pair with my jeans and tees. Who doesn't love looking like a million bucks at the bus stop.
Thank you so much Michelle for having me, it was fun to go outside my box for fall clothes.