I am so glad that everyone is enjoying Fabric Friday as much as I am. I get such a kick out of searching through a stores inventory to find the fabrics I love and then thinking about the patterns on the market that would compliment the pattern best. To read past Fabric Friday posts head here.
Allie of Indiesew has been a part of my business journey from the beginning and every chance I get to shout my praise of her and her business I take. For those of you unfamiliar with Indiesew it is an online community for the modern sewist. There are indie sewing patterns, a creations section where you can upload your makes for others to see, and a blog full of super useful tips.
Two years ago Allie launched her Fabric Shop and really paved the way for online small batch fabric collections. There are many of the more traditional brick and mortar fabric shops, but not as many specializing in designer overstock fabric. This is a niche for those of us sewists who are really looking for something different or not as mainstream.
Allie regularly travels to LA to the garment district to handpick her fabrics. There are those fabrics that are only available in limited quantity and others that she is able to restock depending on the demand. What I love about Allie's selection is that she gives you basics with a twist either as a new substrate or a fun texture/design. I hope to visit the LA garment district when I am down there in April, but until then I will let Allie be my personal shopper.
Before I get all crazy about the fabrics she has I wanted to share this quote I saw on her website that is everything I think of with Indiesew.
"It all started with an idea to unite the online sewing community. And it turned into an obsession to foster the creativity and support the independent."
Allie has spent her time growing Indiesew to be so supportive of the indie sewing world and I couldn't be happier that I can support her and get amazing fabric at the same time.
The first fabric that is calling my name is this 2×1 rib knit in black and white. I am always a sucker for striped knit fabric and the cozy factor of this fabric has me convinced I need it in my hands. I think this fabric would make a great Driftless Cardigan by Grainline Studio or a Drop Pocket Cardigan from Jalie. I love a good cardigan so I obviously should mention it would make a great relaxed Phinney Ridge cardi too.
One of the features of the Indiesew fabric shop that I love is the wealth of information provided under each fabric listing. You can find out the substrate, weight, width, stretch content and care instructions. If you go to the other tabs Allie provides you with patterns that compliment it well in addition to examples of patterns sewn with the fabric.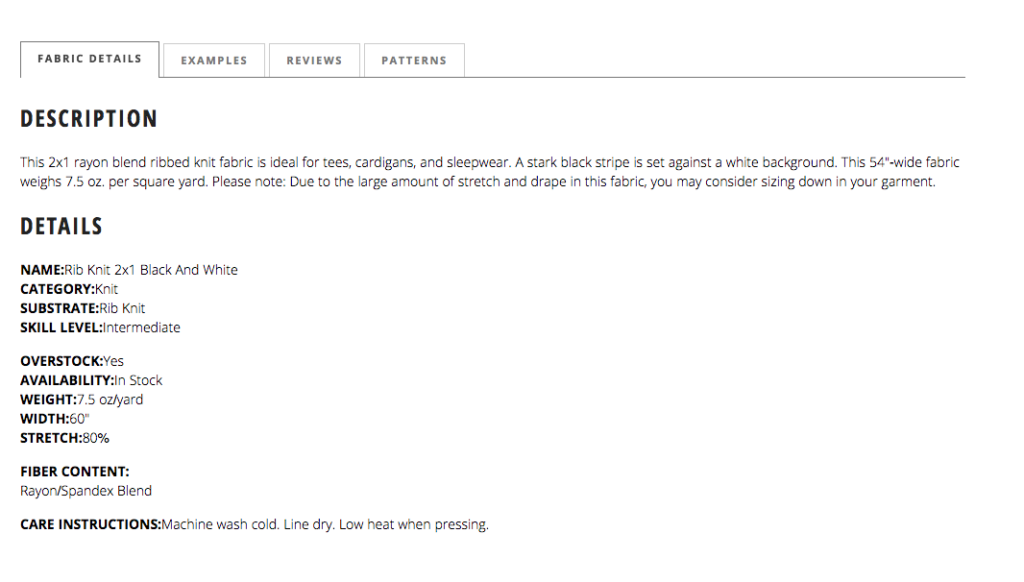 If you are like me and thinking about sewing some jeans for the fall than you definitely need to pick up this 10 oz stretch denim in indigo. The fabric has 20% stretch which is perfect for the patterns like the Birkin Flares by Baste and Gather or the jeans I am going to tackle this fall, Ginger Jeans by Closet Case Patterns.
I love the dark colour of the fabric and think it will lend itself well to being a bit distressed. All denim I have purchased from Indiesew is fantastic quality, you can't go wrong.
The final fabric that I am sharing today is this black and white windowpane crepe, holy moly this looks dreamy. I think it would make a great layering piece to wear under a blazer or cardigan. The Mercer Tunic by Whitney Deal would be amazing in this fabric. Allie mentions that this fabric is virtually wrinkle free so it would be a great travel fabric. How amazing would a pair of Luna Pants by Made by Rae be in this fabric? I just might need a pair for my travel days to a from Craftcation this spring.
There are so many other great fabrics in the shop, the quality that Allie sources is wonderful so you know you are always getting a great product. The best way to hear about the fabric when it is released is to join the newsletter list. You can do that here.
I never get tired of sharing sneak peeks with you all, it's probably the fabric hoarder in me that is squealing with delight. Allie is letting me officially "unveil" the fabrics that are a part of the Fall/Winter Collection that is releasing on the 10th!
Until Allie sent these fabrics over I had myself convinced I was going to take a bit of time off buying fabric since I have spent so much on fabric this year. But then I saw these pictures and I just about died!! I know I will be stalking my inbox on the 10th waiting to get my hands on this fabric. Make sure you subscribe to the Indiesew newsletter, or don't because than I will have a better chance of getting these fabrics 🙂
Allie continues to push her business to better serve the indie sewing community and I love to support her, and I hope you will too.
See you all next Friday with another Fabric Friday.