For every fabric store I talk about with this series it so much fun to think back to what brought me to that store in the first place. Two years ago I joined Lauren Dahl for the testing of her Birkin Flares pattern and she was all about Cone Mills Denim in her jean making. One of the fabric shops she recommended was Threadbare Fabrics.which turned out to be a great resource for all of my future denim purchases. If you haven't worked with cone mills denim it is life changing for jeans making. Such a great quality fabric.
Speaking of denim, my first pic has to be this natural Cone Mills denim. I have never worked with fabric dye but I am picturing a pair of jeans dyed an emerald green color. I just might have to pick up this Dylon dye and experiment. As I type this I realized that the Lander pants by True Bias would be amazing in this fabric/colour combination. I am clearly obsessed with this pattern because I am pretty sure I suggested this pattern for a fabric last week too.
The best part about Threadbare Fabrics is that Katie lives in LA so she is able to visit the garment district of LA and handpick fabrics for her shop. Recently Katie launched the District Shop, which is a "rotating selection of seasonal picks from the Los Angeles Garment District. These fabrics are available in limited stock from pre-cuts up to 20 yards. These products will generally not be restocked".
I picked up a bunch of ribbed sweater knits a few weeks ago that are sadly sold out, but there are still some great fabrics available, like this blue Rayon Challis. I think this fabric would be great for the new Coram Top from Allie Olson. The dress version would be perfect for my trip to LA in April.
I rarely miss an opportunity to pick up tencel twill, it is just so dreamy to work with and in a classic colour like black it is never a bad decision. Ever since sewing my Seamwork Loretta I have been loving everything boxy. The Leni Top by Tessuti would be a fun top in this fabric, or even the Lou Box top by Sew DIY.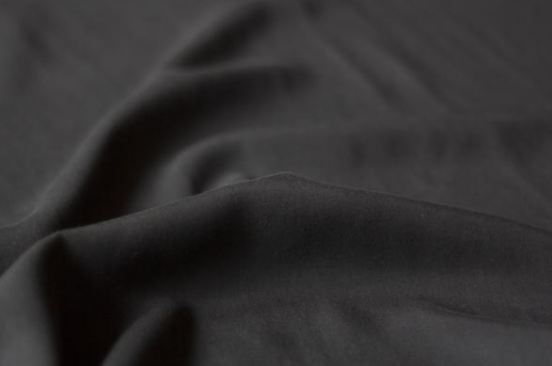 Katie and her family are in the midst of moving so her shop won't have a full restock until November, but in the meantime I can share some of the fabrics that she is going to be looking for. The thing about shopping in the LA garment district is that there isn't always the exact type of fabric you might be looking for. Some of the substrates Katie is going to try and source are rayons, liverpool knits and sweater knits. If you have some fabrics you would love to have her carry in her shop please email her your suggestions. Thinking about my winter sewing plans I am hoping for french terry for more Hudson pants and bottom weights for Chi Town Chinos.
See you next Friday with another addition of Fabric Friday. If you have missed the previous posts in the series you can catch up here.