I saw a funny meme the other day that said sewing and fabric buying are two separate hobbies. I always just thought of them as all part of the same thing, but over the last 6 months I have found myself collecting fabrics that I love, but at the same time being more intentional about the types of fabric I am buying. Sometimes there is a plan for that fabric and other times I just can't imagine my life without the fabric. A bit dramatic yes, but also a bit of truth.
Since I find myself drawn to small fabric shops, both brick and mortar and online, I thought it was a perfect opportunity to share some of my favourite shops with you in the all new weekly post, Fabric Friday! Every week I will be highlighting a different shop and the fabrics I am loving right now. I will also share some patterns I think would pair nicely with the fabric so you may discover both a new fabric shop and a fun new indie pattern company.
It is probably no surprise that the first company I am going to be highlighting is Blackbird Fabrics. If you follow me on Instagram you know I have a deep love of Caroline and the curated collection of fabric that she carries. I had the opportunity to meet Caroline over the summer and you know what, she is just as amazing as I imagined. She actually had me convinced that I should move back to Vancouver so I could see her more often.

When I was browsing the website for the millionth time I decided to read the About page and just had to put it here as written. Everything Caroline says on that page is the reasons I love shopping there so much.
"In our online shop, we curate garment fabrics, sewing supplies, bra-making supplies, and sewing patterns with today's dressmaker in mind. We are committed to sourcing the good stuff only ‑ the modern, wearable, high-quality fashion materials that are so hard to find at your local big-box fabric store. We hand-pick each item and add new products to our shop monthly.
We've made it our mission is to bring hard-to-find garment materials to Canadian home sewers and DIY dressmakers. We also ship worldwide!"
I think the reason I am so drawn to the selection at Blackbird Fabrics is that fact that it is, as said above, modern yet wearable. Pretty much my personal style goals.
The fabric that actually brought me to the shop in the first place was tencel twill. After sewing my tencel Cheyenne I knew I needed to stock up on this fabric and Blackbird was the first place I found a huge selection. I kid you not, while writing this post I got an email from Caroline saying that tencel has been restocked, it was meant to be. There are some AMAZING new colours that I am going to try my hardest not to purchase all of.
I was going to just pick one colour to highlight but I honestly can't pick one, so here are all the colours currently available. You will never regret the purchase of tencel twill. I wrote the above paragraph and then looked at the colours again and knew I was in trouble, the teal and vintage lilac needs to come live with me. I am envisioning a Tessuti Alice Top in the teal which would work great through the fall and then layered with a cardi through the winter.
While I think of tencel twill the most when I am shopping at Blackbird I have also been really happy with the selection of rayons. I recently purchased some of the Rayon Linen Voile in Ivory and it is perfect shirt weight fabric. I am going to go super classic and make a full placket Cheyenne top with it. The rayon linen voile has also been restocked in some great fall colours like navy blue, charcoal, and blush.
This pale grey is pretty fantastic too, it would make a great Lou Box Top.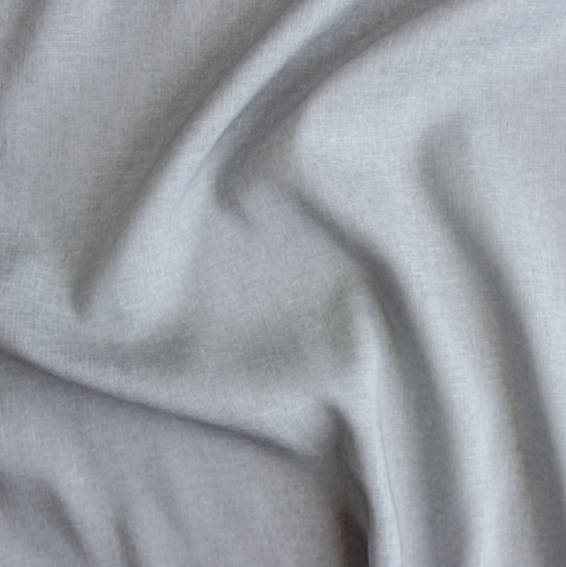 The two substrates I mentioned above are only a glimpse at the fabric available. Caroline does a great job of stocking a nice mix of knits and wovens so her collection really can meet all your sewing needs. She has great solids, stripes, beautiful prints and even denim.
If you haven't already signed up for her newsletter I highly recommend it. Her fabric can sell out really quickly so by getting the first notification of fabrics through the newsletter you are sure not to miss out on anything. Also make sure you head over to the Blackbird Fabric Instagram feed, every Friday there is a fabric that is featured at a discount. Caroline will either post on the feed or within stories, and the discount is only available for the day.
And a little birdy let me in on some of the amazing fabrics that are headed to the shop in the coming months, I am so excited I get to share it with you! Brace yourselves, this is what is in your near future: lots of sweater knits, solid bamboo jerseys, coatings and rayon Bemberg lining, lots of rayon and poly crepe prints, and some stunning stretch velvets. Also more cone denim! Fabric is released weekly so get on that newsletter list so you don't miss out!
Blackbird Fabrics is located in Canada, but that isn't a reason to not purchase from them if you live south of the border. Caroline works with a courier who brings packages over the border so you are paying for shipping through USPS instead of international shipping, amazing eh?
I could probably go on and on about the quality and selection at Blackbird Fabrics, but I will leave you with this thought. You will never regret purchasing higher quality fabric for your makes, the end result is something that will last and be amazing to work with.
See you next Friday!