So excited to finally be showing you the ins and outs of the Capitol Hill pattern I created for the Sew Fab Bundle.  You still have until tomorrow to purchase the whole bundle so make sure to snag your copy before it's too late.  If you are looking for some of the other patterns from the bundle that I sewed, here is my versions of the Jersey Glam Dress and Palazzo Pants I also sewed up a remix on the Jersey Glam Dress and the Extraordinary Girl Top.  For even more inspiration head over to the Sew Fab Bundle Facebook page to see testers and other bloggers sharing their version.
When the lovely Jenny of The Southern Institute emailed me about joining the Sew Fab Bundle I nearly fell off my chair.  She is the big time people and I am still getting started so it was a real honour to be included in this bundle.  And the fellow designers that I collaborated with are seriously amazing, like wow!
Jenny changed up the bundle for this season and I was excited from the start.  Many times when a bundle gets released I have at least a few of the patterns in the bundle, which isn't a bad thing but it makes me question whether the remaining patterns are worth it.  For this bundle Jenny decided to have all 10 designers create brand new patterns.  We all worked together to create a cohesive bundle that covered pants, tops, dresses, jacket, a bag and even a nightgown and underwear.  So many options!
My contribution to the bundle is the Capitol Hill and I am not sure I could love this pattern more than I already do.  It was a serious labour of love that tested me in my design knowledge and patience.  But the end result thanks to my testers is amazing and so much better than I could have ever imagined it could be.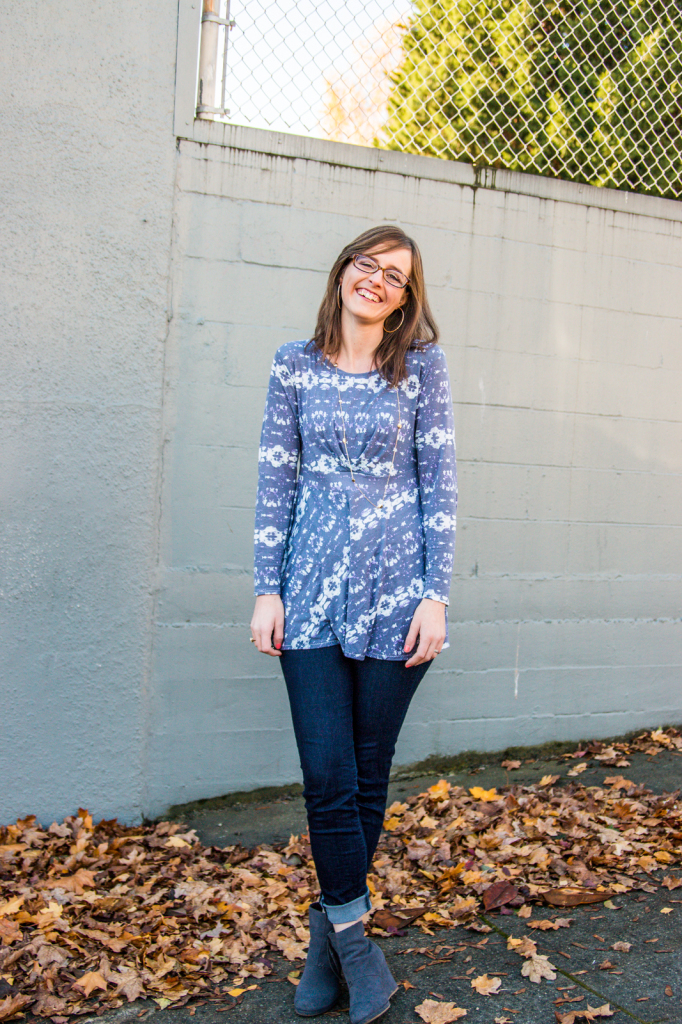 This pattern is the perfect expression of my design vision which is simplicity with unique details, sort of an elevated mommy wardrobe.  I want my patterns to be something your average women can wear and be comfortable but still look put together.  By offering lots of options this pattern can take you from the school pickup line to fancy date night or everything in between.
The main feature of the Capitol Hill that sets it apart from your average knit tunic and dress is a double pleat detail at the front.  This style is flattering for many body types with the pleats hitting at your natural waist.  When creating the instructions I wanted to make the pleats as clear as possible, because if you are anything like me pleats are incredibly intimidating.  So I went ahead and created a video tutorial for the pleats.  I think the video helps make the pleat process clear and leaves you with perfect looking pleats.
This pattern can be made as either a dress or a tunic each with three different skirt options.  You can go for classic with a gathered skirt or mix it up with a half or full circle skirt.  If you love mixing knit and woven you can also create the skirt in woven.  I love the look of the knit bodice with the gathered woven skirt.
The sleeves can be made in either elbow length that is either hemmed or banded and long sleeve.  The Capitol Hill also offers pockets as an option which is one of my favourite parts.  I think we can all agree it doesn't get much better than a dress with pockets.
As I mentioned above this pattern was a labour of love and took both mine and my testers patience who stuck with me through good and bad and really bad.  These ladies gave such great feedback and helped me refine this pattern into so much more than I could have envisioned when I first started.  Many of these ladies have been with me from the beginning, helping me test my first pattern Ravenna, and some were new to me but all were equally amazing.  I wanted to show you some of the versions they created so you can see how well this pattern works for a variety of women.
*The Sew Fab Bundle Sale is now over.  To purchase this pattern please visit my shop page.*
Make sure to get your copy of the bundle before the sale is over tomorrow!