As a designer in the Sew Fab Bundle Sale I got the full bundle about a week before the sale went live.  I had these grand plans to sew up the whole collection and blog about them individually and then I realized my reality was much less ambitious.  I am pretty happy to say that I have sewn up 3 of my fellow designers patterns and hope to get a few more done before the sale is over.
When Elizabeth of E-Beth Designs mentioned in the Designer Facebook group that she was thinking of making Palazzo pants, I got really excited.  I know I am probably really late to this trend, as with all trends, but I was sure they would be great.  After hassling her about them she decided to go for it and the end result is fabulous.  The Parisian Palazzo Pants are the perfect combination of pulled together while still being incredibly comfortable.  You can wear these for a casual spring look with a long sleeve white t-shirt and flats or a great summer outfit with sandals and a tank top.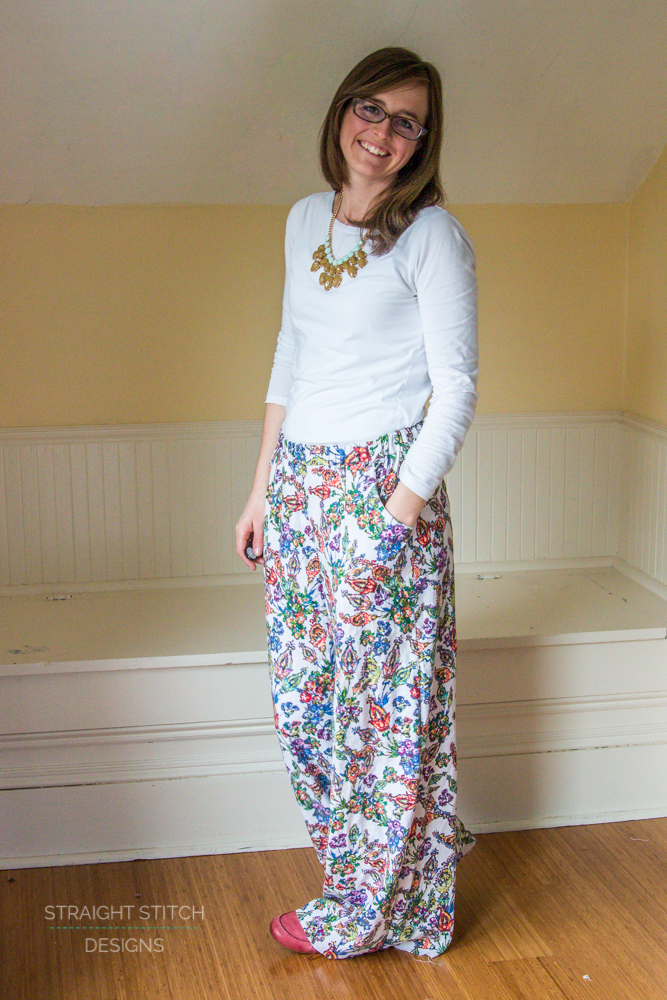 Not only do they have a great shape but there is such attention to detail at the top with a couple of simple pleats near the pockets.  The combination of the pleats and the pockets elevate this from being just a pair of elastic waist pants into a style piece.
When deciding on fabric for these pants I wanted flowy and light so it would really emphasis the lines of the pants.  As I was running through Joanns with the kids one day because lets be honest if you try and fabric shop with two small kids it is more of a sprint through the store not a leisurely stroll, I came across this linen and was sold instantly.  Why not make these attention grabbing pants in an equally in your face print.  They are everything I had hoped they would be.  *Please excuse the flying purple ball in the photo I was trying to keep the 2 year old occupied while taking pictures and that was my weapon of choice.
When sewing for myself I have to take into consideration that my proportions are a bit all over the map, I have a small (read non-existant) bust, medium waist and then larger hips.  This isn't a problem when sewing my own clothes because I can adjust the pattern as needed but this does sometimes lead to styles of clothes looking less than great, specifically pants if the waistband is too high.  No one wants pants that are clinging to their bum in a less than flattering way.  This pattern is so great because it gives you shape without clinging in the back.  Because I am taller I added 2 inches to the length and actually haven't hemmed them yet because I wanted to see where they will actually sit on my waist before deciding on my final length.
I am so excited about these pants and who knows maybe I have a tropical vacation waiting for me under the christmas tree so I don't have to wait 5 months to wear them outside.
The second pattern I sewed up from the bundle was the Jersey Glam Dress by Kelly of Sewing in No Mans Land and it is AMAZING!  If I am being honest I was a bit skeptical that this dress could fit my body shape and still look good.  Y'all, I am not southern but this dress deserves a y'all, this pattern is so much better than I could have ever imagined.  I seriously smile every time I see these pictures because I love it so much.  I want my husband to take me on a hot date so I can wear this dress, it couldn't flatter my body more than if I had made it exactly for my body.
First, I am a sucker for elbow length sleeves, clearly because they are in both my Ravenna and Capitol Hill patterns.  Can we talk about the length for a minute because ladies, it is rare that I can make a pattern as written and have it be the PERFECT length for my long legs.  This hits me just above the knee which is exactly where I like my dresses and when paired with black tights and boots the combination is just !!!
My hip measurements were off the current size chart by an inch so I went ahead and graded out at the hips an inch to make room for the junk in the trunk I have.  I probably could have gotten away with the size 10 hip as there is the perfect amount of ease in this dress for it to be comfy without being fitted but I am super happy with the end result.
I am realizing now I probably should have taken some pictures of this dress without the belt because this isn't just your standard shift dress.  Kelly makes sure to add some shaping to the dress so that when worn without the belt it still looks amazing.  Head over to Kelly's blog where you can see her amazing mint green version which she wears without a belt.
Currently this pattern is available in sizes 2-10 but Kelly has decided to add 3 sizes to the top range of the pattern, making it available for even more of you to sew.  Grading a pattern is not necessarily a quick thing, and Kelly is a busy mom with her husband deployed so once the updated pattern is available everyone who purchases the bundle will get the updated version.  So make sure to go grab your copy of the bundle and if you can't quite sew the dress now stalk your inbox for when the new pattern is available.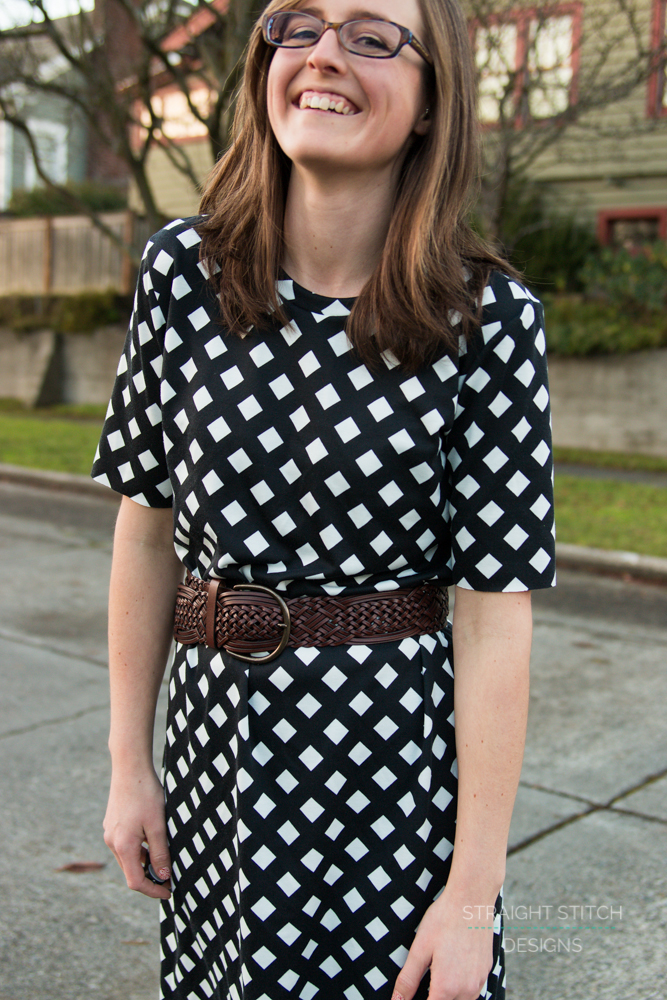 All of the designers in this bundle worked incredibly hard on these patterns in addition to working  together to make the bundle as cohesive as possible so you end up with patterns to create an entire wardrobe.  I highly encourage you to browse all the pictures people are posting with the #sewfabsale and read the blog posts being linked to on The Southern Institute Facebook page this week.  Sometimes it takes seeing people of all shapes and sizes in the same pattern to realize it really is great and can work for you.
Make sure to come back tomorrow to see pictures of my tunic length Jersey Glam and my Extraordinary Girl Top.