It's no secret that I am all about upgrading the mommy wardrobe but still being completely functional.  I do not have time in my life to sew up clothes that I will never wear again, everything I sew has to have a purpose in my wardrobe or it's not happening.
Kaysie of kzjo'studio has been a tester of mine on a few different occasions and so I was completely disappointed when I couldn't help her test her newest pattern, the Eleanor Cardigan.  But lucky for me Kaysie asked if I would be interested in sewing one up and telling all you about it, so here we are.
Are you ready for me to gush a bit about this pattern?
I am a lover of cardigans the longer and more relaxed the better.  Sure I have my fair share of fitted cardigans and with the right outfit they are perfect, but when it comes to layers which is an essential in the Pacific Northwest a cardigan like the Eleanor is much better.  The fit couldn't be more spot on for the look and feel I was going for.
This pattern is a breeze to put together, if I didn't have to actually tape the pattern pieces together the whole thing would have been assembled in less than 45 minutes.  It's easy peasy and a must for all levels of sewing.
The pattern comes with two lengths and 3 sleeve lengths.  For my version I used a lightweight open wear sweater knit and went with the mid-thigh length and the long sleeves.  The sleeves actually turned into extra long sleeves when I realized I didn't have enough fabric for the full length of the sleeves so I had to do some piecing together at the bottom of the sleeve which resulted in really long sleeves.  I actually prefer really long sleeves anyways so it worked out for the best.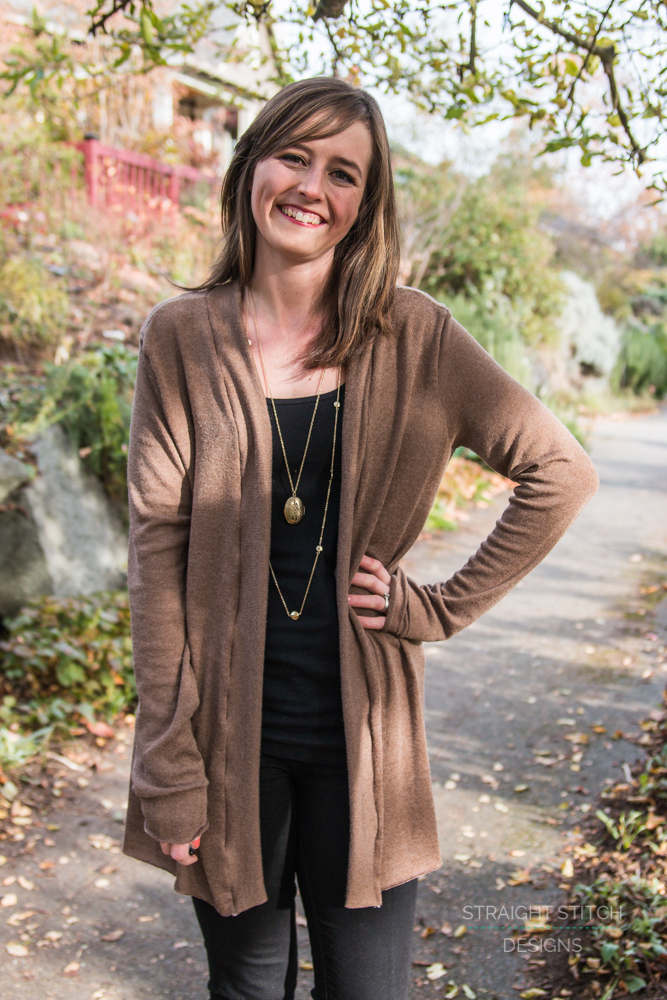 I really do love this cardigan and I know it is going to join my regular rotations of handmade clothes, which is actually what I mostly wear now adays.  I look forward to making another one in a heavy fabric for the much colder weather coming.  Make sure to head over to kzjo'studio to get your copy of the Eleanor Cardigan.