When the ladies at Once Upon a Sewing Machine reached out and asked if I would join their Holiday PJ Tour I enthusiastically said yes.  Both Rachel and Donna have been amazing help to me with my pattern testing so it is fun to return the blog love and help with their tour.
I am a sucker for Christmas jams.  Every year I get the kiddos new jams to wear on Christmas Eve, a tradition that I remember my grandma doing when I was growing up.  This year I decided to be ambitious and make them instead so the timing for this blog tour couldn't have been better.  A quick look through my fabric stash resulted in the most perfect flannel for the job.
Do you see those gathers?  Those are by far the best gathers I have ever made.  Apparently I should only ever try to gather flannel.  Seriously I can't stop looking at the gathers.
Rachel and Donna do such a great job with this pattern, everything was really clear to follow and the end result is so fun.  You can mix and match fabric like I did or keep it simple with the same fabric.  They also offer instructions how how to add a contrasting band to the bottom of the pants.  And don't be scared to accessorize with your favourite statement necklace like my little fashionista.
I opted to use snaps in the back instead of buttons mostly because I haven't tried button holes with my new fancy sewing machine and I am a little scared 🙂  But I think the snaps look great with the polka dots on the fabric.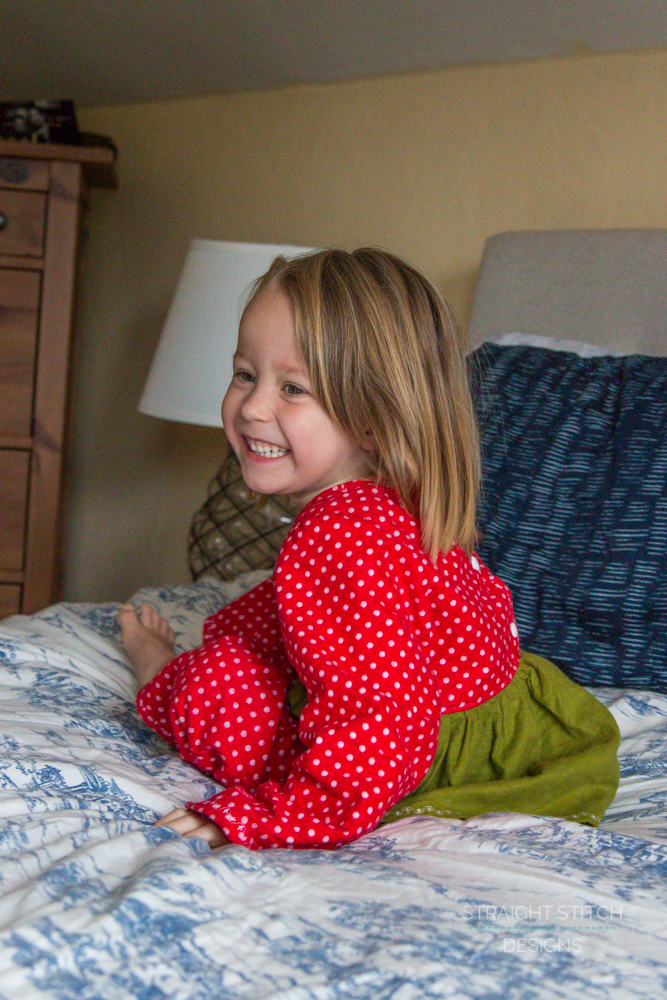 Speaking of my new sewing machine I thought it would be fun to try out some of those new decorative stitches that came with the machine.  These looked a bit like christmas trees so I thought they were fitting.  I especially like how they pop against the green flannel.
This pattern is such a great blank slate to customize and make your own.  I see many more of these in my future especially if I can find an easy way to modify the skirt on the top and make it work for Ben because I love me some matching jams.
Make sure to head over to their shop to get this pattern for $5 during the pattern tour.  Head over to these other great blogs this week and check out their holiday jams on tour.