I pretty much start every tester roundup saying the same exact thing, I have the best bunch of pattern testers around.  This amazing group of ladies make every single pattern I create so much better and I love working with new to me sewists with each round of testing.  My favourite part of a pattern release is definitely this post, so without further ado I am sharing with you the Wedgwood tester roundup!  Make sure to click over to the shop and grab your copy of the skirt while it is still marked down.
Cat has been a tester for me on a few occasions so I knew she was going to come up with a great skirt and she definitely didn't disappoint.  This wide blue and white striped fabric from Ikea gives a great fresh look for the skirt.  Because the fabric is heavier it holds the pleats lovely and those red buttons are a perfect accent.
This is my first time working with Tiffany on a test and it was really wonderful.  I love that she used this small scale floral fabric and even added a lace detail at the bottom.  Styled with a chambray shirt tied at the waist and a lovely necklace she is ready for the day to day or even a night out.
Abby of Milk Monster Momma is a new to me tester who decided to use the pocket flaps on the skirt as a fun way to add an accent fabric.  That pop of green on the chambray skirt is so cute.  I can already see this in the summer with leather sandals and a tank.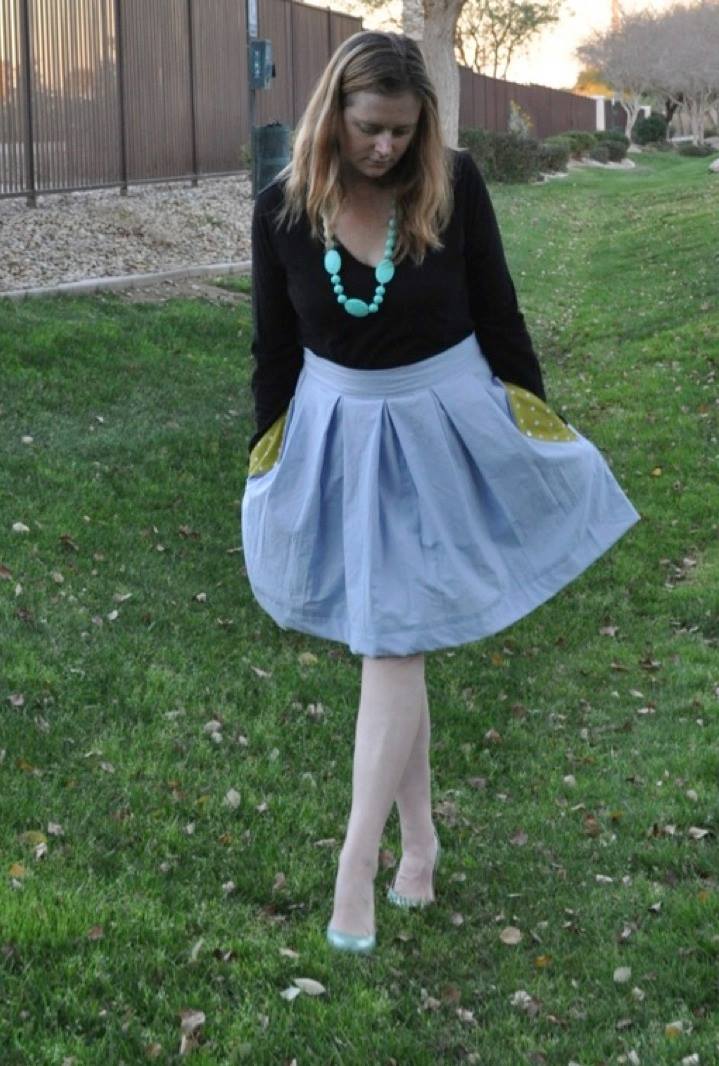 Andreia of In a Manner of Sewing just keeps coming back to test for me and I couldn't be happier about it, she is a dream to work with.  I absolutely adore this version especially styled with a black turtleneck top.  Andreia decided to leave the pockets and flaps off and the result is a really sleek and polished skirt.  Read all about her version here.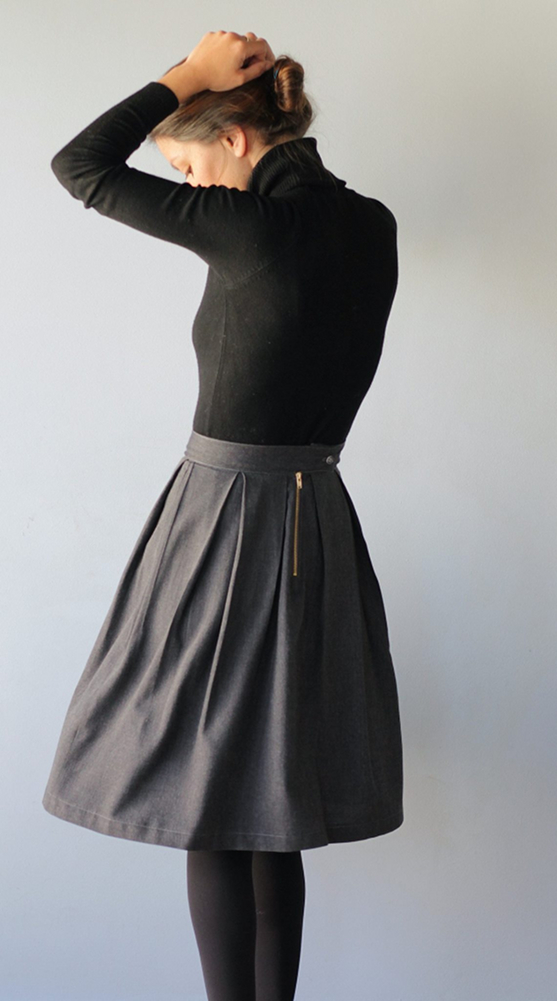 Amanda of Turtle Birdies is back for another test and just as wonderful to work with as always.  She decided to sew up a skirt for her sister in law in this great print.  It is the perfect skirt for spring and looks great paired with a chambray top.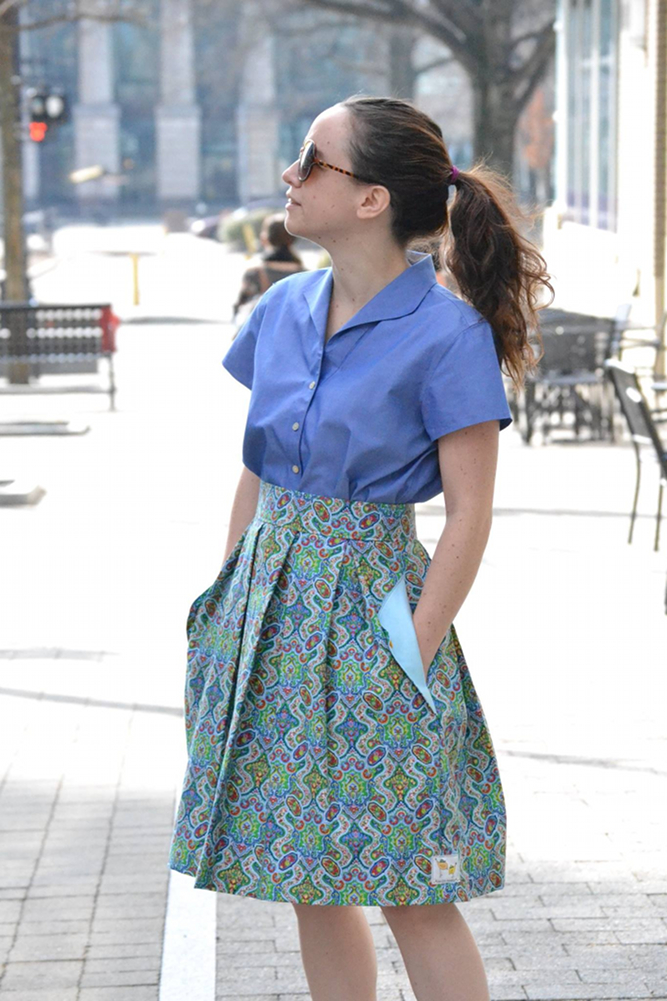 I was beyond excited when I saw Ashley's skirt, it was more than I could have imagined.  That home decor fabric has me itching to make yet another skirt in something similar.  Love the styling on this skirt as well.  It can definitely be dressed up with heels or more casual with sandals.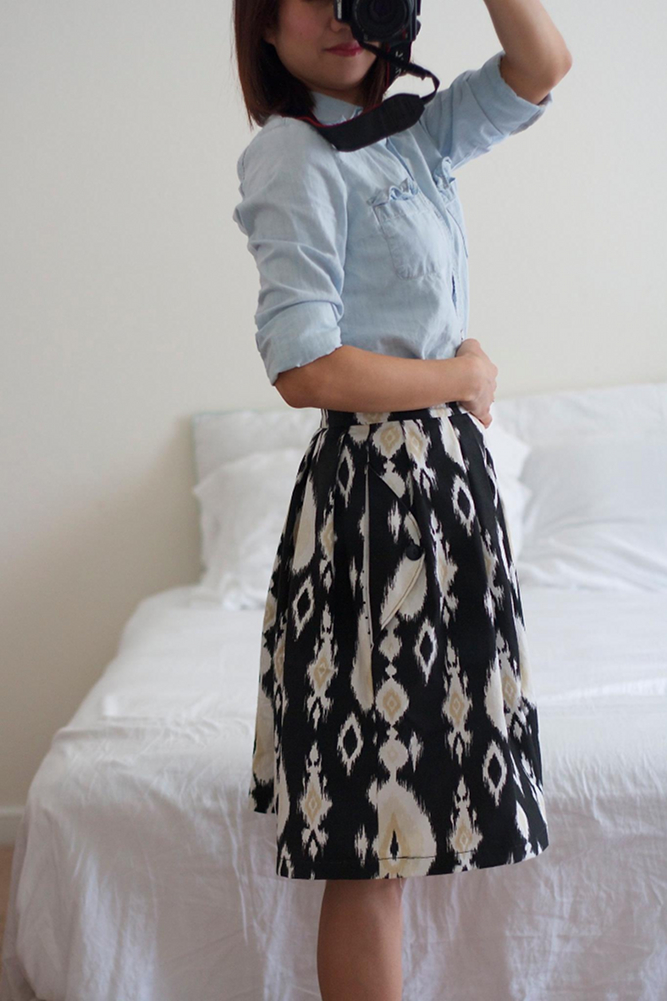 Emily is a new to me tester and I just love what she did with the skirt.  She used a perfectly springing fabric and made sure to bring it above the knee for a super flattering look.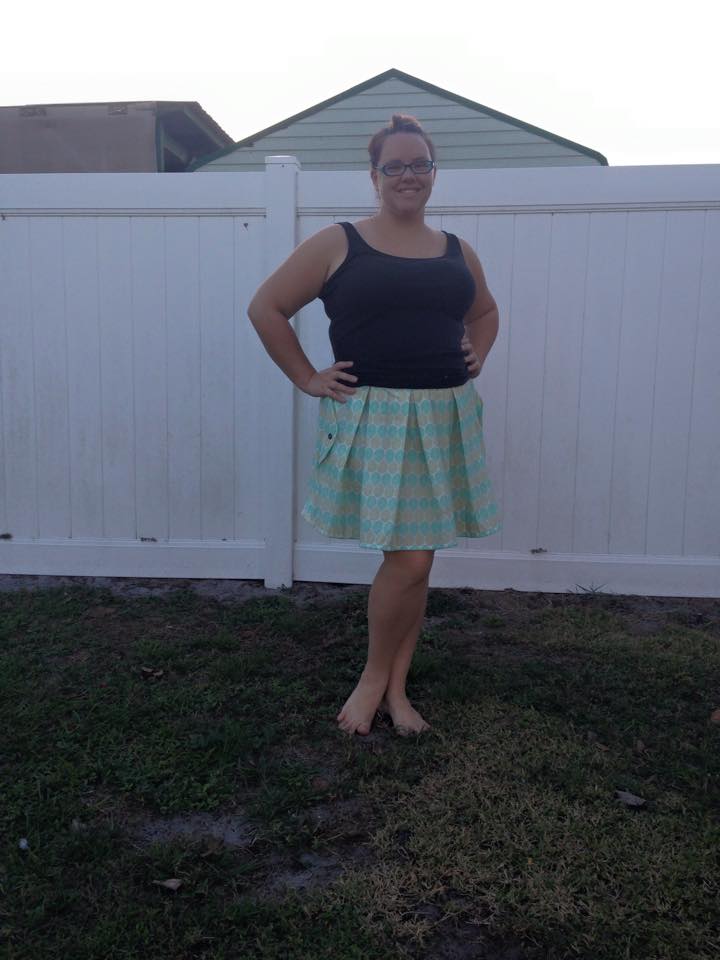 Erika is a first time tester with me as well and really knocked it out of the park with her red version.  Paired with the Hunter boots its the perfect transition into spring.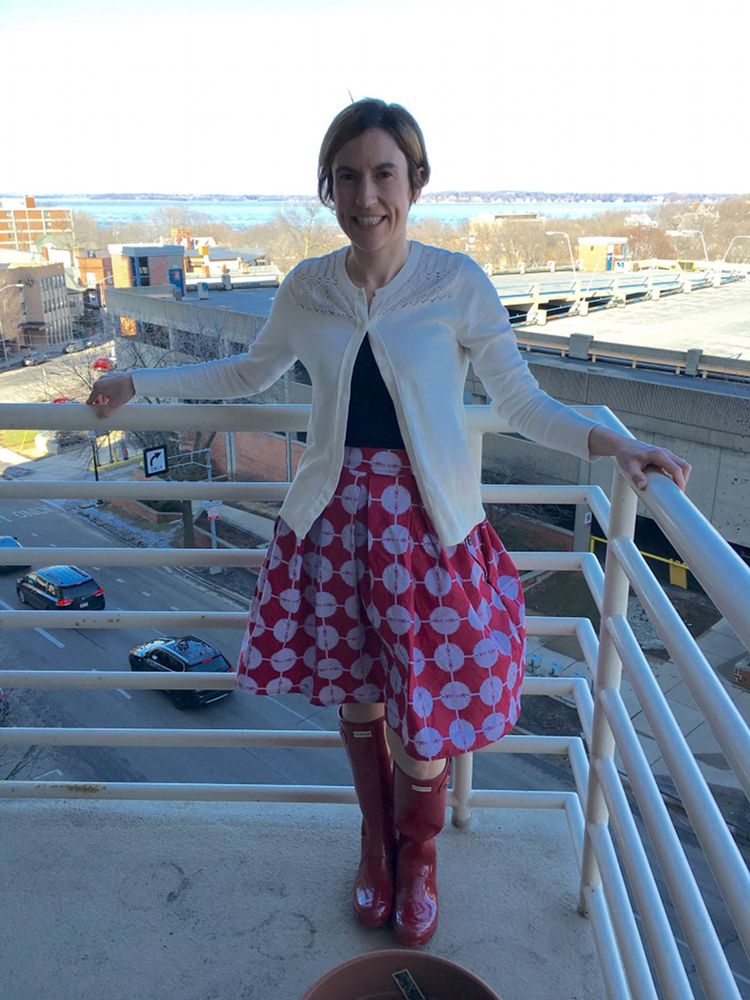 Heather has helped me on many occasions with testing and I always love to see what she comes up with.  This camo version is just too cute and paired with her Hunger Games tee the whole outfit couldn't be better.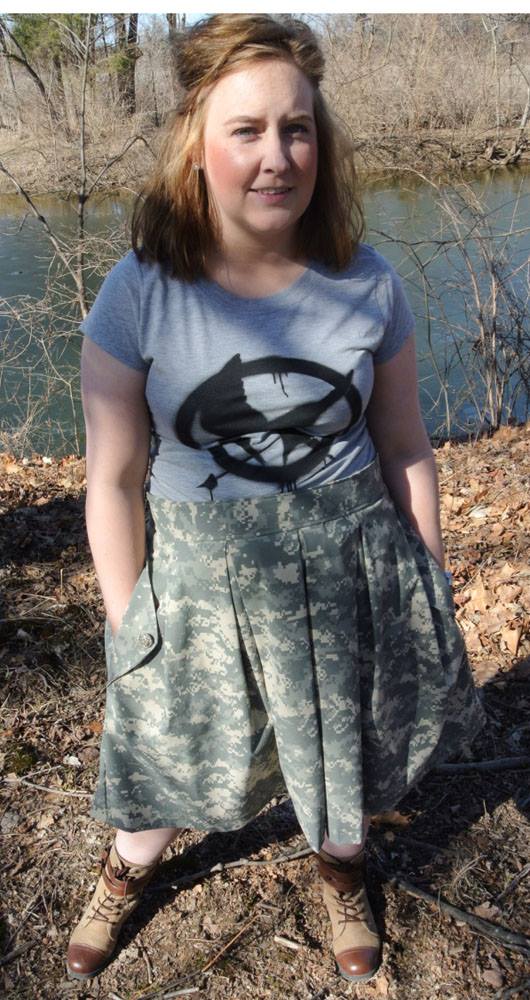 Heidi of Handmande Frenzy is joining me again for this test and is actually the inspiration for my pattern cover styling.  I can't get over the bright pink paired with a blue and white boat neck tee and tennis shoes.  The whole look is perfection!  Read all about her skirt here.
Jacque of Jax Bear is a fellow Seattleite who I have actually met in person a few months ago at my Creatives Meetup.  I was so excited to work with her on this test.  She took her skirt on vacation so she could show just how great it works as the temperatures start to warm up.  Man I am dreaming of summer now.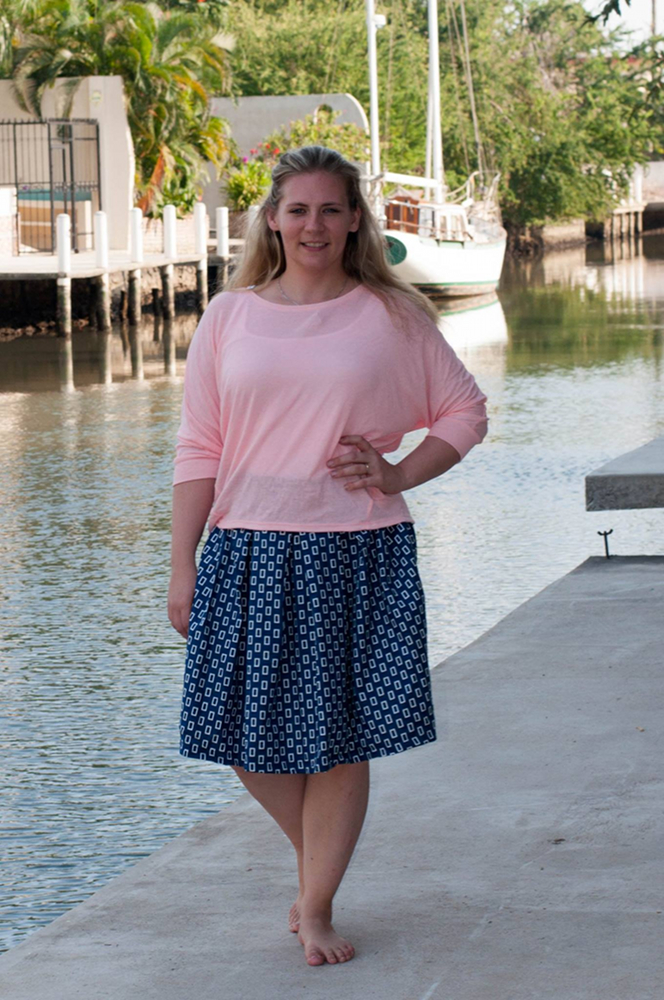 Oh man Jennifer of Inspired by Amara made this lovely classic version in a coral home dec fabric.  She managed to eek this out of 1 yard of fabric by using a coordinating fabric for the pockets and leaving the pocket flaps off.  The colour is just too good, especially paired with the dark blue of the shirt.
My love for Katie of It's Hard to Hear Up Here and the lovely clothes she creates runs deep.  Katie has tested for all but 1 of my patterns and I just love every opportunity I get to work with her.  This skirt couldn't be more spring especially paired with a crisp white shirt!
Katie of Robutton is joining me again and this time with a super figure flattering version in black and white.  I love the cropped cardigan and ballet flats.  That flower crown completes the look.  Read all about her version here.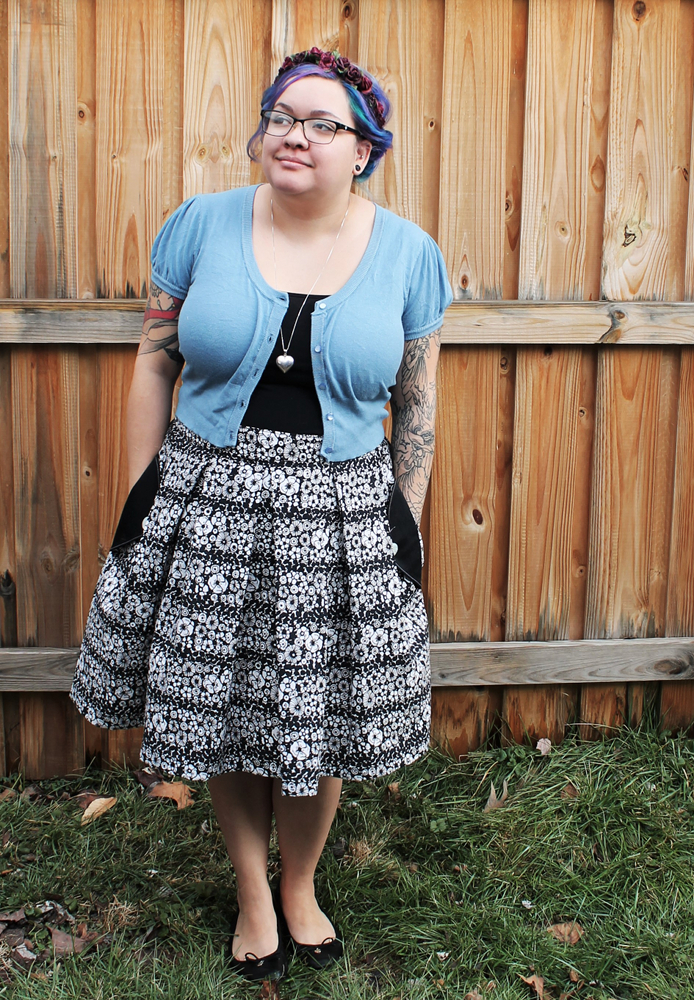 Occasionally I convince some of my sisters to join me for a test, this time I got my younger sister Megan to join me.  It is always fun to work with her and for her to see just what I do when designing and testing a pattern.  Her grey skirt looks so great one her and I love the plaid shirt and amazing long necklace.  Tying the shirt at the waist is so figure flattering too.
Melia is always so lovely to work with and this round of testing is no exception.  Her wool version is such a great skirt for winter paired with tights and boots.  The heavier fabric holds those pleats so well.
I am pretty sure that when Michelle of That Black Chic posted this picture of her daughter in the skirt she nearly broke the internet.  There are far too many amazing things about this skirt to name them all.  I love that she took the time to colour block the skirt, add piping and shorten it significantly to appeal more to the younger crowd.  Those shoes are pretty fabulous too.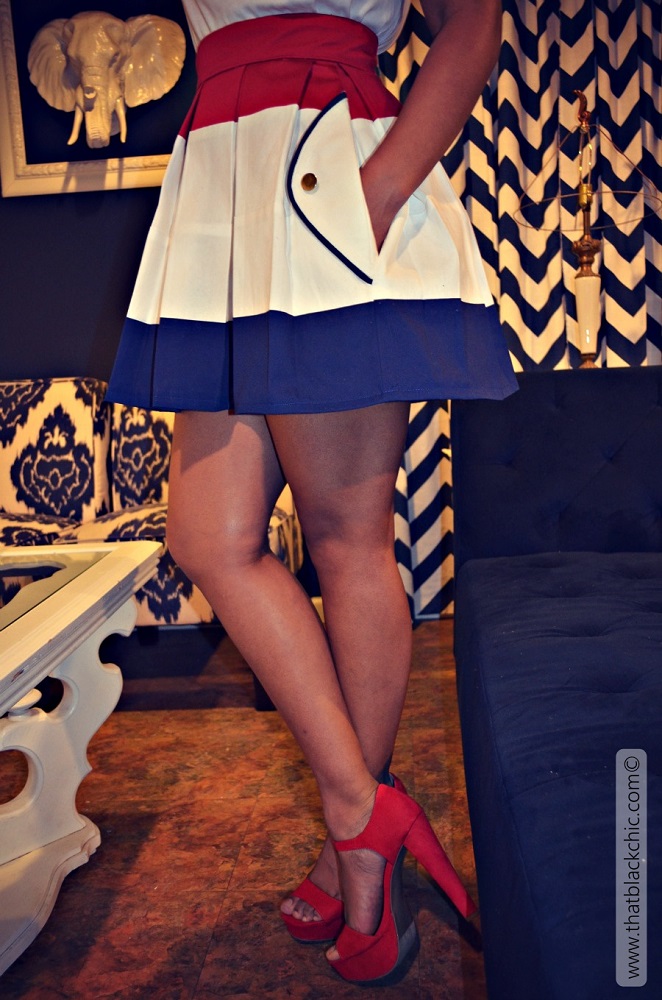 Shelley is a new to me tester and so incredibly easy to work with.  Shelley used a different fabric for the pleats and I love the way it turned out.  Paired with a bright tank and cropped cardigan the look is complete.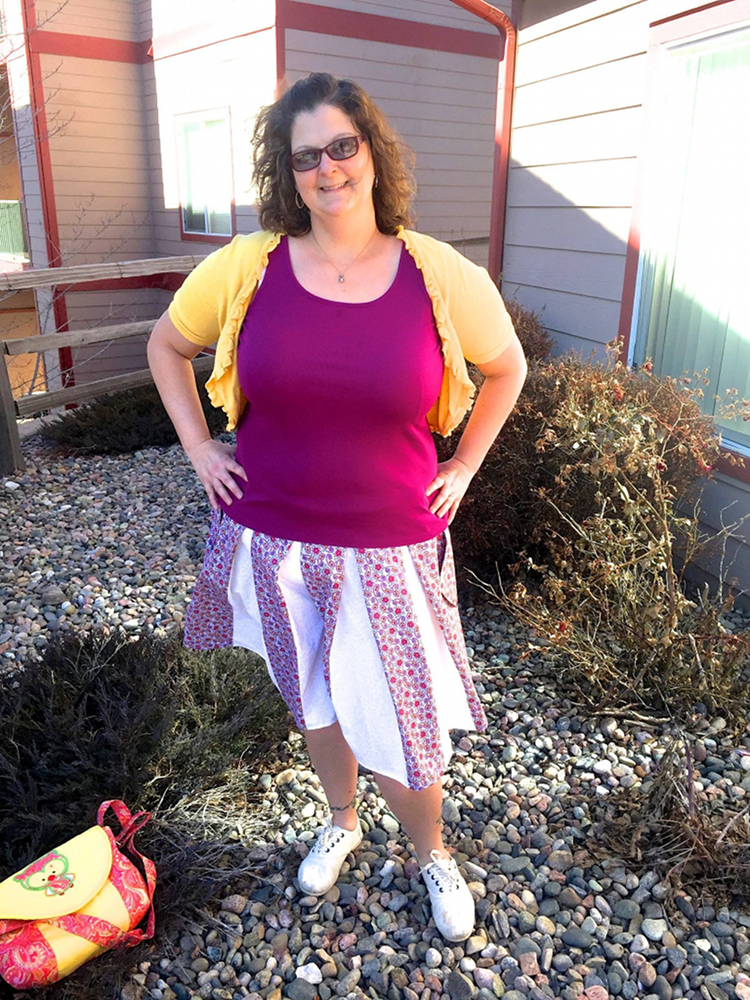 Tabitha of Raising Up Arrows showed how your skirt can work for this winter and then transition to spring.  By pairing it with black she gives the outfit a pop of colour and by simply changing to a white top and sandals she will move this skirt into the spring.  Such a great colour!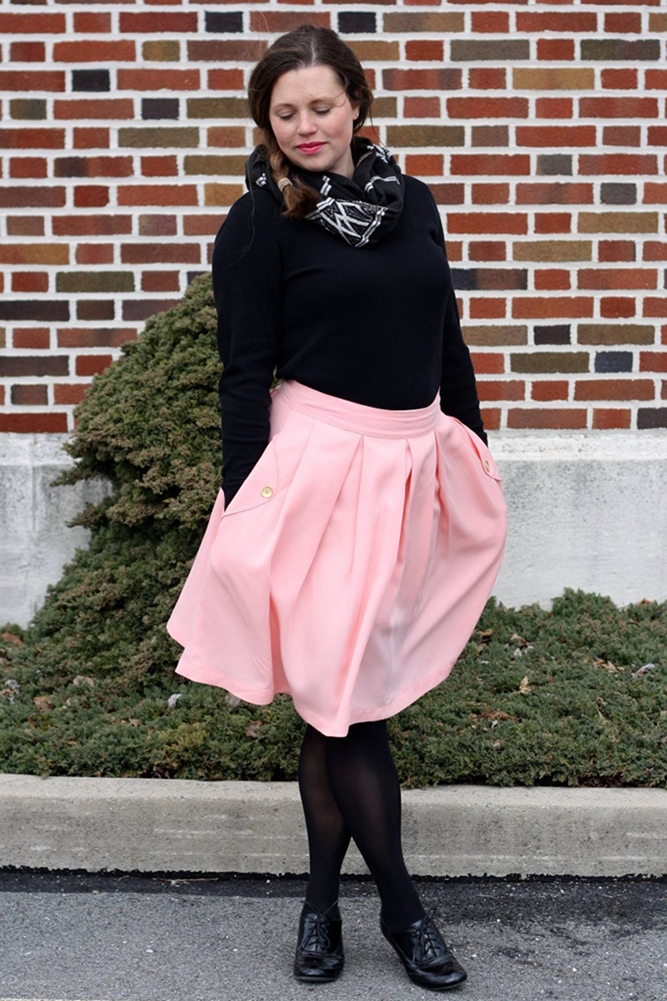 I have been following along with Tina on Instagram since she sewed up a version of my Laurelhurst pattern.  I was so excited to see her name in the testing applications and the version she sewed up is just too too good.  I love the springy fabric paired with the plain white tee.  She also did a full exposed zipper that completes the skirt.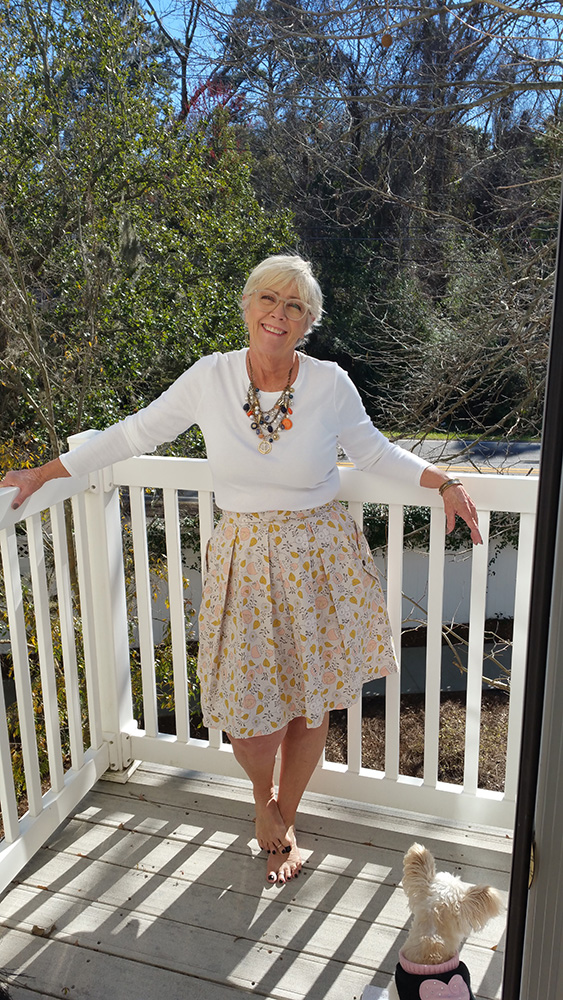 Veronica of Sometimes She Sews sewed up a classic black and white skirt but added a pop of colour both in her shirt but also some detail on the pockets and button.  Veronica showed that you can really customize the skirt to fit your style.
Abigail of Abbey Dabbles is a new to me tester but so wonderful to work with.  I love the bold fabric she chose to make her skirt out of and the simple tee she paired it with.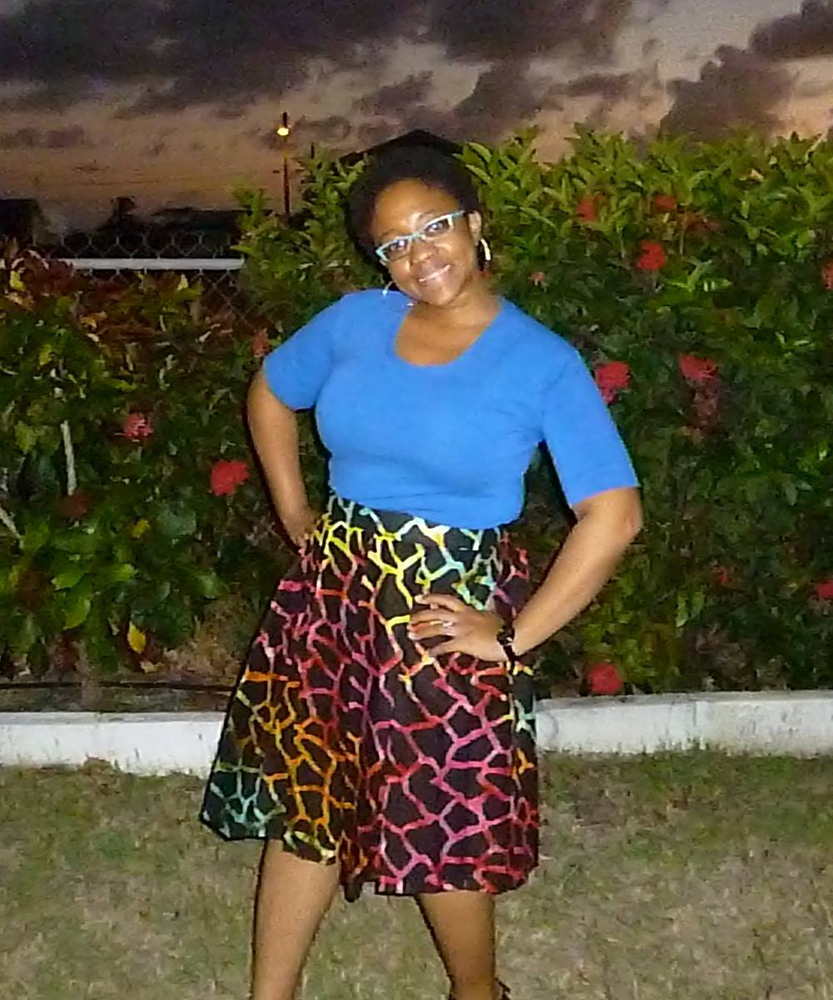 Lauren of Lauren Durr Design totally rocked this skirt.  I love the fabric she chose and it really couldn't be more flattering on her body.  Read all about her version here.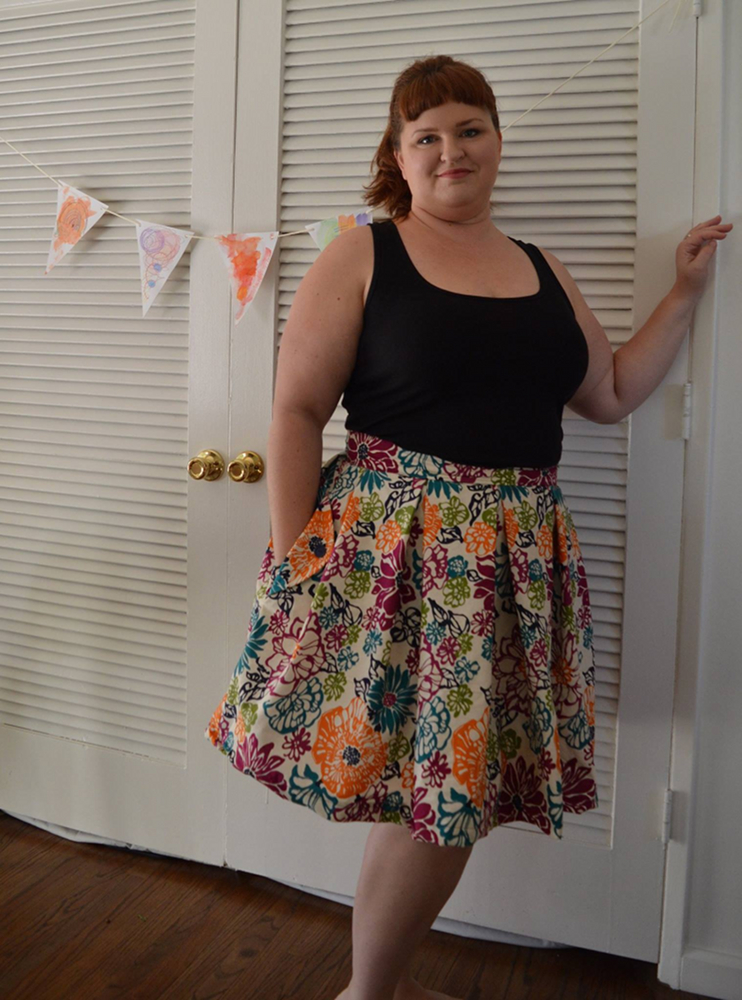 Robynne was another new tester for me and I am so happy to have found her.  She went classic for her skirt and it is going to be the perfect skirt for all the seasons, it really doesn't get better than a chambray pleated skirt.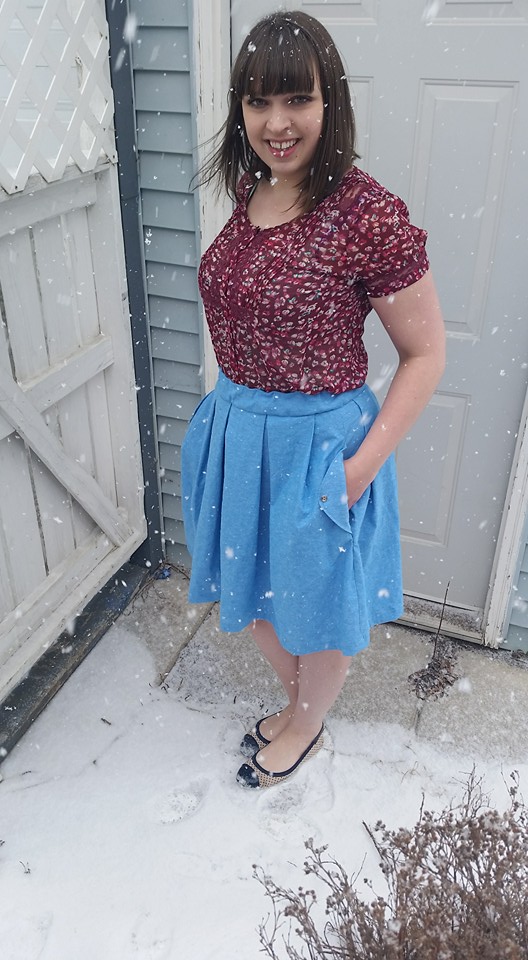 Last but certainly not least is Melyana who made a wonderful version in blue.  I love the pop of the white button and that she styled it with a graphic tee.
Thank you so much for joining me for the Wedgwood tester roundup.  The pattern is still on sale through Sunday and make sure to come back tomorrow for a tutorial on how to modify the skirt to have a side invisible zipper.