The Wedgwood skirt pattern is ready for all you lovely ladies.
Every girl needs a pleated skirt in their wardrobe, something I didn't realize until I started designing this pattern.  You see I wasn't really a skirt wearing girl, sure I wore them occasionally but I just always found something I preferred to wear instead.  But once I started sewing and resewing the Wedgwood skirt pattern I realized just how much I enjoy the versatility of a high waisted skirt.  You can dress it up with heels and a silk shirt or keep it casual with a tee shirt and converse.  I am already dreaming of wearing one of these in the summer with a Greenwood tank and my favourite Birkenstocks.
This skirt pattern is full of options with even more coming to the blog this week.  My favourite detail of this skirt is the fun pocket flap detail with the button.  When I originally designed this skirt that was one thing that I knew had to be on the pattern, it's just a fun little design element that sets it apart from your average pleated skirt.  The good news is that if the pocket flap isn't your jam you can easily leave it off.  If you are going for a dressier version with clean lines you can easily leave the pockets off all together.  So much opportunity to customize for the look you are going for.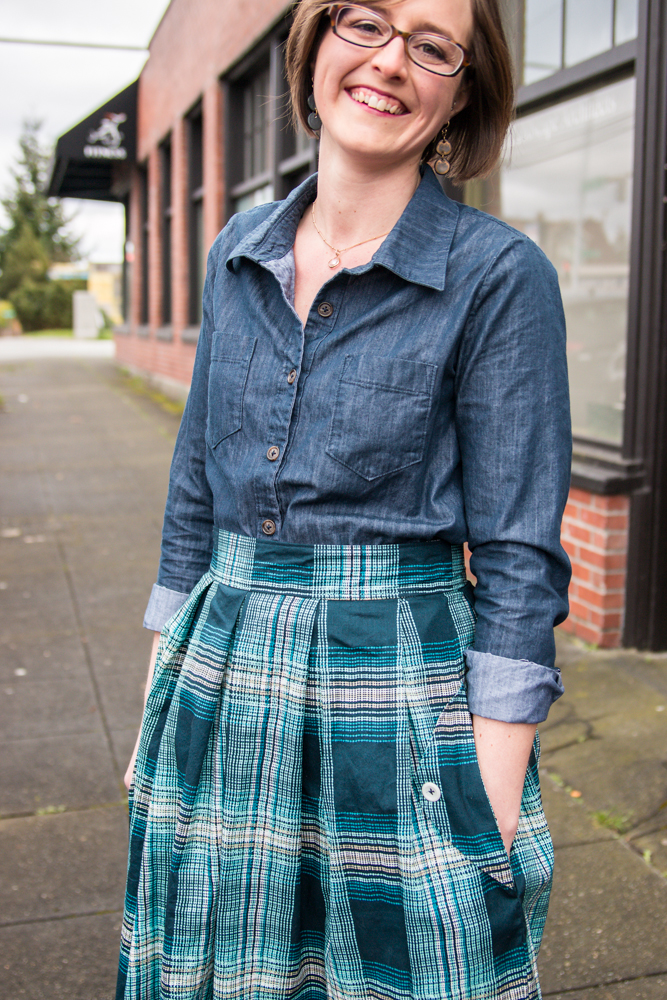 I am a sucker for exposed zippers, as evidenced by my first pattern Ravenna, they are just a great chance to add a pop of colour and detail.  But don't fear if you are not an exposed zipper fan you can easily modify it to have an invisible zipper down the side seam, step by step tutorial on the blog this week.
The waistband also has a tab that extends beyond the point of the zipper that allows for 1 or 2 buttons as a closure.  I am all about the little details.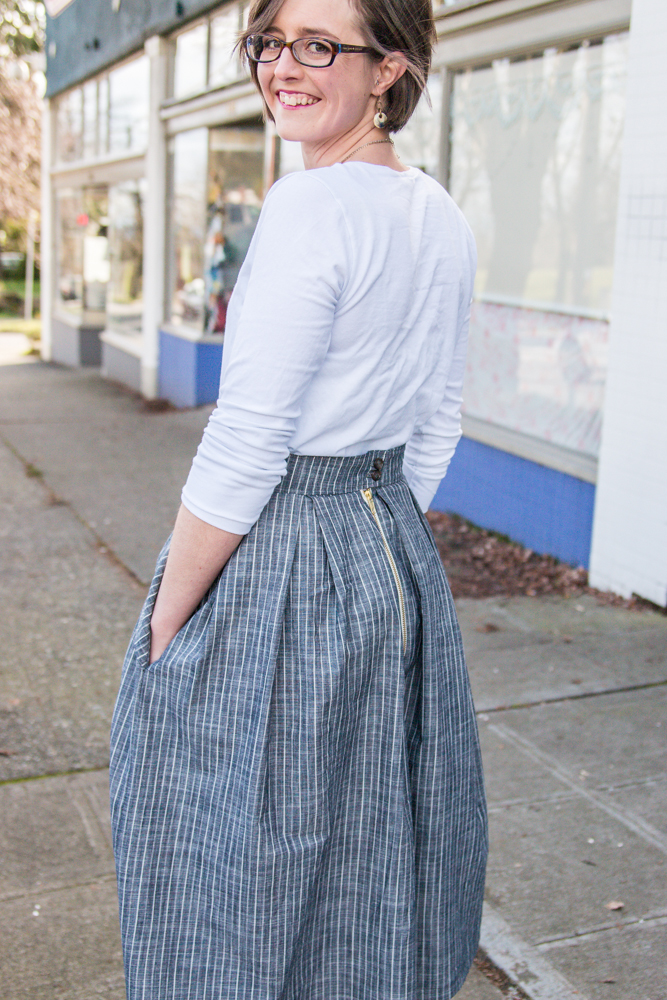 Lets talk pleats!  I promise they are not nearly as scary as you may think.  Originally this pattern was designed with a gathered skirt but all you SSD fans let me know on Instagram that you would love to see a pleated skirt, so that is exactly what I did and I couldn't be happier.  Pleats are so incredibly flattering for all body types, especially those of us with a little bit of a belly after having babies, am I right?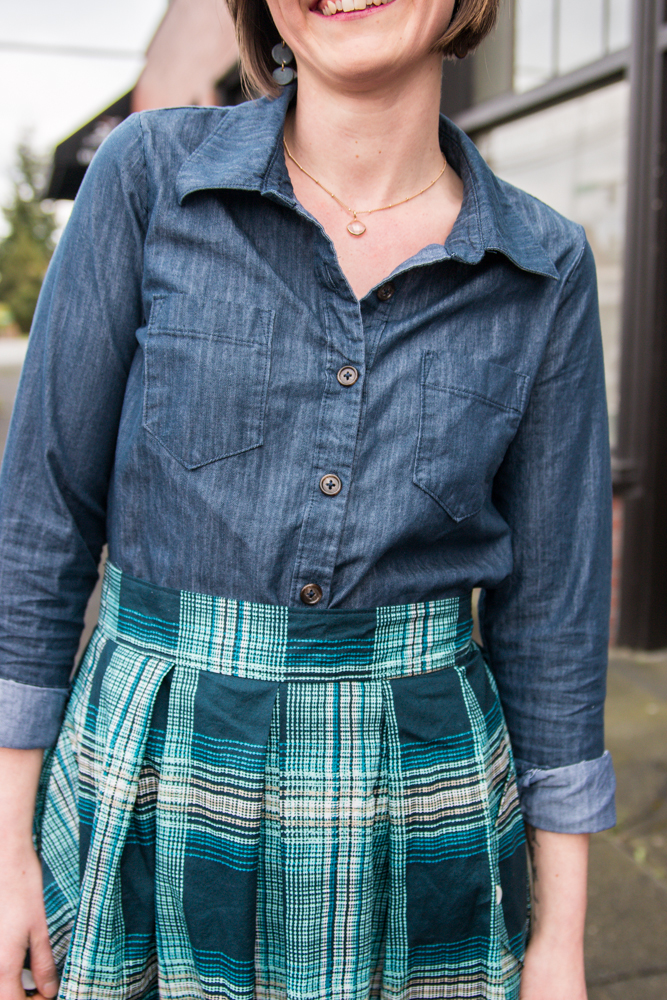 Wedgwood is available in sizes 0-24 which accommodates a waist size of 24″ – 44.5″.  The skirt is designed to sit at your natural waist but I also provide instructions on choosing the correct size if you would like to wear it lower.  For a bit of size reference all the skirts shown here are size 8.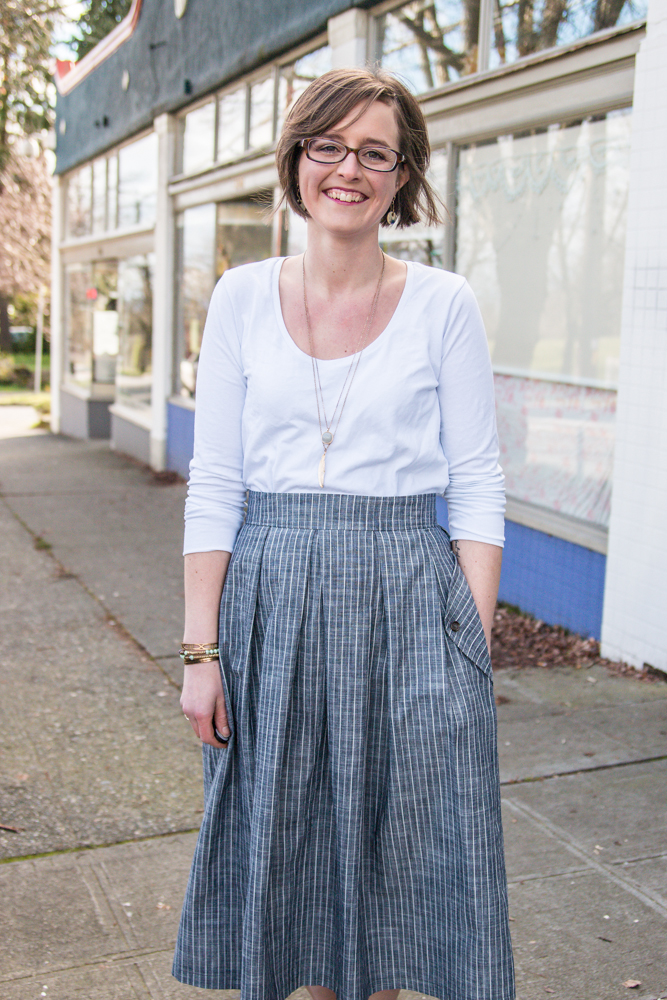 Head over to the shop and grab your copy of the Wedgwood skirt pattern while it is marked down.
And don't forget that once you start sewing your own Wedgwood be sure to tag me on Instagram or Twitter with #wedgwoodskirt and #straightstitchdesigns.  I love seeing what everyone makes and also love the chance to repost your pictures.