Today I am joining the pattern blog tour for the Uptown/Downtown Dress by Terri of Sew Straight and Gather and I couldn't be more excited.  I have been following along with Terri as she was creating this dress using the Pattern Workshop Course (affiliate link) we are both in and jumped at the chance to be a part of her blog tour.  Sophie is always requesting new dresses and I knew that the twirl factor of this dress would be right up Sophie's alley.
The Uptown/Downtown Dress is a knit A-line dress that will work for every season and climate.  The pattern has three sleeve options – long, short and sleeveless, and Terri includes instructions on how to adapt the pattern to be reversible or even include a lace overlay.  This pattern is a very quick sew that leaves you with a super comfortable and function dress that can be for everyday use or even a special occasion.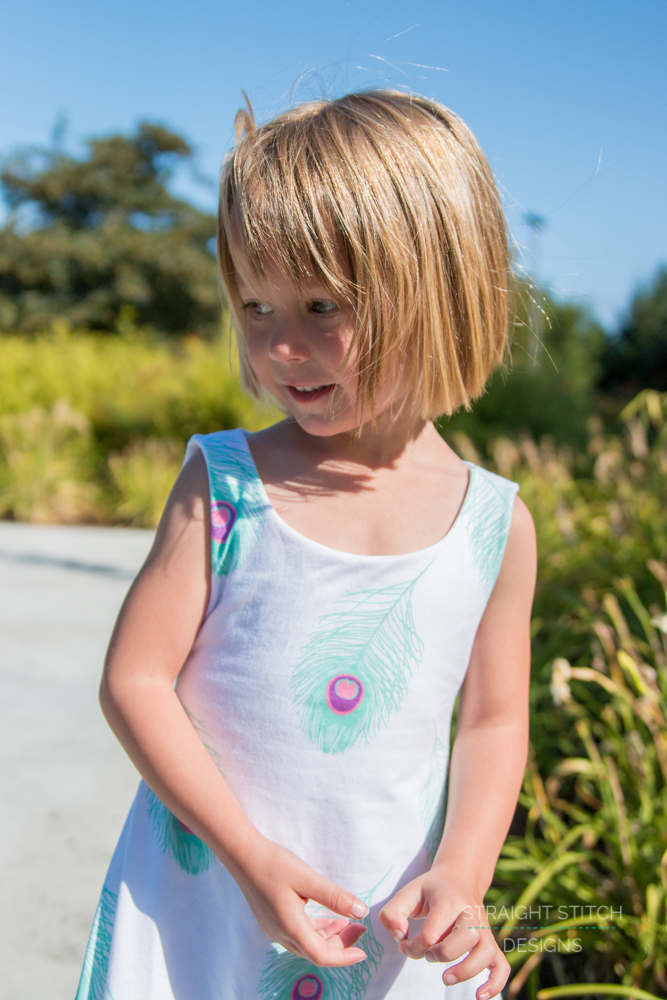 The pattern is available in sizes 2T through 10 and you can find the pattern in the Sew Straight Pattern Shop on Etsy.  Make sure to head over there during the tour because Terri is offering a 30% discount on the pattern when you use the code "uptowndowntowntour".
Since we are in the midst of the hottest summer in Seattle that I can remember, sleeveless seemed like the best option.  So I sewed up a sleeveless 2T version and added a few inches to the bottom to make sure it was long enough as she is more of a 3T length.  This amazing peacock feather knit is from the always wonderful Girl Charlee and has been sitting waiting for a project for far too long.
I will let you in on a little secret, this is actually the second dress I sewed up.  I knew the dress was going to need a lining since it is white and Terri includes great pattern pieces and instructions for adding a bodice lining.  I just never anticipated how noticeable the lining would be with this fabric, more specifically how noticeable it would be where the lining stopped.  Since I wanted the dress to look great and didn't want to unpick all my serger stitches I just sewed up a new dress that was fully lined.  It is such a quick sew I just made a second one 🙂
The only thing I did differently from her instructions for doing a reversible dress was that I didn't sew the layers together.  Since my child doesn't need a white dress I decided to just serge the bottom of the lining fabric and let it hang down a bit adding another layer of twirl material.
Since we were at the park for this shoot Sophie made sure to head for the hills as soon as I was done snapping pictures and test out the dress on the playground.
I couldn't be happier with this dress and I know Sophie will get lots of use out of it.  I am already thinking about the blanket knit I have that would make a perfect winter version of this dress with the long sleeves.
In honour of her first pattern blog tour Terri is hosting a Rafflecopter giveaway where you can win lots of great patterns and fabric.  So head over to the giveawayand add your name to win these fabulous patterns.