I am so excited to have Michelle from Style Maker Fabrics joining me today. As part of my Sew the Year series, Michelle is going to share some great spring fabric inspiration as well as some great patterns that work well with them. Make sure to also check out her Spring Style Tour that is happening now.
---
Like all of you, I have been following along with Kimberly's Sew the Year series admiring her planning and thought behind her wardrobe for this year. She has definitely inspired me to set more goals and plan out what I am going to sew. Now to just find the time!
A few weeks ago, Kimberly reached out to me about writing a guest post for her series to share some of the latest trends and best fabric choices to sew with this spring. As I have been in full spring mode since about January, getting everything ready for our Spring Fabric Collection, I was happy to put some thoughts together to share with all of you.
In putting things together for this post, ideas kind of snowballed and I decided I needed to rein it in a little bit. So I settled on sharing three favorite fabric types to sew with for spring/summer. I'll also include some great inspiration from RTW fashion for how to use these fabrics and some pattern choices that you might already have in your stash! So let's jump in!
This time of year one of the favorite go-to fabrics is linen— it is a versatile, durable and magically gets softer and even more amazing the more you wash and wear it. It is light weight, breathable and the casual look is perfect for the warmer weather and summer vacation vibe. In fashion this season we are also seeing lots more khaki shades and a utility-wear type look that lends itself beautifully to linen.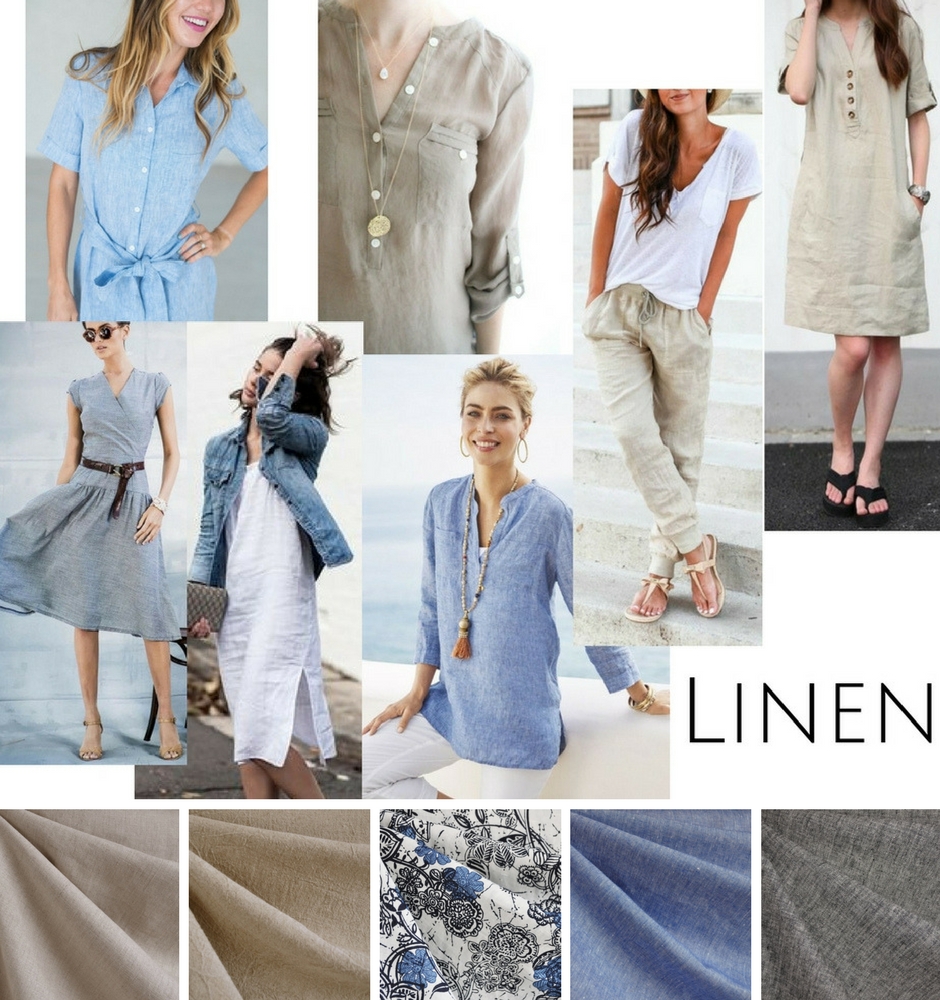 With so many different weights, colors and prints available, you are sure to find linen to suit your wardrobe and your style perfectly. Watch for linen shirtings perfect for dresses and casual button ups and heavier weight textured linens ideal for pants, skirts and other garments that get a bit more wear. You will also see a combination of linen and linen blends— 100% linen will give you that great crinkle texture but may take a few more washes to really soften up. A linen/rayon or linen/cotton blend will travel a little better with fewer wrinkles and a softer hand from the start. Either is a great choice!
Next up, gauze! Increasing in popularity, gauze is a great fabric choice for the warmer months. With different types and weights available, pick the one that best suits your garment and look you want to achieve. Especially popular this season is single layer gauze; you may also see it referred to as bubble gauze. This fabric is ultralight weight with a loose weave and "bubbly" texture. It is perfect for a light summer layer when you want a bit more coverage without the extra weight. Note that it is relatively sheer so you will likely want to pair a tank or other layer underneath. Great for tunics, kimonos, kaftans and other flowy blouses, bubble gauze is perfect for just about any occasion and will travel well on your next weekend getaway.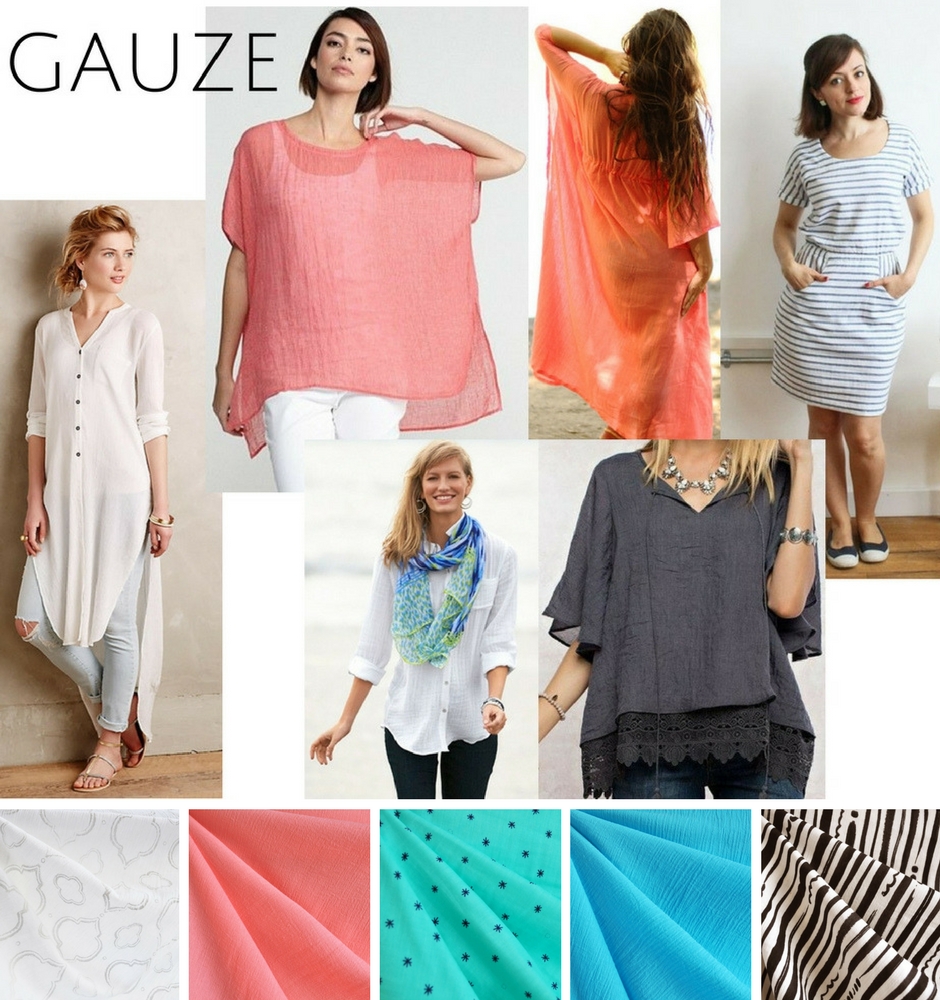 Bubble gauze's heaver counterpart, double gauze, has also been growing in popularity over the past few years. Composed of two layers of tightly woven gauze tacked together creating one fabric, double gauze has more body, thickness and opacity. This fabric has kind of a magic temperature-control quality where it will keep you warmer or cooler depending on the weather thanks to the double layer. Neat, right?!
Due to the extra thickness and body this is the better choice for dresses and blouses when you don't want to wear other layers underneath. Note there are lots of different qualities of double gauze on the market these days, we have the best luck with those produced in Japan. They are heavier, more stable and all around a better quality and worth the higher price tag.
Last but not least, rayon. When I think of spring/summer fashion I often think soft and flowy. Enter woven rayons, such as challis, crepe, voile and poplin! This natural fiber has a wonderful softness and beautiful drape that makes it an amazing choice for garment sewing.
With different weights and textures you can play with the amount of drape and structure based on your fabric choice while still keeping your garment wonderfully soft. For blouses and dresses any of these rayons will do, however a rayon challis or voile with give you the most lightness and drape. For a shirt dress or button-up shirt where you want a little more structure go with a rayon crepe or poplin. Same for a pair of woven joggers or skirt, you may even find heavier rayon crepe or rayon twill that would also be a great choice for extra durability.
Now, let's talk pattern ideas— I came up with a list of some of my favorite patterns that pair well with the three fabrics I have mentioned. Each one would give the garment a unique look due to the weight, texture and drape. Mix and match and don't be scared to experiment!
In order from left to right:
Roscoe Blouse/Dress by True Bias: Tailor made for rayon, but I'm tempted to give bubble gauze a try!
View Ridge Tank by Straight Stitch Designs: Well suited for all three fabrics. A great choice for double gauze, light and airy rayon crepe or go more structured with linen for a perfect summer tank.
Ansa Butterfly Sleeve Dress/Top by Named: Best suited for any of the rayons mentioned, but I'm also tempted to try soft linen blend or even rayon double gauze.
Saiph Tunic by Papercut: Another pattern well suited for any of these spring wovens. The choice is totally yours depending on how structured you would like your tunic to be.
Farrow Dress by Grainline Studio: Shown in linen, this dress will show off the unique texture and feel of the fabric. Want something with a bit more drape? Try a rayon poplin or double gauze for two other amazing summer looks.
Cheyenne Tunic by Hey June: One of Kimberley's favorite patterns, this tunic has an amazing ability to adapt to something totally unique with each fabric you choose. I kind of want to try them all!
Dove Blouse by Megan Nielsen: Statement sleeves are all the rage this season and Megan's Dove blouse is a great pattern choice to make your own. Want more structure? I'd go with a rayon poplin or double gauze. Thinking more feminine and flowy? Rayon challis, voile or crepe all the way!
Southport Dress by True Bias: One more pattern perfect for all three fabric types. I can't think of one that would be better than the other; it all depends on your person style and what look you are missing in your wardrobe.
Hopefully that inspired some new ideas on how to incorporate some different fabric types into your spring and summer wardrobe. Kimberly, thank you so much for having me, I can't wait to see what is next for Sew the Year. Now I just need to incorporate some of your ideas into my own spring wardrobe planning!
Happy Sewing,
Michelle
Note: For more info and image sources for the inspiration photos include, please find the links on the Style Maker Fabrics Pinterest page.