January was a bit of a blur. Not only were we coming off of the holidays but I was out of town or had a full schedule every single weekend of the month!! I had originally planned to do a post for each item sewn and then a Sew the Year January recap post, but life got the better of me. So that means I am going to go ahead and cram it all into this post and promise to be better next month.
If you didn't read all about my January sewing plans, you can read all about them here. And don't forget to grab the printable below. I have found it to be immensely helpful in organizing my sewing brain.
---
The first sew of the month was the Carrie Cardigan from Delia Creates. The pattern was everything I had hoped it would be and the exact shape and style I had been wanting for my wardrobe. I had been toying with the idea of making a pattern like this but thankfully Delia did it for me!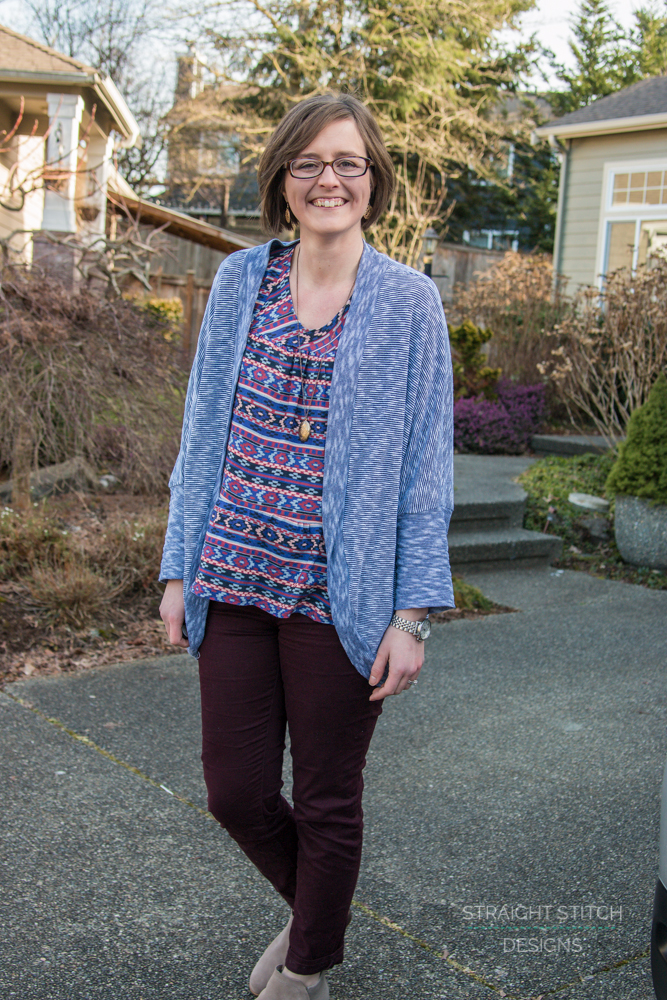 I used this fun variegated blue and white knit from Joanns. It is really a two way stretch so the final cardigan is slightly more structured than the sweater knit version I also sewed last month. You may notice that the sleeve bands and neckband are a different fabric. What originally started as a sewing mistake turned into a design element. No one wants to unpick serger stitches so using the wrong side of the fabric for those two items turned into a happy mistake.
I sewed this up in the long length with the long sleeve option. Most times the long length on patterns is not enough for me, but this was very generous and made me a happy lady that it covered my bum. Perfect for pairing with leggings.
Styling this cardigan I decided to throw these prints together and go with neutrals on the bottom. These wine coloured pants are so great. They are the softest fabric and enough stretch to get me through the winter fluff. I am on the hunt for a pattern that is going to work with my body type and give me a similar fit. Until then Costco is killing it in the pants department.
If you follow me on Instagram you probably saw me gushing about these booties I got while in Arizona with my mom and sisters. We went to the Nordstrom Last Chance store and I scored big time. This was one of the only times in my life where having big feet paid off. I got these already marked down suede Toms booties for an additional 25% off, coming in at like $22! They really rounded out my bootie collection and now I just want to wear them every day they are so darn comfortable.
Read more about my oversized boho print rayon challis View Ridge below.
I couldn't be happier with this piece in my wardrobe and wear this constantly so I know it was a great choice for my first month of Sew the Year.
---
The top above that I paired with my Carrie Cardigan is the oversized View Ridge I have been dreaming about since releasing the pattern last spring. When trying to decide what size to sew I decided to go with 2 up from what the chart said for my bust. I knew this would give me the really flowy feel to the body.
The one thing I didn't totally think through when going up 2 sizes was the fact that the armscye would be a bit gapey. It doesn't really bug me, it's just something to consider if you decide to make a flowy View Ridge. You should definitely make one, it is so darn comfortable!
There is a slight lack of variety in the pictures of this top because it was FREEZING when I took them. I may hide it well in the pictures but it was around 30 degrees out. My mom showed up while I was taking them and thought I was a crazy person. I don't disagree.
I have really enjoyed sewing this pattern again after so long and remember all the things I loved about it originally. I will be sewing more of these in the coming months in more neutral fabrics for constant rotation this summer.
---
I mentioned in my original Sew the Year post that many of my makes had to do with my trip to Arizona with my mom and sisters. While we had hoped it would be in the 70's at least, it was more like the high 50's so shorts and tanks were out of the question. I had originally planned to sew Thurlow shorts in an amazing auburn tencel twill and a Greenwood out of some black and white mini stripe rayon jersey. Both would be great additions to my summer wardrobe, but alas they just didn't make sense to try and squeeze in when I knew I just didn't have the time and I wouldn't wear them for many months.
Even with that said I really want to sew up the Thurlows so I decided to move them to February and shoot for at least a muslin of them. I find pants to be a fitting effort for me so by just focusing on getting a well fitting muslin I won't stress myself out trying to get that done and sew up a final pair.
I also decided to take the fabric I had intended for the Greenwood last month and use it for another top. You can get all the details in the February plan post.
Overall I am really happy with the patterns I sewed up even if it wasn't all 4 I had originally planned. That is what I love so much about Sew the Year you just assess your month and make adjustments instead of just sewing to sew. I am looking forward to sharing more of my in-progress sewing through the February patterns.
Share your January makes below so I can see what you have been up to last month.