You always know it is the start of the school year when your lovely little kiddos bring home germs for you 🙂  Thankfully sick or not I can still sit back and enjoy the pictures of all the awesome remixes filling my inbox.
Joining us today for Remix the Stitch – Day 8 are three pretty fantastic ladies who have mad sewing skills.
Teresa of Dandelion Drift is so good!  Her sewing skills are perfection and her styling and photography makes me a jealous blogger.  I began following Teresa nearly a year ago when I saw a picture she had taken for the Indiesew Winter Collection of an upcycled Union St Tee and Pleated Pencil Skirt.  Here is the blog post I am talking about and I think we can all agree it is everything you could want in a casual outfit.  I continue to be amazed with every piece of clothing she creates and couldn't email her quick enough to join the tour.
Teresa chose to work with the Laurelhurst and I just love how it turned out.  The dark grey is perfect for the fall and winter and paired with light pants and a chambray shirt, I just love everything about this look.  Teresa remixed it by shortening it by 2″ which gives is such a fun look.  For all the details on Teresa's look make sure to head to Dandelion Drift, and make sure to browse her other posts because they are all great!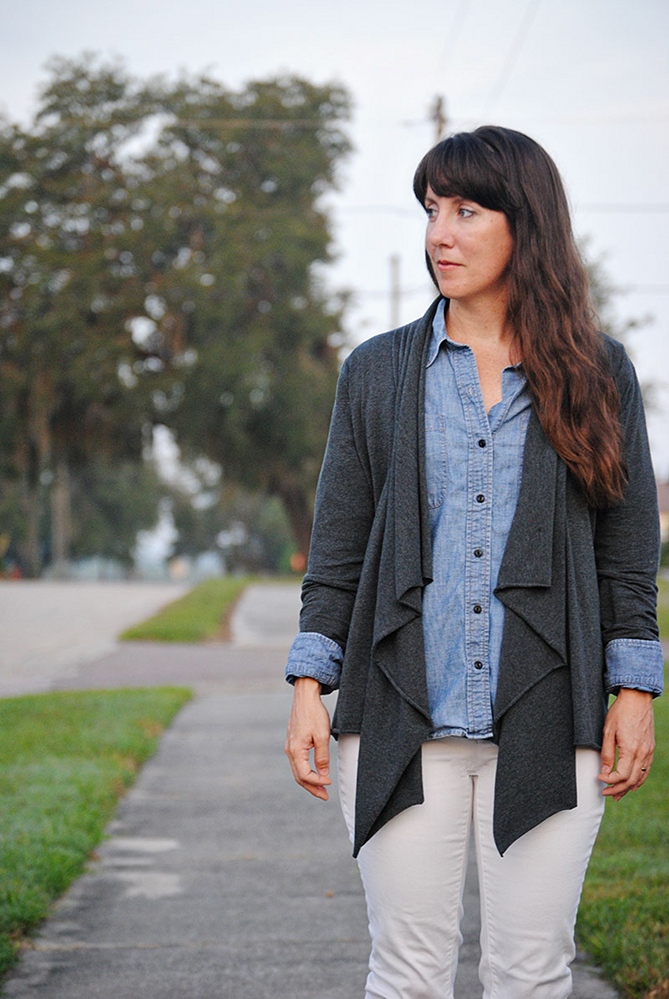 Emi of Just Add Fabric is someone I recently met but I knew very quickly she was definitely someone to have in my life.  She joined me for the Greenwood test and was so helpful with my grammar, definitely not my strong suit, and was quite the cheerleader for that pattern.  I think the pattern is fabulous but it is nice when others think the same thing 🙂  Emi mostly sews for her adorable little girls but I hope she starts sewing even more for herself because she is pretty darn great at it.
For the remix Emi wanted to work with the Greenwood pattern and give it a front button placket with a contrasting fabric panel in the front!  Such a fun way to make a tank stand on it's own two feet with a great visual element.  This would also be super cute layered with a cardigan to transition you into the fall.  Make sure to head to Emi's blog because she made a second version of the Greenwood tank with a remix that we had talked about in testing but I just never got around to trying.
Back when I first started sewing I remember seeing Rachael of Imagine Gnats name keep popping up, so naturally I started following along and really enjoyed all the things she was creating.  Once she started selling fabric I was hooked 🙂  She wins for fasted fabric shipping EVER!  I have worked with her numerous times over the last year and have really enjoyed getting to know her.
Rachael remixed the Greenwood by adding a shelf bra inside which is pretty great.  As someone with a non existent bust I never have use for the shelf bra 🙁 but I know so many women love that feature so I am glad that Rachael put together a full tutorial on how to add it to your own Greenwood.  Head over to Imagine Gnats to get all the details on adding this feature to your Greenwood.
Such great remixes today!  Crazy that we are down to the home stretch of the blog tour.  Head over to the stop to grab all the patterns while they are still marked down.
Tuesday, September 8th: Meg Cookin' and Craftin' | Jennifer Ginger Peach Studio
Wednesday, September 9th: Ajaire Call Ajaire | Heidi Handmade Frenzy | Stacey Boy, Oh Boy, Oh Boy Crafts
Thursday, September 10th: Melissa Rebel & Malice | Annika Näh-Connection | Abby Sew Much Ado
Friday, September 11th: Katie It's Hard to Hear Up Here | Jane Buzzmills | Lisa Mabey She Made It
Saturday, September 12th: Elena Randomly Happy | Allie Indiesew | Jess If Only They Would Nap
Monday, September 14th: Jaime Made By Jaime | Lauren BASTE + GATHER | Sara Made by Sara
Tuesday, September 15th: Audrey Skirt Fixation | Teri Fa Sew La
Wednesday, September 16th: Emi Just Add Fabric | Rachael Imagine Gnats | Teresa Dandelion Drift
Thursday, September 17th: Kaysie KZJO'STUDIO | Rita Conversas de Hermanas | Stephanie Swoodson Says
Friday, September 18th: Andreia In a Manner of Sewing | Nienke Pienkel | Abbey Sew Charleston | Hayley Welcome to the Mouse House