Holy Moly, the response to day 1 of Remix the Stitch was insane!  Everyone is loving the outfits from Meg and Jennifer and I don't blame them, they are fantastic.
The ladies joining for Remix the Stitch – Day 2 did not hold back with their looks.  I think you will be just as impressed as I was with the range of casual and dressy on the blog today.  So lets jump right into it.
You know when you follow someone on Instagram and you don't even remember when and why you started following them but you don't care because everything they put is so great.  Yeah, that is me with Heidi of Handmade Frenzy.  I love how her online presence is so real and honest, she makes me feel better about my crazy life and I only have two kids to her three.  She is just so darn nice.
For her look Heidi chose to sew up the Ravenna pattern.  I loved the choice of grey loose sweater knit, and the floral pocket is perfection.  One of my absolute favourite Ravennas is a knit one I made, it is just so darn comfy and Heidi's version looks just as relaxed and comfy.  Make sure to head over to her blog to get all the details and to have a look at even more of these lovely pictures.
Next up is Stacey of Boy Oh Boy Oh Boy Crafts, she is someone I started following shortly after I had Benny because she knew what she was doing when it came to sewing for boys.  In fact I remember posting in a facebook group that I was looking for good patterns for boys and she pointed me in the direction of various books and patterns.  There are so many people out there sewing for their girls and so when I got such a friendly and helpful response from her I was a fan for life.
Stacey choose to work with the Capitol Hill pattern and remixed it by adding a bowtie collar!!  I love the casual yet dressy look of this modification, and that colour is right up my alley.  Make sure to head to Stacey's blog to get all the details on how she achieved this look.
The last amazing lady to join us on the blog tour today is Ajaire of Call Ajaire who has been there from the beginning.  Ajaire helped me with some fit issues back in testing for the Ravenna pattern and then I convinced her to join my Ballard Blog tour.  It has been really fun getting to know her and I felt like I could finally pay all the help back by being a part of her recent Not Just a Sunsuit blog tour.  She is one of the sweetest people I know, always there to help and encourage, and she is an amazing sewist to boot!  Make sure to check out her monthly mashups, they are pretty brilliant.
When Ajaire mentioned that she wanted to make a crop top Capitol Hill I was speechless!  That is so on trend and I never in a million years would have thought to remix the Capitol Hill into a crop top.  Not only did she make a crop top but she also made it out of black quilted jersey!!  I am totally jealous of this look right now.  Get all the details on this look over on her blog.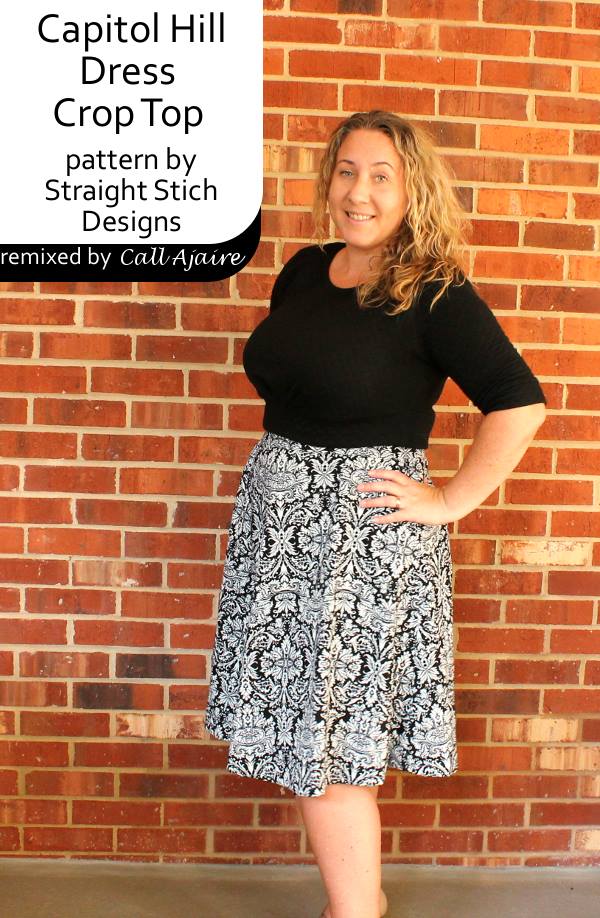 Oh man Day 2 is so so good!!  So many amazing sewists sewing up so many amazing looks that I never could have dreamed up.  Make sure to enter yourself in the drawing below and don't forget that there is an amazing sale over in the shop with 50% off all patterns and 40% off all Stitch Kits through the 20th.
Come back tomorrow for 3 more ladies killing it on their remix.
Tuesday, September 8th: Meg Cookin' and Craftin' | Jennifer Ginger Peach Studio
Wednesday, September 9th: Ajaire Call Ajaire | Heidi Handmade Frenzy | Stacey Boy, Oh Boy, Oh Boy Crafts
Thursday, September 10th: Melissa Rebel & Malice | Annika Näh-Connection | Abby Sew Much Ado
Friday, September 11th: Katie It's Hard to Hear Up Here | Jane Buzzmills | Lisa Mabey She Made It
Saturday, September 12th: Elena Randomly Happy | Allie Indiesew | Jess If Only They Would Nap
Monday, September 14th: Jaime Made By Jaime | Lauren BASTE + GATHER | Sara Made by Sara
Tuesday, September 15th: Audrey Skirt Fixationy | Teri Fa Sew La | Hayley Welcome to the Mouse House
Wednesday, September 16th: Emi Just Add Fabric | Rachael Imagine Gnats | Teresa Dandelion Drift
Thursday, September 17th: Kaysie | KZJO'STUDIO Rita Conversas de Hermanas | Stephanie Swoodson Says
Friday, September 18th: Andreia In a Manner of Sewing | Nienke Pienkel | Abbey Sew Charleston