A friend recently said it perfectly when she described my style as simplicity with unique designs.  I couldn't have described the look and feel I am going for with my patterns better than that.  I strive for comfort and style while still being able to live our lives and wear our handmade clothes.  No one wants a closet full of clothes they can only wear on date night or for that special occasion.  We want to proudly wear our me made clothes no matter what exciting or day to day things we are doing, and if those clothes are interesting thats even better.
My new pattern, Ballard is everything I have described above and more.  I like to think of this tunic as casual in the front and party in the back.  With the gathered scoop neck and 3/4 sleeves you have comfort for many seasons and it is so flattering for all body types.  When you turn around you will surprise everyone with the open back detail that is modest while still being interesting.
I have some really exciting news about this pattern that I hope you are just as excited about as me.  For the last few weeks I have been working with the amazing team over at Indiesew to release the pattern exclusively with them for the next two weeks!  They have such an exciting lineup for you over the next two weeks; a sewalong, style post and a creation roundup.  Make sure to head over to the Indiesew blog right now and read all about the amazing version that Allie sewed up and to snag your copy of the pattern so you can get ready for the sewalong.
On top of all the work they are doing at Indiesew I am also hosting a blog pattern tour.  For the next two weeks you get a chance to see what 13 different bloggers have made with their Ballard pattern.  Trust me when I say you are going to fall in love with this pattern when you start seeing these ladies shirts.  I have seen some and they are amazing!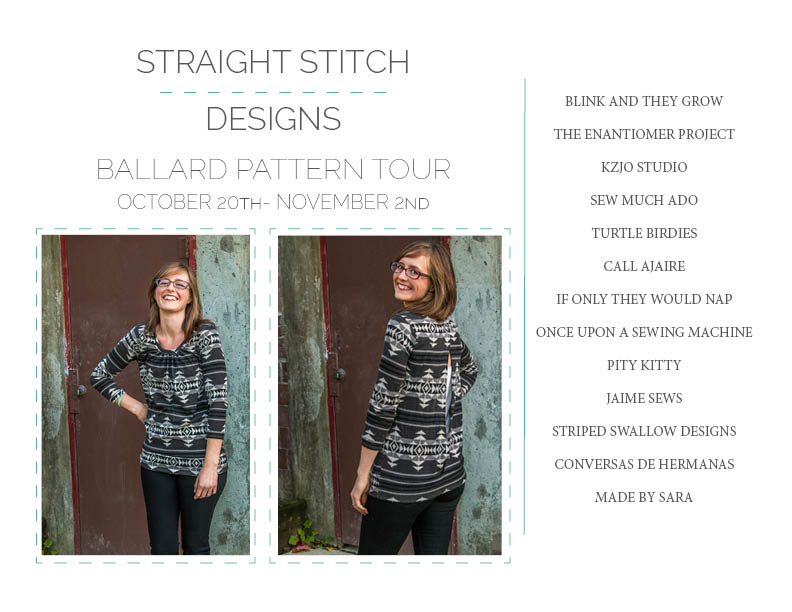 Today one of my amazing testers, Amy of Blink and they Grow is starting off the blog tour with her sweater knit/sheer version that is breathtaking.  I love a good fabric mix and this one does not disappoint.  Make sure to head over there and read all about her Ballard.  And don't forget to get your copy of the pattern at Indiesew.